'Thank You Sue': Looking Back at Sue Bird's Legendary Moments Throughout Her Career
To be an all-time great is one thing, but to leave a monumental impact is another. As the Seattle Storm look to embark on a WNBA championship run, the entire basketball world has continued to honor WNBA legend Sue Bird during her final season. The 13-time WNBA All-Star and four-time WNBA champion have continued to transcend the game since she was drafted No. 1 overall by the Storm during the 2002 WNBA Draft.
From playing high school basketball in Queens, New York, to building her stardom at the University of Connecticut and winning not one but two NCAA championships, Bird's greatness, her artistry as a point guard, and her impact as a pioneer of the women's game deserve all the flowers and more.
"I'm going to be courtside every season; I'm going to be cheering this team on, giving them the support they deserve," Bird said, per The Athletic. "I'll always support this franchise no matter what, so it's really not a goodbye."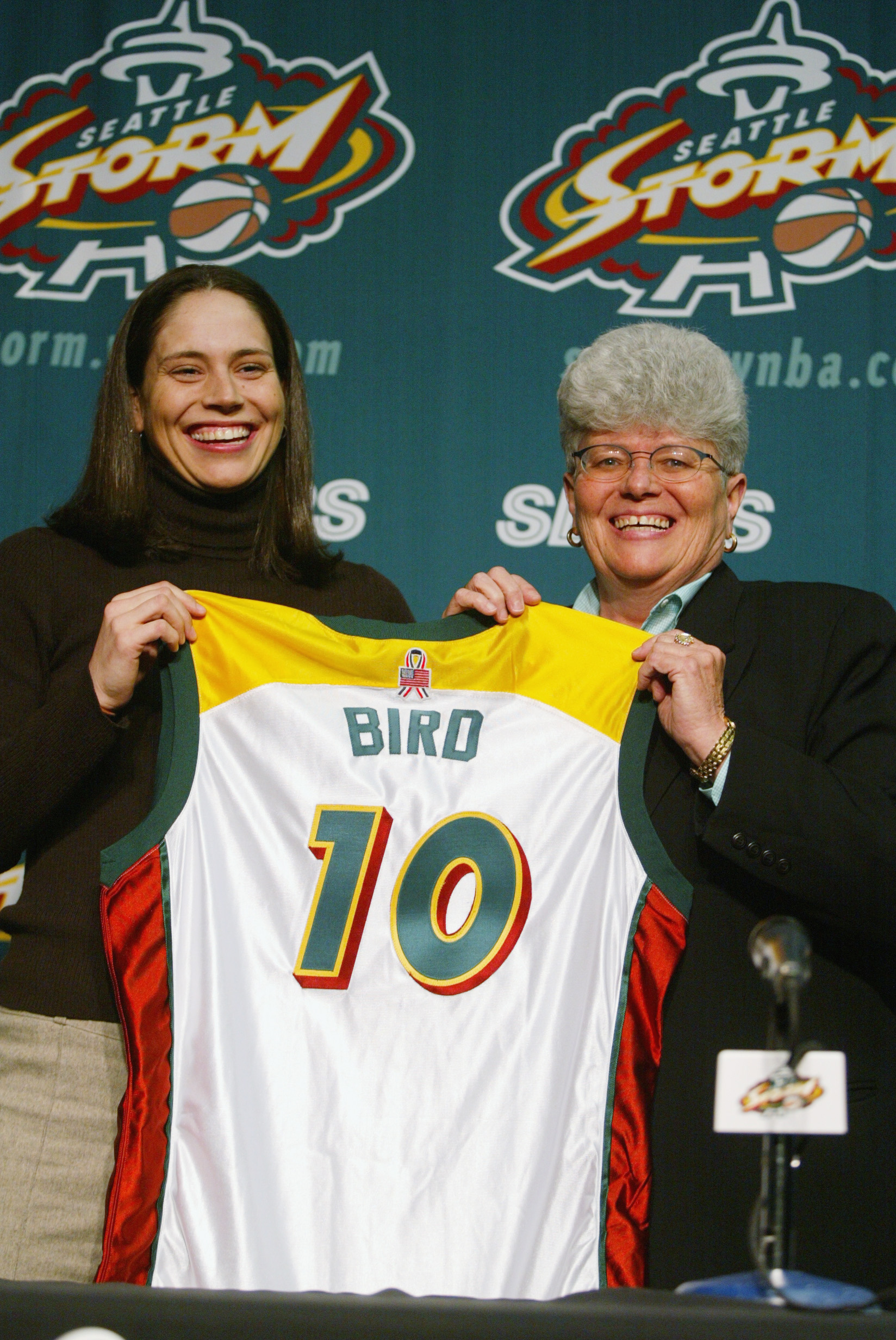 As the only player to win WNBA championships in three different decades, winning in 2004, 2010, 2018, and 2020, Bird's resume also includes being the WNBA all-time record holder for assists—3,234 and counting—as well as a five-time Olympic gold medalist, a four-time FIBA World champion and a five-time EuroLeague champion. The SLAM 228 coverline sums it up perfectly: Bird is an icon.
As we all continue to witness her greatness this season, here's a look back at some of Bird's legendary moments throughout her career.
---
2002: Rookie Season:
During her rookie year, Sue was the only player on the Storm to start all 32 games and quickly emerged as a standout— she became the Storm's all-time single-season record holder with 191 assists that year. Along with Tamika Catchings, Bird was one of the first rookies to be named All-WNBA First Team in League history.
2004: Bird wins her first WNBA championship
"I think for me, what I'll always represent it's not the points or assists. It's the winning, and it's the longevity. The winning in different decades, it speaks to being able to stay on top of your game. Something Richard Jefferson said on ESPN recently that is the hard part."
As she continues to reflect on her WNBA career, Bird's prominence began early on. In '04, the Storm made their first-ever Finals appearance in WNBA history and went on to face the Connecticut Sun in the Finals. The first two games were close, but after Game 3, the Storm made it happen and captured their first championship title. It would be the first of many.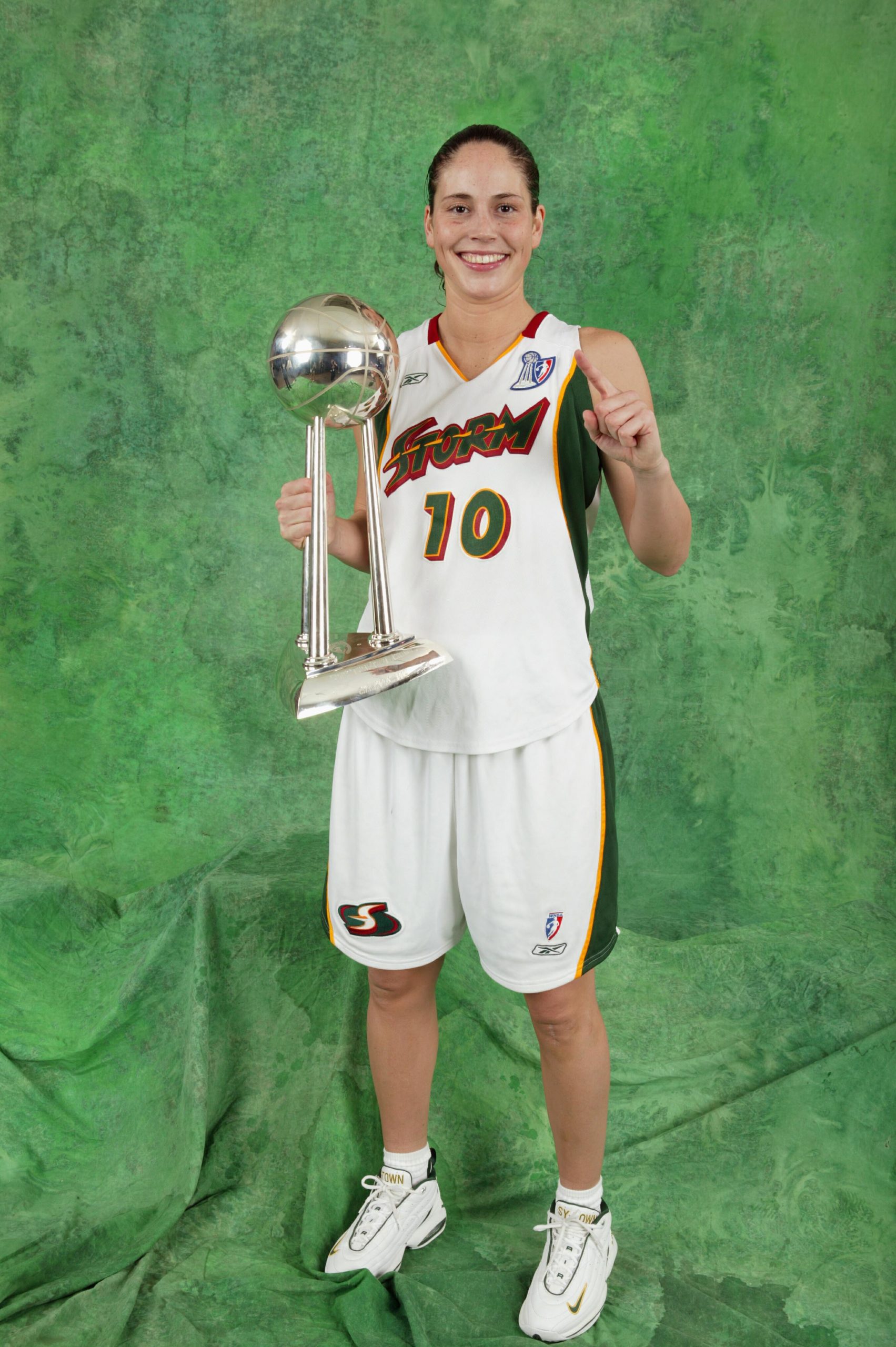 2010: Game-Winner in the 2010 Western Conference WNBA Finals:
After a stunning performance in Game 1 against the Dream, Bird and the Seattle Storm faced off against the Phoenix Mercury in the Western Conference Finals. Bird's clutch shot-making ability continued in Game 2, and with the game on the line and only 2.8 seconds on the clock, Sue Bird caught a pass by Tanisha Wright and his the shot to end the game, 91-88.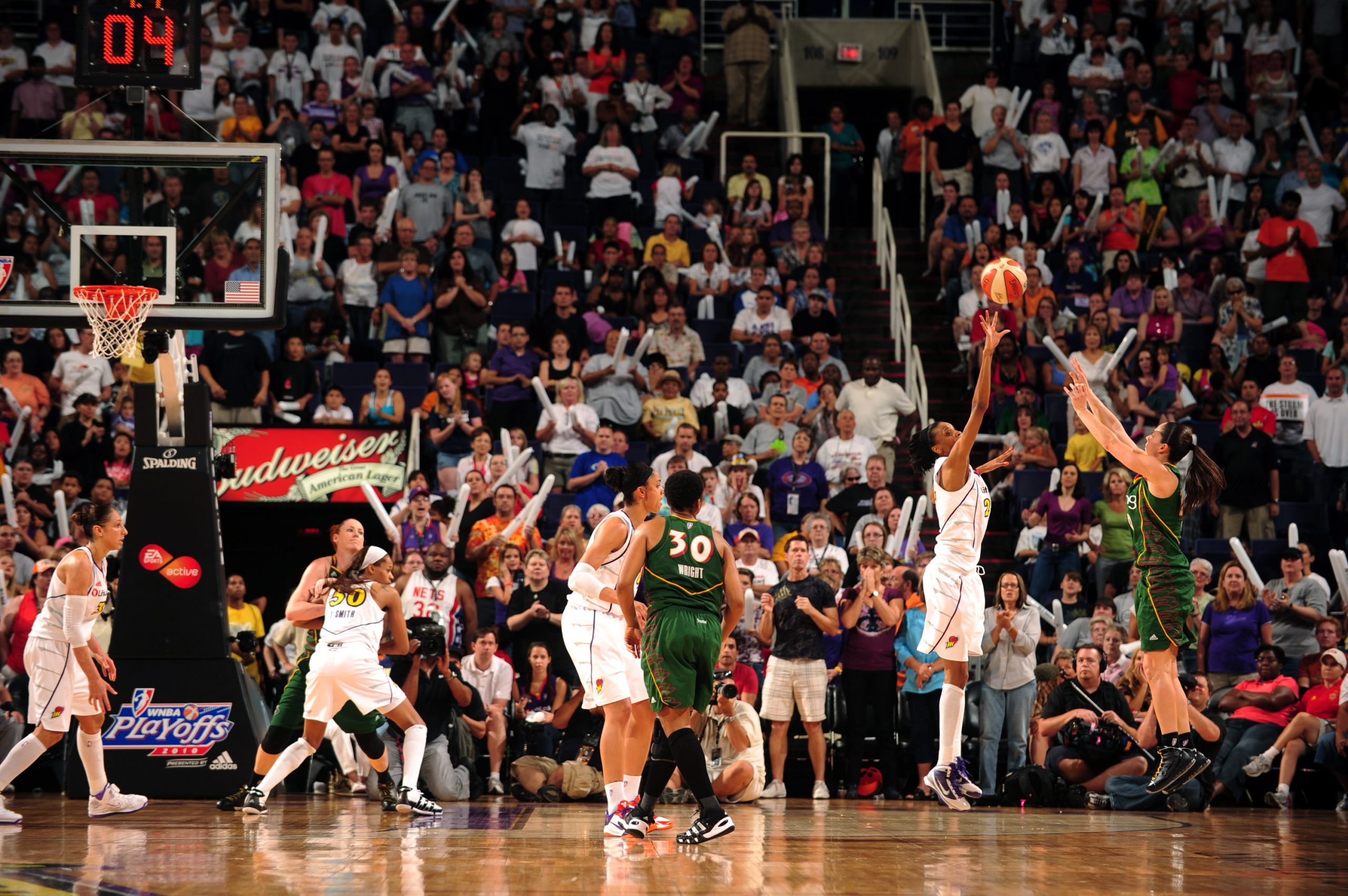 2016: Seattle Storm vs. Atlanta Dream:
The game-winners continued against the Dream in 2016. With 13 seconds left on the shot clock and about 15 seconds left in the game, Sue hit a clutch corner three to end the game, 84-81.
2017: Sue Bird Named All-Time Assist Leader
Against the Washington Mystics, Bird became the WNBA's all-time assist leader with 2,600 assists. In the same game, Bird became one of only two players to post 13 assists and zero turnovers in one game.
2018: Electric Semifinals Performance
Bird suffered a broken nose before Game 5 of the semifinals against the Phoenix Mercury, but that didn't stop her. The masked-up Bird scored 14 of her 22 points in the fourth quarter to help rally the Storm past the Mercury, winning 94-84.
2020: Sue Bird Covers 228
Approaching season 19 of the WNBA, Sue Bird graced her first-ever SLAM cover.
"Maybe that's my game. It kind of comes slow, and then it hits you with the verse," Bird told SLAM. "It's a slow, subtle song that you can work out to, an R&B song that you can actually get hype to."
2021: Sue Bird on SLAM 232 Cover
Sue Bird continued to ink her name into the record books all season long, from becoming the first WNBA player to record at least eight assists in a game after turning 40 (and the fifth player in either the NBA or WNBA to do so alongside John Stockton, Karl Malone, Steve Nash, and Michael Jordan). She became the first Storm player to ever hit the 3,000 career assists mark and went on to win her fifth gold Olympic medal in Tokyo.
Bird also appeared on the cover of SLAM 232 alongside Skylar Diggins-Smith, Nneka Ogwumike, and Diana Taurasi.
2022: Bird's Final Regular Season Home Game
On August 7, Sue Bird made her final regular season game against the Las Vegas Aces to a sold-out arena of fans that honored the WNBA legend.
2022: Seattle Storm Earn Franchise-Record Against the Chicago Sky
Against the Sky, Bird led the Storm with eight assists in a 111-100 win. The legendary matchup saw the Storm tie a franchise-record for points, made field goals (44), and set the WNBA record for assists (37).
---
Off the court, Bird has used her platform to be an activist on racial issues, LGBTQ+ rights, and pay equity. She has helped create space for women by women.
After announcing that this season was her last dance, many players and coaches around the basketball community have commented on her success. One of which was Geno Auriemma, Bird's head coach at UConn, who saw her ability to achieve greatness from the moment he witnessed her play.
"You knew there was something unique about her," Auriemma said, per CT Insider. "Everything about her was quick. Her feet were quick. Her hands were quick. Her mind, her eyes, her pull-up jump shots. There was just this way that she played basketball—never rushed, never seemed like she was in a hurry, but there was a quickness about her that I had not seen very much of. She was fast, and she was quick, and she was smart."
Even former teammate and current head coach of the Seattle Storm Noelle Quinn talked about Bird's leadership and her game.
"She's a legend," Quinn told the Seattle Times. "That says it all, really. I can go on — She's been our leader on and off the court. She's a class act. She's done it the right way. She's always put the team first. She represented this organization the way you want, and now it's our turn to say thank you and pay our respects to one of the greatest players in our game."
Says former teammate Lauren Jackson, who had her No. 15 jersey retired in 2016: "What she's been able to do in her career on and off the court has been phenomenal, and I don't think there will ever be anyone like her," she said. "I think the legacy that she's left on the sport and that she'll be leaving on the sport is enormous. But I'm really excited to see what she does next."
Despite the loss, Bird's final regular season home game against the Aces was exceptional. Climate Pledge Stadium was sold out with more than 18,000 people, the largest in franchise history.
Sue Bird's lasting legacy on the game of basketball is a testament to her greatness. Thank you, Sue.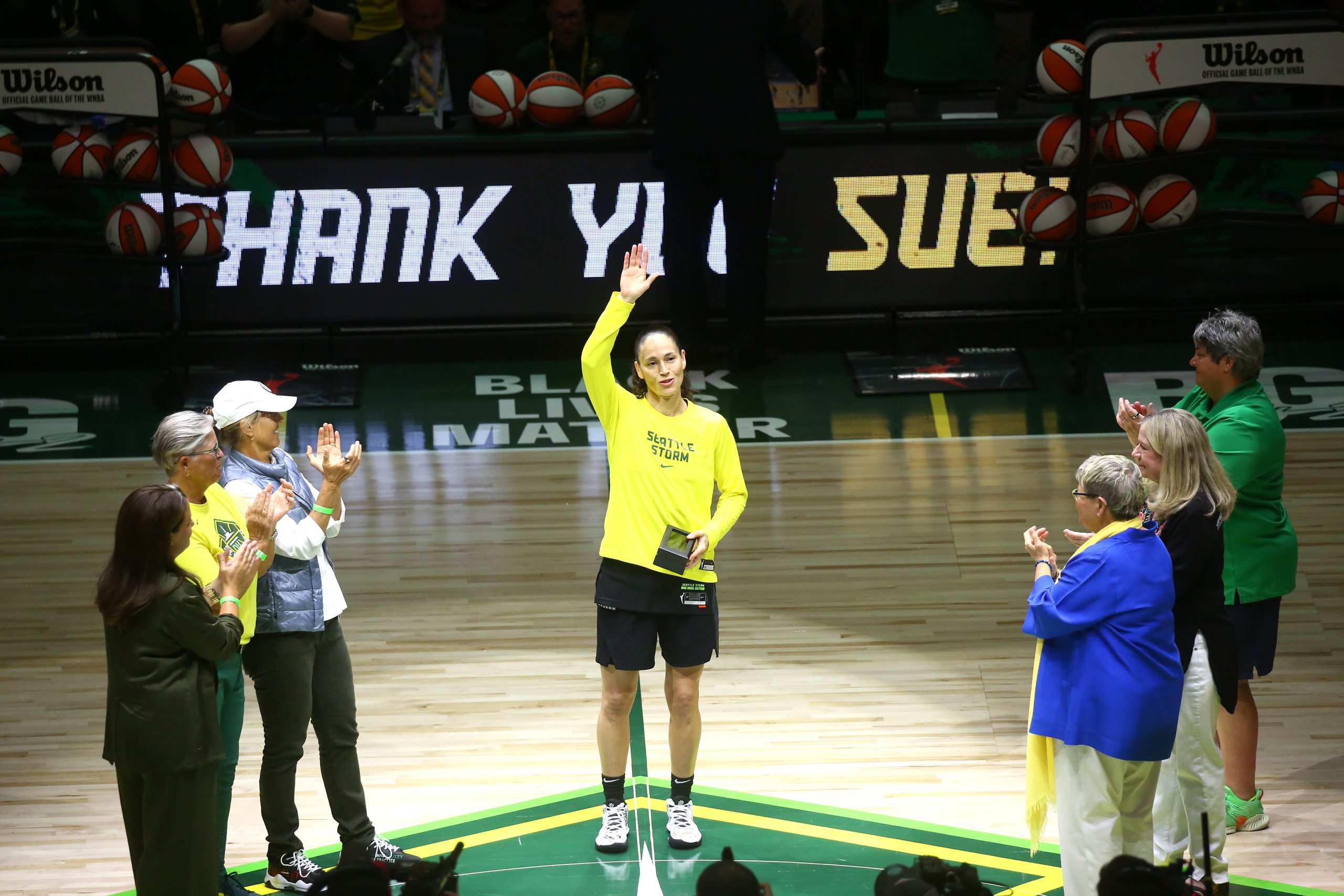 Photos Via Getty Images