In the 14th and 15th centuries, the world saw a surge of insanely talented individuals mastering specific crafts, from mathematics to art and science. Leonardo da Vinci, Lavinia Fontana and Michelangelo were some of the influential men and women who made up the historic Renaissance period. Back then, they were known as "Renaissance" men or women, but today, we use the word icon to describe those whose reach goes beyond their profession. Few have earned the right to have the term attached to their name, but if there's one hooper who is the exact definition of an icon, it's Sue Bird.
Year 19 is approaching for the WNBA's all-time assists leader, but this year is unlike any other. As opposed to prepping for the season in the cool Seattle air, Sue's days have been filled with practices, media and film sessions in the WNBA bubble at IMG Academy in Bradenton, FL. Even through the unforeseen circumstances, Sue has remained the calm, collected vet that she is, ready for another run at a championship.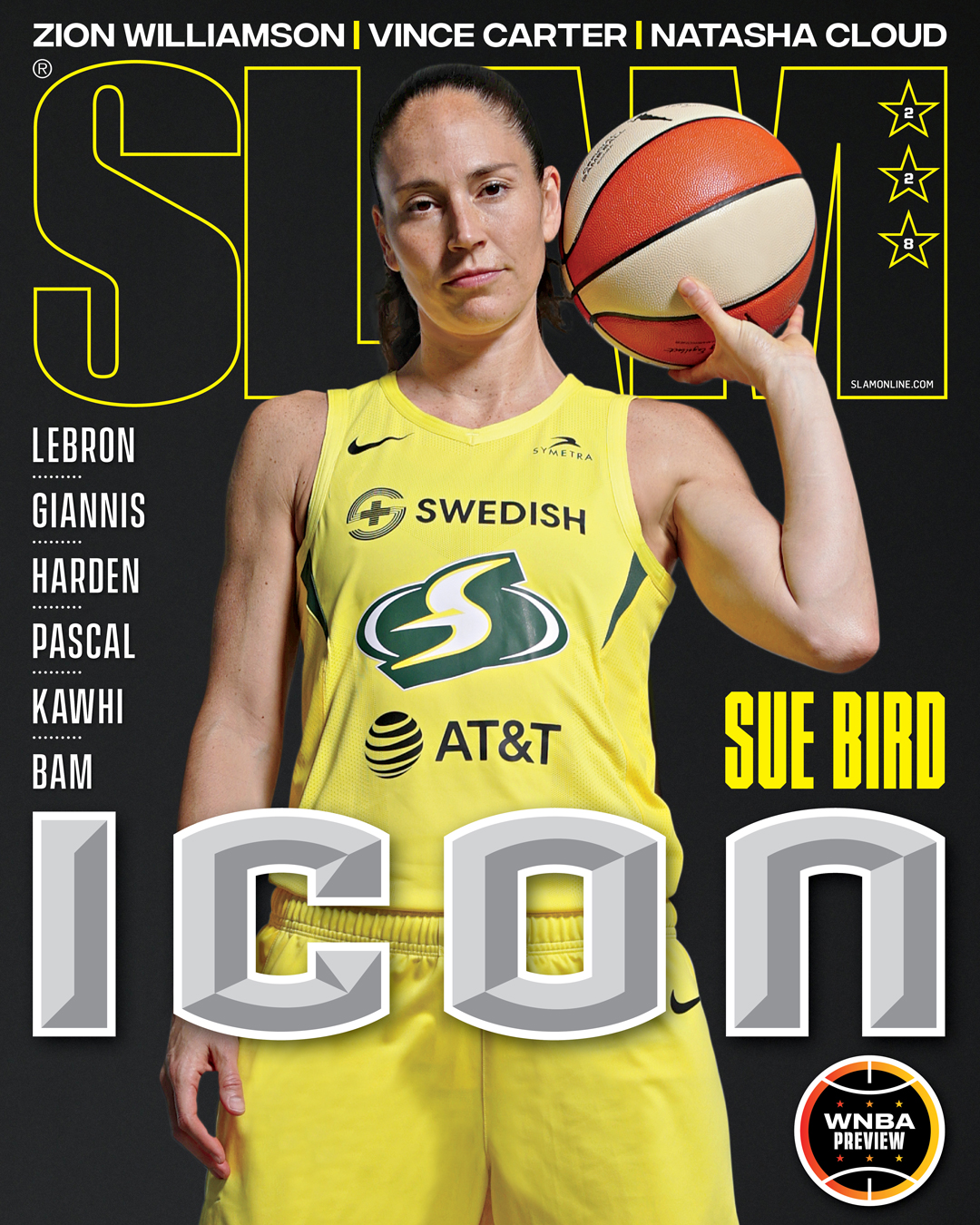 An iconic career within the game of basketball was something that a young girl from Syosset, NY, never, ever dreamed of.
Sue picked up a basketball at 5 years old to copy her big sister. Growing up in the early '90s, she played the game for the same reason we all did: it was fun. At that point, there was no thought of turning that game into a true career. The WNBA didn't exist yet, and many professional women's leagues had failed over the course of the '70s and '80s. Organized professional basketball beyond the Olympics was not an option for women in the United States, so many of the greats were forced to take their talents overseas or stopped playing altogether after college.
Finally, in 1996, the late NBA Commissioner David Stern had a vision and announced the creation of the Women's National Basketball Association. By then, Sue had entered high school and transferred to Christ The King (NY) HS, one of the top basketball programs in the country, for her junior year.
"I'm probably one of the first classes that got recruited in high school knowing there's a WNBA," the three-time WNBA champ tells SLAM. "That last year of high school, I kind of knew college could help me get to the WNBA, but even that was just a thought. There weren't any players to follow in their footsteps. I didn't even know if there was going to be an actual draft class. Of course, there were the Lisa Leslies, the Rebecca Lobos, the Sheryl Swoopes and probably some players in between, but no one had an 18-year career at that point."
With the idea of potentially turning pro after college, it was only right that she committed to one of the best college programs of all time: UConn. The school has become the elite destination for developing women's basketball players for the next level.
In recruiting the Nassau County prospect, UConn head coach Geno Auriemma didn't see the flashy play that most college recruiters look for in a top guard. What he saw was a PG who was willing to do the gritty work, had great vision and could direct the offense like a composer, bringing together the pieces to a musical masterpiece.
"She's going to be someone that, unless you're paying attention, she's not going to 'wow' you with stats or ridiculous plays. You really have to pay attention," Auriemma told SB Nation in 2018 about when he first saw Sue play.
Sue had a rocky start to her collegiate career, suffering a torn ACL early in her freshman year. She bounced back her sophomore season, hungry and ready to make a difference. The guard took her first step into the spotlight in a major rivalry game against Tennessee, where she led the team to a win with 25 points.
"In games like that, I like to get everyone else going and everyone else feeling good. Then, you know, sometimes when it hits the fan, that's when you gotta turn it up," Bird said on SNY in 2014.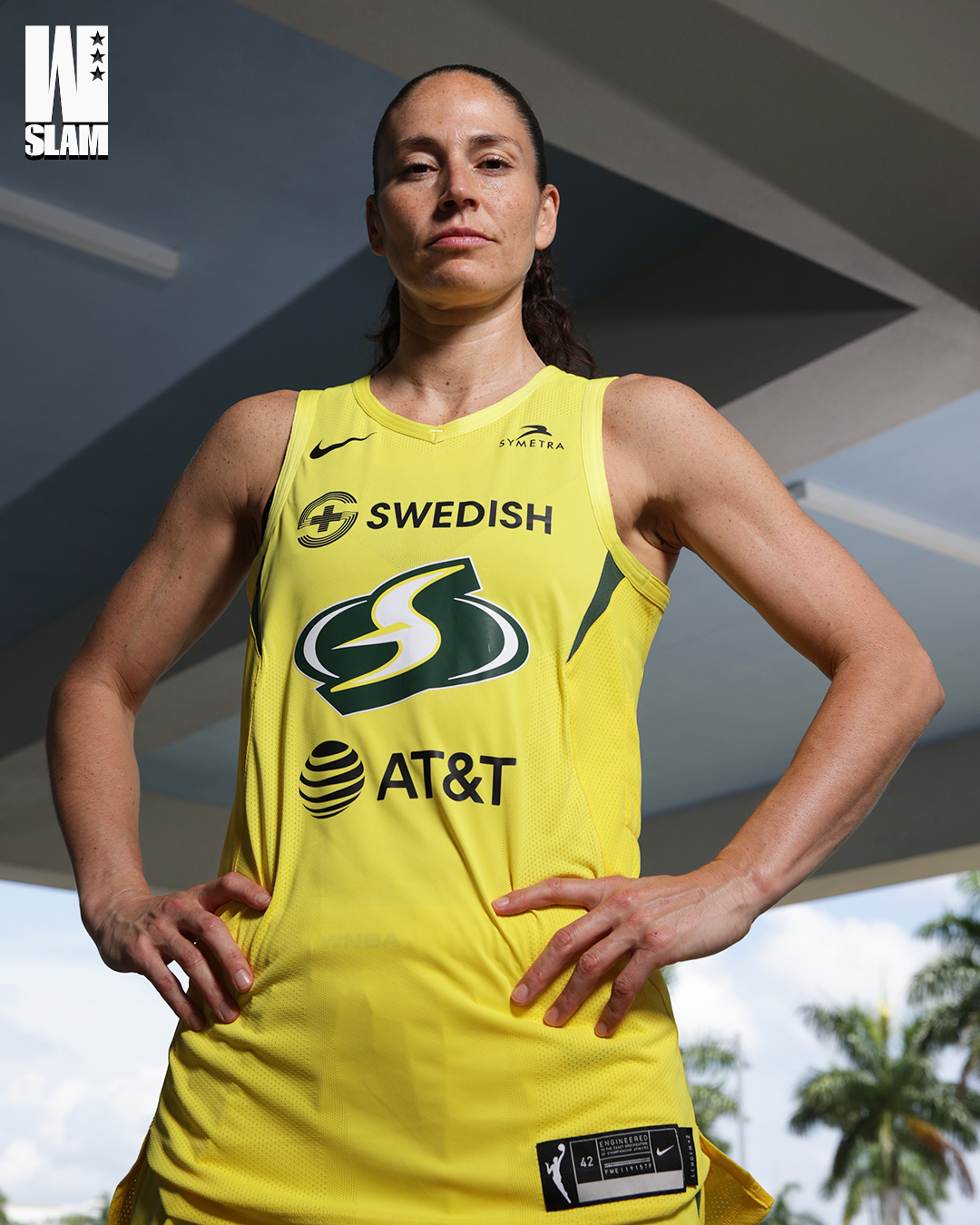 Like 112's "Only You" featuring Biggie and Ma$e, her game is even-keeled until it's crunch time and she's gotta take over.
"Maybe that's my game. It kind of comes slow and then it hits you with the verse. It's a slow subtle song that you can work out to, an R&B song that you can actually get hype to," the future Hall of Famer says.
Driven by a mentality geared to elevating those around her, Sue went on to lead the Huskies to two NCAA national championships. In her senior season, she was also awarded the 2002 Wade Trophy and named the Naismith College Player of the Year.
That same year, Sue went No. 1 in the WNBA's sixth ever draft. The rest has been history. Throughout a career that's spanned almost two decades, she's won three WNBA championships, four FIBA World Cup golds, four Olympic golds and much more. Though it goes on and on, this story can't be made up solely of a list of Sue's accomplishments. There's one thing that has remained consistent during such a legendary run: her approach to the game.
That approach is perfectly summarized by how her teammates feel her presence. Speaking with some of her Team USA squad this past winter, they all stressed one thing: Sue always keeps it cool.
"She's never, like, panicking," Kayla McBride said.
A laughing A'ja Wilson recalled how she always ends up agreeing with Sue's reminders that "It's gonna be OK" and "We're fine." During tough moments, Sue can put everyone at ease.
"I think for me, I kind of always had that in me. I was always reading the game, playing the game cerebrally, always thinking about the game. And then as I got older, I think the calming effect is just so me," Bird says. "I just like to be as prepared as possible to be consistent—not with my play because some days you're going to go out there and ball out and have 20 or 30 points and other days you're going to be terrible and that just happens. But I just try to be consistent with who I am to the team. What I bring every day to practice, what I'm bringing to the games, and if that can give my teammates confidence, then I think that's where the calming comes from."
Her approach was on full display in 2018, when the Storm faced her good friend and former teammate Diana Taurasi of the Phoenix Mercury.
In Game 2 of that year's playoff matchup, the two real-life superheroes battled back and forth.
With 7.3 seconds left in the fourth, Taurasi drained the game-tying three in Sue's face to send it to OT. The entire KeyArena fell dead silent, but Sue knew what was good. She knew she would put her team in the best spot to win in the end, and that's exactly what happened. Some clutch buckets and a broken nose later, masked Sue went on to lead the Storm past their Western Conference foe and to the 2018 title.
"That moment was unreal just because I didn't expect it," she says. "I think what that did personally for me was really solidify my longevity, my impact on things. You know, I essentially won in almost three different decades, in 2004, 2010, 2018, with three different teams."
It's just who she is. A master of her craft, confident in her consistency and poised to put the team in the best position to win.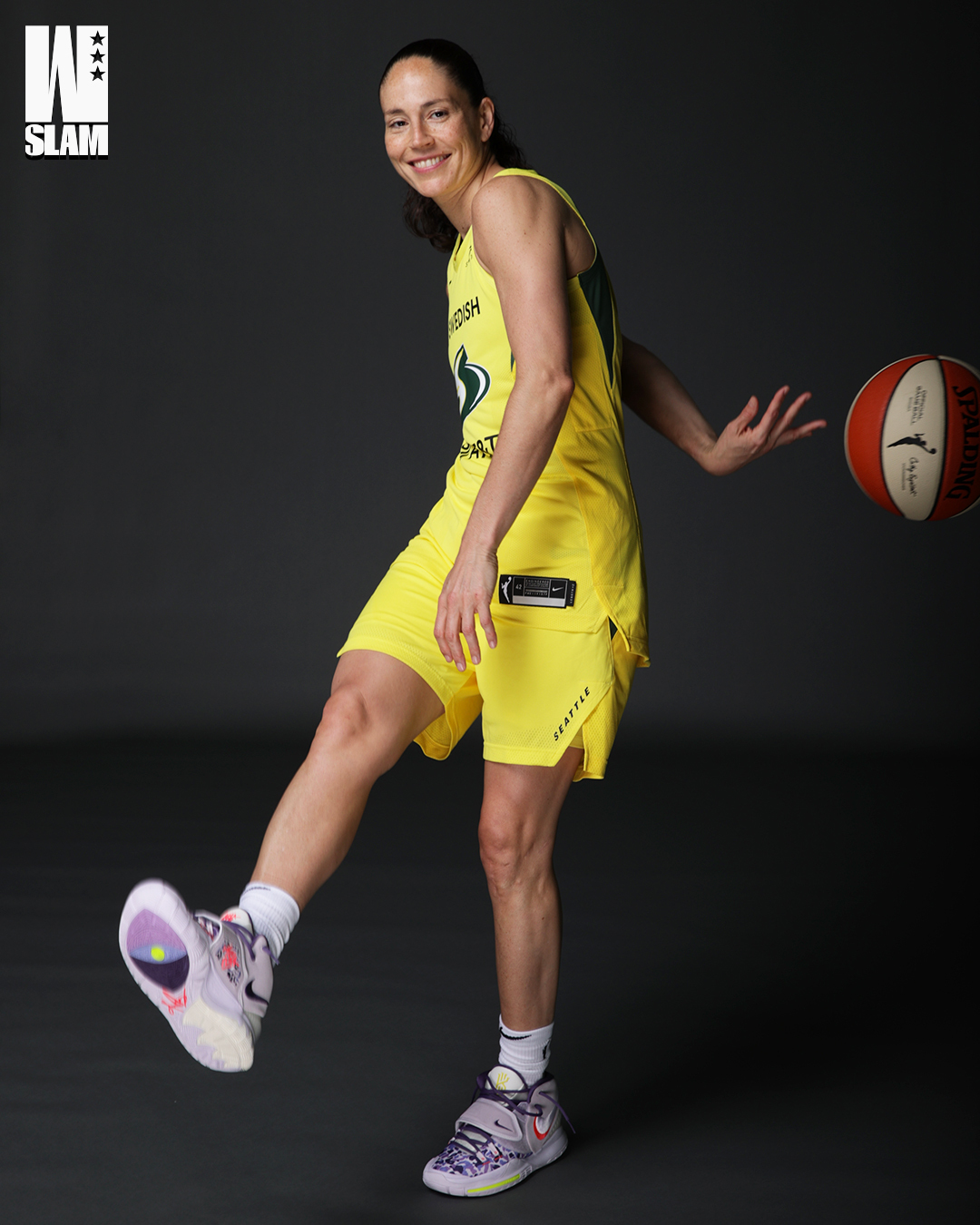 "I always joke that 'I'm happy to be the Robin.' To be honest, I have moments of Batman, but I don't know that I'm a total Batman," Bird tells SLAM. "It's a very important role because Robin helps Batman succeed, but also helps all the other players on the team succeed, and that I think has been the key to all the championships."
The WNBA vet has molded a career just as successful off the court—one that has helped redefine the reach that professional athletes have beyond their respective sports. She's been on the cover of InStyle, a fashion magazine, worked in an NBA front office, hosted an awards show, created tons of content, has her own Kyrie 5 colorway ("Keep Sue Fresh") and is one of the biggest sports activists in our society. There is quite literally nothing that Sue Bird hasn't done.
"I don't know, I'm just genuinely interested in all of the things you just named," the 2020 ESPYs co-host responds, when asked about what inspires her off-court interests. "So it makes it easy to have a passion for them and to be super involved no matter what it is we're talking about."
Like the selfless human that she is, she gives a lot of credit to her girlfriend and US Soccer Women's National Team captain Megan Rapinoe.
"I think actually dating Megan has definitely opened my eyes to a lot of things," Sue says. "I'd be remiss to not mention her whether we're talking about things like fashion [or not]. But I think [as] a larger example, there [are] a lot of times we kind of put ourselves in a box or we think of ourselves in a different way and what Megan has really done for me, beyond just fashion, is allowed me to get out of this little box that I put myself in."
One of the first ways the two connected was actually through a mutual interest in social activism and learning how they could both use their platforms to push for change. During the summer of 2016, before Colin Kaepernick took a knee to call attention to police brutality, players around the WNBA made on-court statements condemning the murders of Philando Castille and Alton Sterling.
"I joke that she slid in the DMs, but it wasn't quite like that, I promise," Bird says. "It was right after the Minnesota Lynx had worn the 'Change Starts With Us' shirts, I believe, then a lot of teams followed suit and my team was one of them. Obviously Megan plays in Seattle, so she hit me up on Instagram and was like, Hey, this is amazing, and we just had this conversation about social justice."
The two constantly bounce ideas off each other about the fight for social justice. Those discussions included conversations about what the WNBA's investment in using the 2020 season to further call for social change should be.
"Well, first and foremost, that was on the agenda day one when the talks began between our executive committee and the League on having this bubble," Bird explains. "It was a non-negotiable. If we were to come and participate in this season, the League needed to support us in whatever social justice route we wanted to take."
One of the major areas of impact for both Megan and Sue has been their work for pay and gender equality. Within their respective leagues, they have been at the forefront of forcing those in positions of power to invest in growing women's sports and pushing society forward as a whole. Just this past year, Sue helped negotiate a historic CBA for the WNBA and its players, drastically upgrading pay and benefits and focusing on more marketing for the League overall.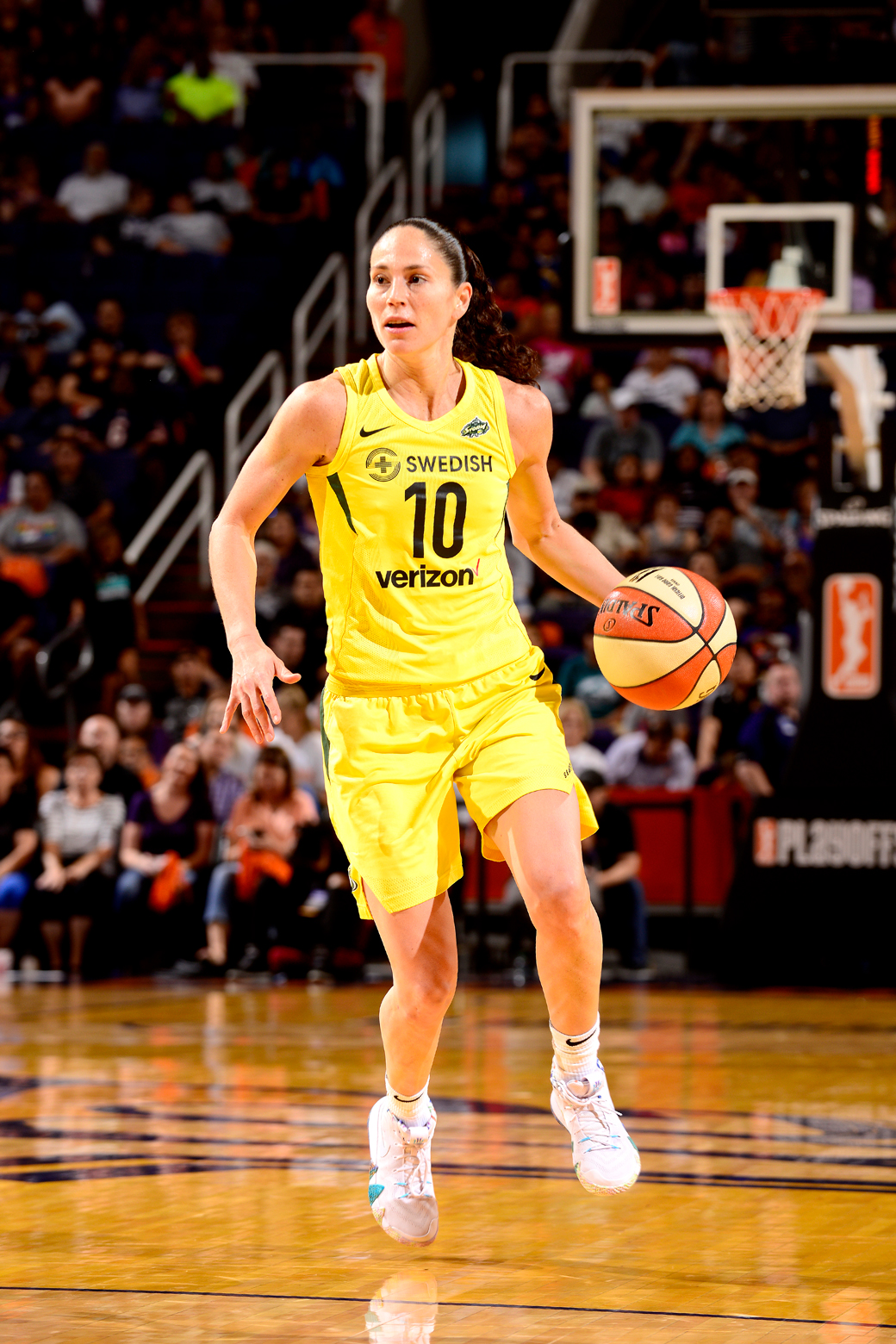 As she is on the court, Sue Bird, the activist, is composed in a manner that makes her message clear and makes damn sure that you're going to hear it.
The same mindset and attitude that she's maintained over the years has quite literally helped the WNBA lurch forward to become the top women's professional league in the world. And while she's already accomplished so much, she hopes that the League continues its massive strides.
"I always joke—through the years, you hear older retired NBA players who have a little bit of a grumpiness about them when they hear about younger players and their million-dollar contracts. So I always hope that I'm a grumpy old vet or retired player that is just mad that I didn't get the millions because that means that women's basketball players are getting that much and that means that I had a small part in helping the League move forward," Bird says.
When developing her approach to her career, it was the path of another modern-day Renaissance Man that always stayed top of mind.
"It's actually one of Kobe Bryant's quotes that really spoke to me," Sue explains. "It's not verbatim or anything but he said, There's going to be another champion. There's going to be, in 10 years, another player who will sit here and have this conversation about all the Olympic gold medals they won and all the WNBA championships they won. They already exist and there's going to be more. In some ways, you want to have an impact on the game that lasts even longer."
It's a message that she's held closely over the years, driving her passion toward making the WNBA better for future generations. That includes the negotiations with the League about this season, which presented its own set of challenges. Bird helped work with the players and the League to agree upon the terms to playing in the IMG Academy bubble.
The majority of the 2018 championship Seattle Storm team is back, and they are a favorite to win it all this summer. But they'll be playing in an entirely new environment with a squad that hasn't taken the floor together in two years, with Sue and Breanna Stewart having both missed last season.
"Alysha Clark, I think it was, we were in a huddle and she was like, 'Hey guys, welcome back. First time [we've been] together since 2018.' I was like, 'Oh my God.' It is kind of crazy," she recalls about their first practice.
The 11-time All-Star didn't break a sweat, though, when talking about playing this year. She remained the same composed leader that she's always been, recognizing the question marks about this season, but knowing full well that she will once again help put the Storm in the best position to succeed.
When you talk about great ones, you talk about the sacrifices, the willingness to win at all costs, the X-factor that puts them above all other players. Sue goes beyond that because she's more than her production on the court; she's helping create a world for the next "Sue Bird."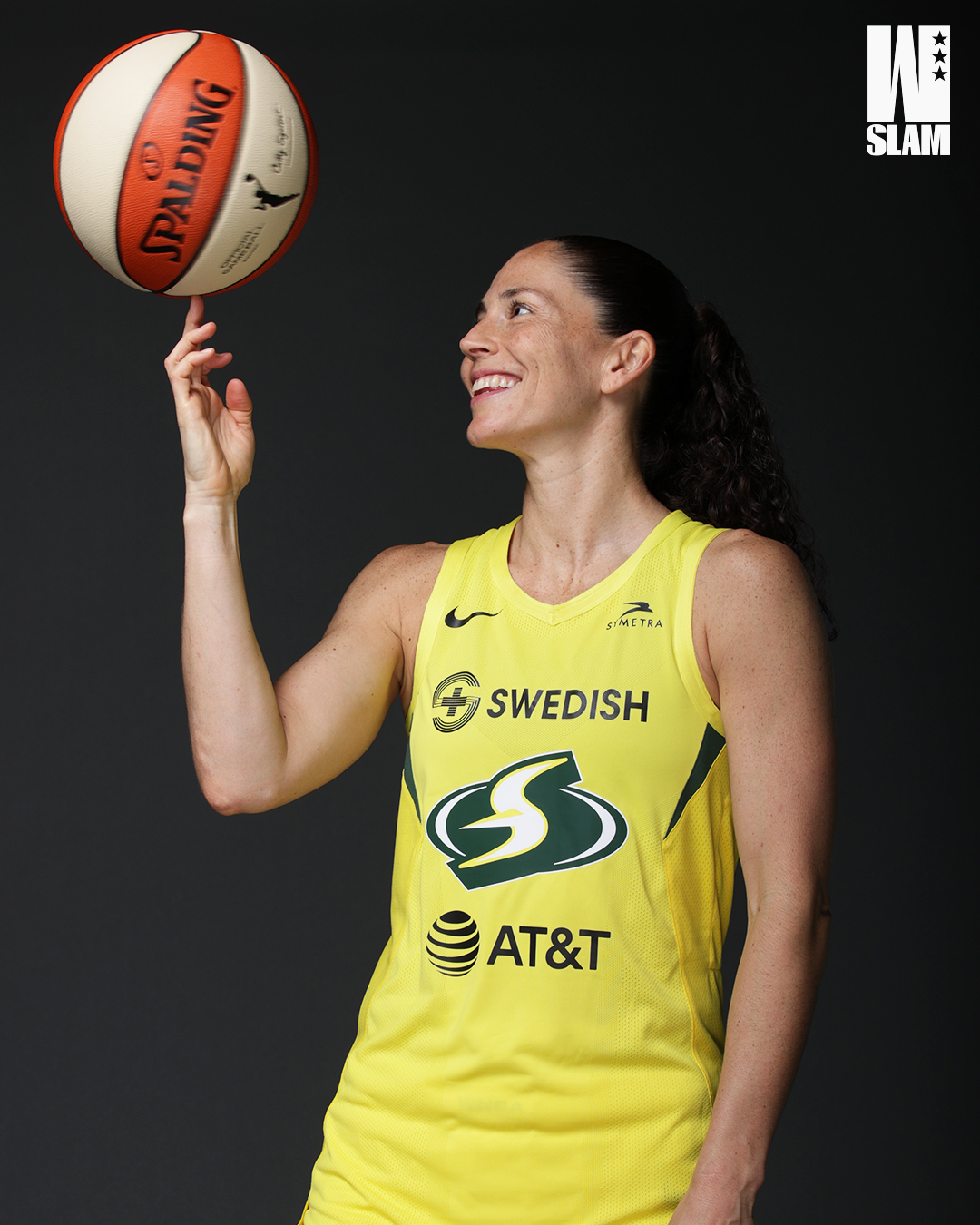 Reflecting on being on the cover of this magazine, Bird has a message for her younger self.
"Honestly, young Sue Bird would have been happy to be one of the [SLAM] diaries, for real," she says. "I remember SLAM Magazine was a must pick-up for me growing up, and I would immediately go to that section, where they would follow people and do that monthly diary. A young Sue Bird wouldn't believe me."
Well, you better believe it, icon.
—
Camille Buxeda is a Senior Content Producer at SLAM. Follow her on twitter @CamilleBuxeda.
Portraits by Ned Dishman/NBAE via Getty Images.
Action photo by Barry Gossage/NBAE via Getty Images.