By the time a defender catches up with Marissa Janning on the perimeter, she has usually sprinted for 20 seconds and fought through a seemingly endless succession of screens. Now, legs burning, she gets to settle into a stance and guard one of the best scorers in women's college basketball.
There was a point, early on in high school, when Janning was deciding between basketball and running in college. She had a good case for both: she was all-state in cross country, and won state titles in the 300-meter hurdles and 4×800-meter relay.
But in her sophomore year at Watertown-Mayer High, in Minnesota, she decided on hoops. By March of her junior year, she'd committed to Creighton. When the curtain closed on her prep career, she had 3,587 points, and 458 threes, to her name.
She's kept up with the running, though, and it remains a key element in her success on the hardwood. She runs defenders ragged, in Creighton's motion offense. Add in some serious skill, and there's a recipe for the reason Janning was named 2013-14 Big East Player of the Year, and First-Team All-Conference a season ago.
Then, the drive. When we were younger, in our old house in Watertown, my dad and I would play two-on-one against Matt.
That is a reference to Matt Janning, Marissa's older brother by five years, who starred at Northeastern. She has called him her role model. When he was home from school, he became a workout buddy. While they cycled through drills, Matt would offer tips, ranging from the importance of nutrition at the next level; the best ways to exploit seams in certain defenses.
Matt, who has played the past few seasons in Europe, will often stay up to watch his sister's Creighton games. The next day, Janning will get a text message—either from Matt, or from her dad, acting as conduit—offering thoughts on her performance.
"I really value his opinion," says Janning. "We're a lot alike as players, although my dad says sometimes my shot is better. I have more quickness at 5-8—but at 6-5, which isn't big for a guard, Matt has this ability to always beat defenders. He's so smart with his movement. I really learn from that."
Both Jannings enjoyed success while flying under the radar of opposing defenses as freshmen. As sophomores, they blew up. Marissa, nabbing that Big East POTY; Matt, dropping 29 on the road at UConn. (He finished as the fourth-best scorer in Northeastern history.)
Defenses started keying on them, "and that's why I can turn to him now," says Janning. "When I face a certain defense, Matt gives me pointers on how to beat it, based on how he'd dealt with it himself. It's kind of like cheating, having someone so close to you who's got that first-hand knowledge."
This past season, in addition to her first-team all-league honor, Janning earned the Big East's Sportsmanship Award. Since she can remember, her dad and her brother taught her to respect the game.
When you're subbed out, don't walk—run off the court. This is a game, and you're competing, but show respect to your opponent. When another player falls, Janning helps her up. If she fouls someone, she brushes her off. After games, she'll often stay late, signing posters for young fans. This is how days are made.
Like the rest of the Bluejays, she is involved in the local community. Janning says a highlight has been working with Abide, a non-profit in the northern section of Omaha, NE. This past summer, Janning worked as a counselor in a basketball camp done with the group.
Here were kids who'd never had this kind of opportunity. Here was Janning teaching, having a blast. "I couldn't imagine what these kids have gone through," says Janning, "and then to see them light up, to see how much fun they were having, was awesome." A particular highlight: learning from those campers how to bust the Nae Nae.
***
"We lost a lot of production (from the 2013-14 team)," says Creighton head coach Jim Flanery, beginning his assessment of Janning's play last season.
"Obviously, Marissa felt a reasonable degree of pressure to produce, at an even higher level, because of that. And she did a really good job. Not only did she have a bullseye on her back, and the weight of expectations, but her role changed as the season progressed."
Early on last season, Flanery and his staff were comfortable with Janning forcing the issue at times. With so much inexperience around her, it was often the best option.
That Janning was able to maintain her production while leading such a young team speaks to her ability. Now, that young core has experience. Janning remembers a pivotal moment last November, at South Dakota State. Four Bluejays fouled out, including Janning.
With the game on the line, the Creighton youngsters held on for a really good win on the road. "Our biggest thing this season is how deep we are, she says. "I'm really excited to see what we can do with our different lineups."
Nine of the 14 players on Creighton's roster this season are underclassmen. "But I don't feel we're young," says Flanery. "Our sophomores have had great experience. This year, we have fewer question marks around Marissa. That will allow her to be more comfortable, and she'll be able to tighten up her game and be more efficient."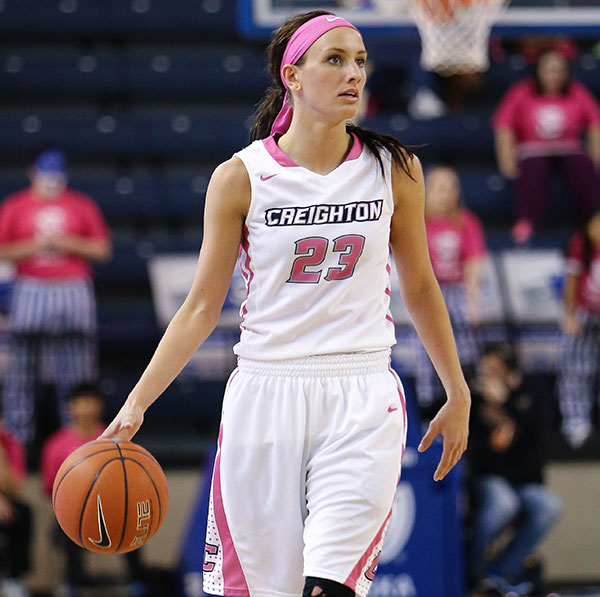 Working with her dad and brother during the summer, Janning parsed through shot selection: the best ways to attack when aggressive closeouts push her off the line. Finishing better around the rim. Continuing to get stronger with her right hand.
Last season, she shifted between running point and playing off the ball. While Flanery says Janning is a good passer, and reads defenses well, he feels she's better on the wing. That is, after all, when all that running can be used most effectively.
"I always say she's as fit as any player I've coached," says Flanery. Her greatest attributes are her movement off the ball, and her three-point shooting. (Janning has hit 221 threes in her DI career, at a 37 percent clip.)
Flanery and his staff have charted Janning's scoring efficiency, down to baskets after she receives the ball on the right side of the perimeter, and takes two dribbles to her left before releasing a jumper. An analysis Flanery settled upon: more threes.
"Her three- and two-point percentage have been very similar throughout her career," says Flanery. "She's very good at getting to the line, and she's a tremendous free-throw shooter, so we'd like her to juggle between taking threes and, when she drives, getting to the rim, drawing contact and converting free throws."
Sometimes in practice, Flanery will limit the number of dribbles Janning can take. Here, Janning learns that if she can't make a move quickly, it's best to give the ball up, reset, and make that defender run more. "Marissa becomes inefficient when she holds the ball," says Flanery. "She's at her best when she's decisive with her action."
Janning has embraced the challenge. She's a competitor, as evidenced by her approach to defense. Nothing gets her adrenaline pumping like hearing, during the scout, that she'll be guarding the opponent's best perimeter scorer.
Even when she struggles scoring the ball, Flanery keeps her in the game. She's the best of the Bluejays at staying in front of her mark. Shooters keep shooting; Janning knows great players keep grinding. They find a way, any way, to impact the game and help a team win.
***
She still remembers the thought process for picking a college. Briefly considering staying close to home, before the decision to branch out. Then, the visit to this Jesuit school in Omaha. Janning and her dad had taken a quick tour of Midwest colleges, and Creighton was second on the list.
When they got to campus, Janning was immediately greeted by the coaches. Nice touch, but a standard one with nearly every college. "But then they told me to come and watch a practice," says Janning. She loved the motion sets. She knew that with her fitness, she could thrive.
Now, she enjoys hosting recruits. She wants to tell them about the tradition, and the respect Flanery gives his players. "We don't have problems here. Flan knows that we have other things than basketball in our lives—well, I'm usually in the gym every day, anyway," Janning says, with a laugh, before continuing:
"But ball isn't life for everyone, and I think that's what I respect most about Flan. You can talk to our coaches in person or on the phone about anything. And I think that's what came across the most during my own visit. I just felt comfortable here."
Now, the final year. What Janning said about the basketball team rings true about the academic staff, too. Take Tim Bastian, economics professor. "He's helped me out with my resume," says Janning, a marketing and entrepreneurship major. "His office hours revolve around his students. If I need help, when I'm coming back from a road trip, he'll come into his office and we'll get the work done. You don't find that very often."
Same goes for the feel of this program. Special player at a special place. Should be a special end to a tremendous career.
Top photo courtesy of Steve Branscombe. Second photo courtesy of Mark Kuhlmann.
159