Kelsey Bone's route to the WNBA was highly scrutinized, and oftentimes arduous. But after her breakout 2015 campaign, Bone wouldn't change a step of her journey.
A prized recruit out of Houston, Bone packed her bags for Columbia, SC, to play for Dawn Staley's upstart program at South Carolina. After a freshman season in which she was named the SEC's Newcomer of the Year, Bone decided to transfer to Texas A&M in order to be closer to her family.
"That decision," she says. "It's been six or seven years now, but it's still probably the hardest decision that I've ever made in my life."
Bone had to sit out the following season due to NCAA transfer rules, and in twist of fate, could only to watch as the Aggies won the National Championship in 2011.
The title only added fuel to Bone's fire when the 6-5 center finally took the court and proved that she had the chops of a premiere post player.
Bone eventually entered the 2013 WNBA draft and was selected fifth overall by the Liberty. She endured an 11-win rookie season before New York sent Bone, along with two first-round picks, to Connecticut for former MVP Tina Charles on draft-night trade in 2014.
Whereas Bone's role in New York was murky, the Sun clearly wanted Bone to be a part of their exciting young core.
"To be able to go into a situation where there were other younger players and they were trying to make us a core and build a team around us," says Bone, "that was very exciting."
Last season, Bone proved her worth, averaging 15.4 ppg (seventh in the WNBA) on 50.8 percent shooting (seventh) with 6.3 rpg (13th) en route to her first All-Star selection and winning the WNBA's MIP award.
With a new head coach and up-tempo system in place this season, Bone will still be terrorizing opponents in the paint, but she'll be deploying a new element to her game—a three-point shot.
"I think you can look forward to that," she laughs. "I'm still going to get on the block, and I'm still going to love that contact. That's still going to be my bread and butter, but I am looking to add a little bit more versatility."
We sat down with the fourth-year center prior to WNBA training camp. Here's the full conversation:
SLAM: What did you take from watching Tina Thompson as a young kid?
Kelsey Bone: The biggest thing for me was the type of competitor that she was. She didn't back down from anything. She was always ready to fight. She was a post player who could knock down the three. She could knock down the mid-range game. She was just so versatile. For me as a young player trying to find my way in the game and figure out if it's I really what I wanted to do, it was great to have that kind of role model right in my backyard.
SLAM: When did you take the game seriously and decide it was something you wanted to focus on?
KB: Around the time I was about 12, going into maybe the seventh grade. Up until then, I played, but I wasn't very good. I didn't really like it, but I did it because my mom kind of forced me to do it. And then one day the light bulb kind of clicked, and I decided that if I was going to be forced to do it, I might as well try to be good at it. It was something that didn't come quite naturally to me. To have the opportunity to work at something and become what I have and do the things that I've done, that means a lot to me.
SLAM: Were you always taller than most kids?
KB: Yeah, I was always huge [laughs]. I was always tall, and that was pretty much the reason why my mom steered me toward basketball. By the time I was in the fourth grade, I wore a size 10 shoe and I could fit in my mom's clothes. And so she said, "We got to find something for you to do because cheerleading is not going to cut it." So I was forced into the sport because of my size.
SLAM: You got a chance to watch Lauren Jackson play in Seattle when you were in high school. Was she a big influence to you as well?
KB: Absolutely. I was in Oregon for a Nike camp, and we went to the Seattle game. After the game, we got to talk and meet with the players, and she actually ended up giving me a pair of her shoes that I still have. Again, just another post player who didn't mind getting dirty on the block, who could knock down the outside shot, who never backed down, and at the end of the day was a winner and champion at every level that she played on. To see her retire; the last few years of her career had been plagued by injuries. It's tough on our bodies as professional athletes, especially in women's basketball because we have to play year-round. But for the type of career that she's had, and the legacy that she is, and the name that she'll always have, and how her name will ring here in America, she has definitely been an influence on my career.
SLAM: You faced off against Brittney Griner in the state playoffs in high school. Can you talk about that rivalry and how competitive those games were?
KB: The funny thing about that rivalry is that we only played against each other twice in high school in our senior year. When you're talking about the two best players in the nation, being from the same city, being in the same backyard, we always bring out the best in each other. Since then we've played in college, we've played against each other as pros. That's a rivalry that will last forever. We will be forever bonded by that rivalry. It's a very competitive rivalry, but it's also a very friendly one. Just being able to say that we were the best two players in the country at that time, and we were both from the same city. It's always been about that for us—making sure that our city is recognized for what it is with women's basketball.
SLAM: Was it difficult to see the Houston Comets fold as a franchise? Do you think a franchise will come back to Houston?
KB: It was definitely difficult to see the Comets fold. I think when you're talking about the hotbed Houston is for women's basketball, it's hard because now the kids growing up don't have that influence right here. There's still the WNBA, there's still teams in other cities, but the way he had it growing up, to be in our city, it's something that you can't recreate. I hope that the league can get another franchise here just because of the hotbed that is, the fan base that is here that's hungry for a team. I think when you start talking about the Ogwumikes, when you talk about Brittney, when you talk about myself, when you talk about Karima Christmas, Lindsey Harding. When you start talking about all of the players in the WNBA who have been top-five draft picks that are from Houston, it's a lot. So for me, I do hope to see a team here again.
SLAM: When it became time for you to pick a college, you had your list narrowed down to Texas A&M, Texas, South Carolina and Illinois. How tough was it to choose a school?
KB: It was the toughest decision of my life [laughs]. Being from Texas and all, my family wanted me to go to A&M. But me wanting to play for an Olympian in Dawn Staley and the staff that she had put together, it was really hard for me to go against the grain. At 17, I made a decision, and I didn't factor in all of the pros and the cons like most 17 year olds do. So when I got there, and I was far away from home and I was far away from my family, I had to make a tough decision to leave when it was the best decision, but it wasn't the decision that I necessarily wanted to make. I knew that I had to be back home in order to be comfortable and be successful and be the best me that I can be. That decision, it's been six or seven years now, but it's still probably the hardest decision that I've ever made in my life.
SLAM: And then when you transferred to Texas A&M, you had to sit out a season and watch as your team won the NCAA Tournament. How much motivation did that add for you to show what you can do?
KB: Oh man, just my luck. The year that I can't play, we win a National Championship. What a lot of people don't realize about kids who transfer is that that year sitting out is probably their first time not playing basketball for 365 days. And so I was so motivated. I was so ready to get back on the court and play, and I was behind because I hadn't played in a game in over a year. It took me a while to get back adjusted, to get back acclimated, to understand the speed. You can practice, and you can work out, but when you're not playing in basketball games for a whole year, you feel that. To be able to have the luxury of that transition and figuring it out, it was helpful for me. I was one of the lucky ones because we returned so many players from that national championship team that it didn't all fall on my shoulders. So I had time to get back acclimated and back in sync with the game.
SLAM: During that transfer season, you kept busy doing a basketball show and writing a blog. Is broadcasting and media something you're interested in doing after your basketball career?
KB: Absolutely. I love to talk. Anybody who knows me knows that I never shut up, and I love basketball. So those are two areas for me that I'm totally interested in. When you start talking about working for ESPN or even Primetime on ABC—my ultimate goal is to work for Good Morning America, I'll be completely honestly with you. I am in love and I am fascinated by Robin Roberts. She is like my favorite person in the world, and I really hope to meet her one day. I have a huge interest in broadcasting and journalism, and for me, being able to talk all day and talk about basketball and just talk in general, it excites me.
SLAM: You decided to enter the 2013 WNBA draft with a year left of eligibility. Looking back now, would you have stayed another year?
KB: No, I would have made the same decision because I was able to play on one of the best teams in Europe (during the WNBA offseason). I played for Galatarsay in Turkey. In my first year, we won Euroleague, and we won the Turkish League and we won the Turkish Cup.
SLAM: Everything.
KB: Yeah, we won everything [laughs]. And I still benefit from that experience to this day. To have that opportunity in my first year in Europe, to win Euroleague—it's people who have played in Europe for 10, 15 years who have never done that. And so to do that at 21, 22—no. I got a chance to play for a great coach in Europe, I got to play with some of the best players in Europe. So for me, the experiences that I've had as a professional, from playing for Bill Laimbeer, to playing for Anne Donovan, playing with Katie Smith, Cappie Pondexter, Katie Douglas, being coached by Taj McWilliams-Franklin, Barbara Farris. Those are things that have helped shape me into the person that is now blossoming and becoming now. So for me, no, I would definitely make the same decision because I do think that experience is the best teacher.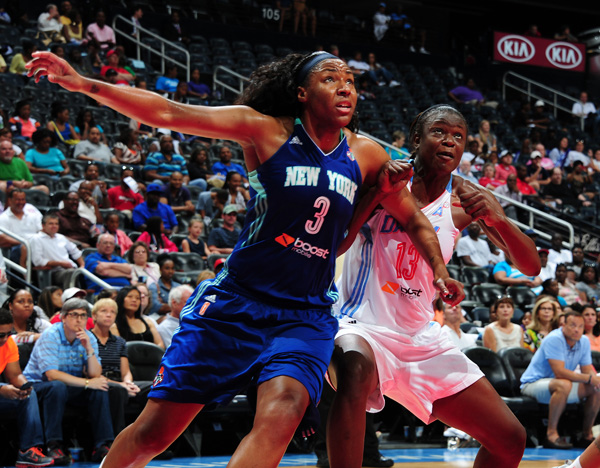 SLAM: After your first season overseas, you and Alyssa Thomas were involved in a big draft-day trade involving Tina Charles. Did you have any idea that it would happen, and how did you feel about the trade at the time?
KB: I'm very aware of my surroundings and things that are going on. I knew New York was looking to shake some things up and make some moves. And I knew that there was a possibility that I would have to be a part of something for that to happen. When it happened, the way it happened, I wasn't surprised. I wasn't surprised I was a traded. The whole draft-day dramatics and all that stuff, that was pretty interesting to me. But other than that, it didn't really catch me by surprise or catch me off guard. When you're dealing with professional sports, it's a business first. I wasn't too surprised, but I was excited to still have an opportunity to play in the WNBA.
SLAM: Was it exciting in a way because you had the opportunity to be part of a young, talented core group in Connecticut?
KB: Absolutely. In talking to our GM Chris Sienko, and even talking to Anne [Donovan] when I first got there, they wanted me. They said, "If the trade was going to go down, you had to be a part of it." So having support and belief and to be able to go into a situation where there were other younger players and they were trying to make us a core and build a team around us, that was very exciting.
SLAM: Coming into that first season with Connecticut, you arrived to training camp late due to overseas obligations. The following season, you were able to return early and the results showed. Do you think that was a major key for you in having a breakout season?
KB: Absolutely. I got to that first training camp in Connecticut about three days before our first game. I was learning everything on the fly, I was trying to figure things out, I was trying to get chemistry down, trying to get off European jet lag—it was just a lot. And so to be able to come into training camp last year on time with everybody from day one, I was a lot more comfortable. And I'm a creature of habit. I love being comfortable. I do understand there are times when you're not going to be comfortable, but I am at my best when I'm able to relax and just go with the flow and get into a rhythm. To be in training camp on time and to see everything from day one, it was a big help. And it helped that I had already played in the same system, so it was good.
SLAM: You played with an upstart team in Turkey this past season. How was that experience?
KB: That was rather interesting for me. The good thing was I was able to play with Alyssa [Thomas], so we were teammates again. We also had Tiffany Hayes on our team. It's interesting when you go and play in Europe because sometimes you can end up on any kind of team with any kind of coach with any kind of anything. At the end of the day, it was a really good, growing experience for me because it's the first time I've been on a team in Europe that wasn't very successful. We qualified to stay in the league, but be did not make the playoffs. To go from the two previous years winning the entire league to not making the playoffs was really interesting to me. But it helped me understand that you have to persevere. You have to keep fighting, you have to keep going to work every day no matter what. And I struggled, and we had a coaching change in the middle of the season, and there were a lot of different things going on. It helped me understand the other side of basketball overseas. And so, I'm home. I'm actually home in Houston now, so I will be returning to training camp on time again this year. So I'm really excited about this season.
SLAM: Are we going to see you shooting threes a little bit this year?
KB: [Laughs] I think you can look forward to that. I've talked to our coach Curt [Miller], and he's kind of said, "We're going to need you to step out and knock it down a little bit." So I have been working on that. I'm still going to get on the block, and I'm still going to love that contact. That's still going to be my bread and butter, but I am looking to add a little bit more versatility and ultimately, getting us over that hump and getting us into the playoffs. It's been a long time, and our fan base is so loyal and so deserving of the postseason. If they need to run through a wall or sit on the goal, that's what I'm doing so we can get into those playoffs.
SLAM: Have you and Coach Curt talked specially about what your role will be this year?
KB: Yeah. He's super energetic about this season, and that's so refreshing. He's really excited. He's ready to get the ball rolling. We talk a couple times a week. He wants us to be an up-and-down, high-scoring team. He loves the fact that I can get on the block and that's where I want to be. We had a couple conversations about me shooting the three. But overall, we're trying to get this team to the playoffs. And that's our goal, and that's our focus, and we're going to take it one day at a time. We know it's a marathon, not a sprint, but at the end of the day, that is the goal.
SLAM: The team started off hot last season and was eventually derailed by injuries. Do you think this team, now that it's healthy, can have a breakout year this season?
KB: Absolutely. When you talk about the way we started last season, and then we were derailed by injuries. But at the end of the day, we're still young. We're probably still the youngest team in the league. We're a lot more experienced now. We have a lot more experience playing together. We understand each other. And to add a couple key pieces in this draft, with this draft class, we're going to be right on the right path. If we can all stay together and stay focused and, god willing, we're injury free, we'll be fine.