Way up north in her hometown of Fairbanks, AK, Ruthy Hebard sat at home on April 17 and watched the WNBA Draft unfold. Many speculated whether her pro career would begin in New York, sparking a reunion between Hebard and her former Oregon Ducks teammate Sabrina Ionescu, who was taken No. 1 overall by the Liberty.
Hebard didn't have to wait long before learning her fate. Only seven names came off the board before the Chicago Sky selected the 6-4 forward with the No. 8 pick.
"It was definitely weird to be home in Alaska, but it also was a dream," says Hebard, a two-time recipient of the Katrina McClain Award given to the nation's top power forward. "I was excited, my parents were there, and it was a fun night. After I got the call and they told me I was going to Chicago, it was just an amazing feeling, and I was so happy to be able to spend it with my family."
Although Hebard grew up in Alaska, she does have one major tie to the Windy City. She was born in Chicago and adopted by her parents, Dorothy and John, when she was a few days old. Aside from playing in a couple Chicago-based AAU tournaments as a kid, Hebard hasn't spent much time in her birthplace. She's thrilled to start her career in a city with a rich basketball tradition.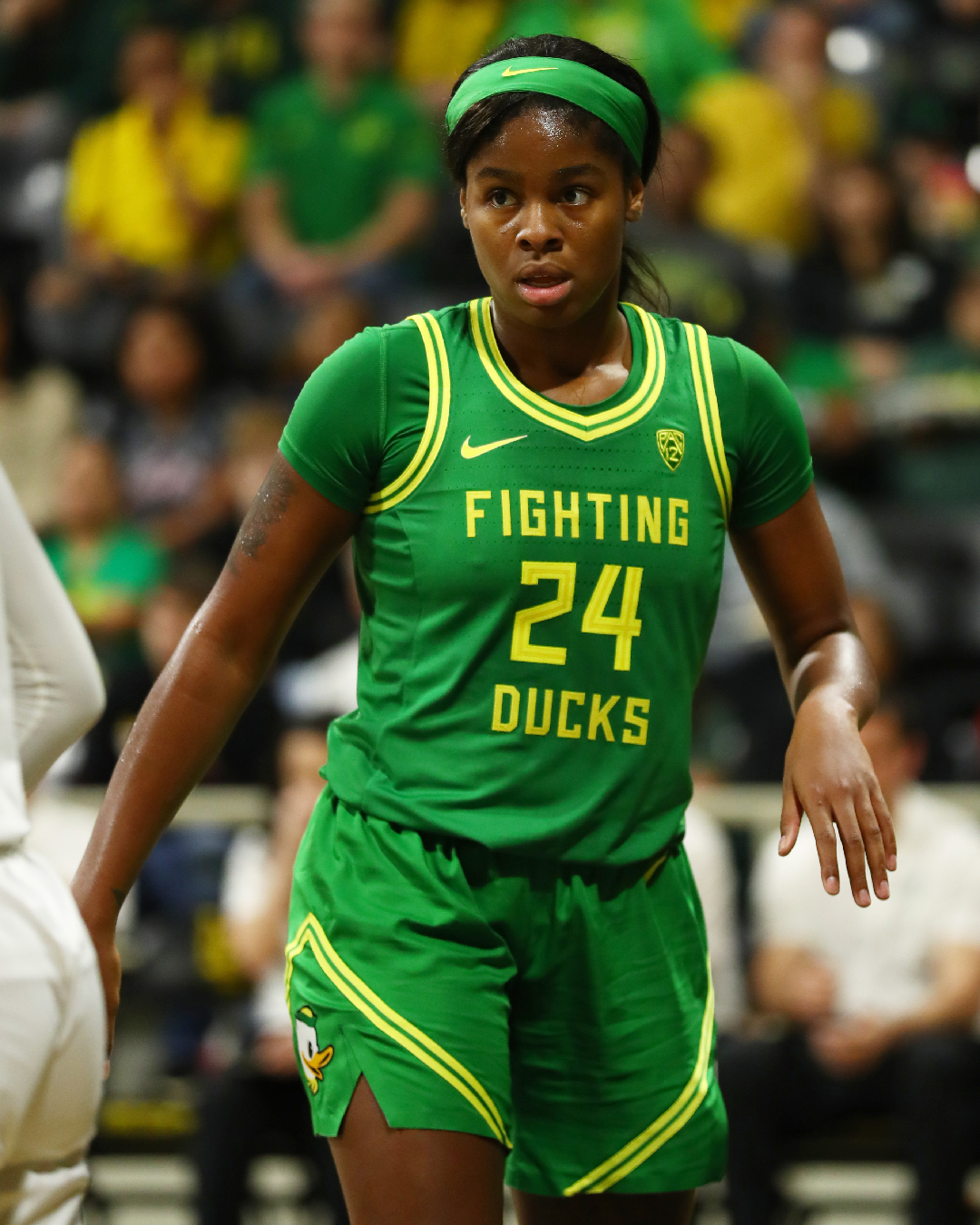 "I'm so excited," she says. "I got so many messages and DMs from fans in Chicago saying they were super excited they drafted me. Just to go to such a big city and a city that loves its sports, I'm so glad and excited to be a part of it."
Draft night didn't go how Hebard had envisioned it would. There wasn't a big party with all of her closest friends and family. Instead, Hebard was about as socially distant as she could be, celebrating with her family in Fairbanks, a remote community located about 200 miles south of the Arctic Circle.
It was fitting that Hebard was home for the occasion. She became just the third Alaskan to be selected in the WNBA Draft, following in Jessica Moore and Kelsey Griffin's footsteps. Moore was a second-round pick in 2005 and enjoyed a nine-year pro career after winning three national titles at UConn, while Griffin was taken third overall in 2010 after a prolific career at Nebraska.
Hebard was the first player to be drafted from Alaska's Interior, a region known for its world-class hunting and fishing, the Midnight Sun and the northern lights. Fairbanks is proud of her and demonstrated its support following the draft. After she was picked by Chicago, Hebard hopped in the car and drove near her alma mater, West Valley High School, where she captured three Alaska Gatorade Player of the Year awards. Hebard was at the grand marshal in the victory parade, as members of the community lined the streets and honked their car horns and waved out their windows as she drove by.
During the age of social distancing sparked by the coronavirus, it was the perfect form of celebration for Hebard to feel connected to her hometown.
"I didn't know what the parade was going to be like until I got there," Hebard says. "I just felt a lot of love. I saw lots of friends and my former teachers and counselors. It felt like Alaska was a part of my draft night—that was really big for me because a lot of people couldn't make it out to see me play at Oregon. I know everything is shut down and there's a lot of stress in the world, but that was a light and was something that gave me hope. It's something I'll always remember."
Oregon fans will always cherish the mark Hebard left on the program during her four-year career. She received All-Pac-12 honors each season, setting conference and national records while helping the program reach new heights alongside Ionescu and Satou Sabally, who was taken second overall by the Dallas Wings in this year's draft.
Hebard will be remembered as one of the most efficient scorers the women's collegiate game has ever seen. She finished her college career as the Pac-12's all-time leader in career field-goal percentage (65.1 percent) and her 987 field goals is the most in Ducks history. One of Hebard's most eye-opening stretches came during her sophomore season, when she set an NCAA record—for both genders—with 33 consecutive made field goals.
The streak spanned 11 quarters and two overtime periods, and it highlighted her ability to turn proper positioning into points.
"I think it's all about playing physical and making the best of the pass," Hebard says of her efficiency. "Playing with Sabrina, it was like, I don't want to mess this up for her either. It's really just about being strong and focusing on what I want to do and where I want to do it."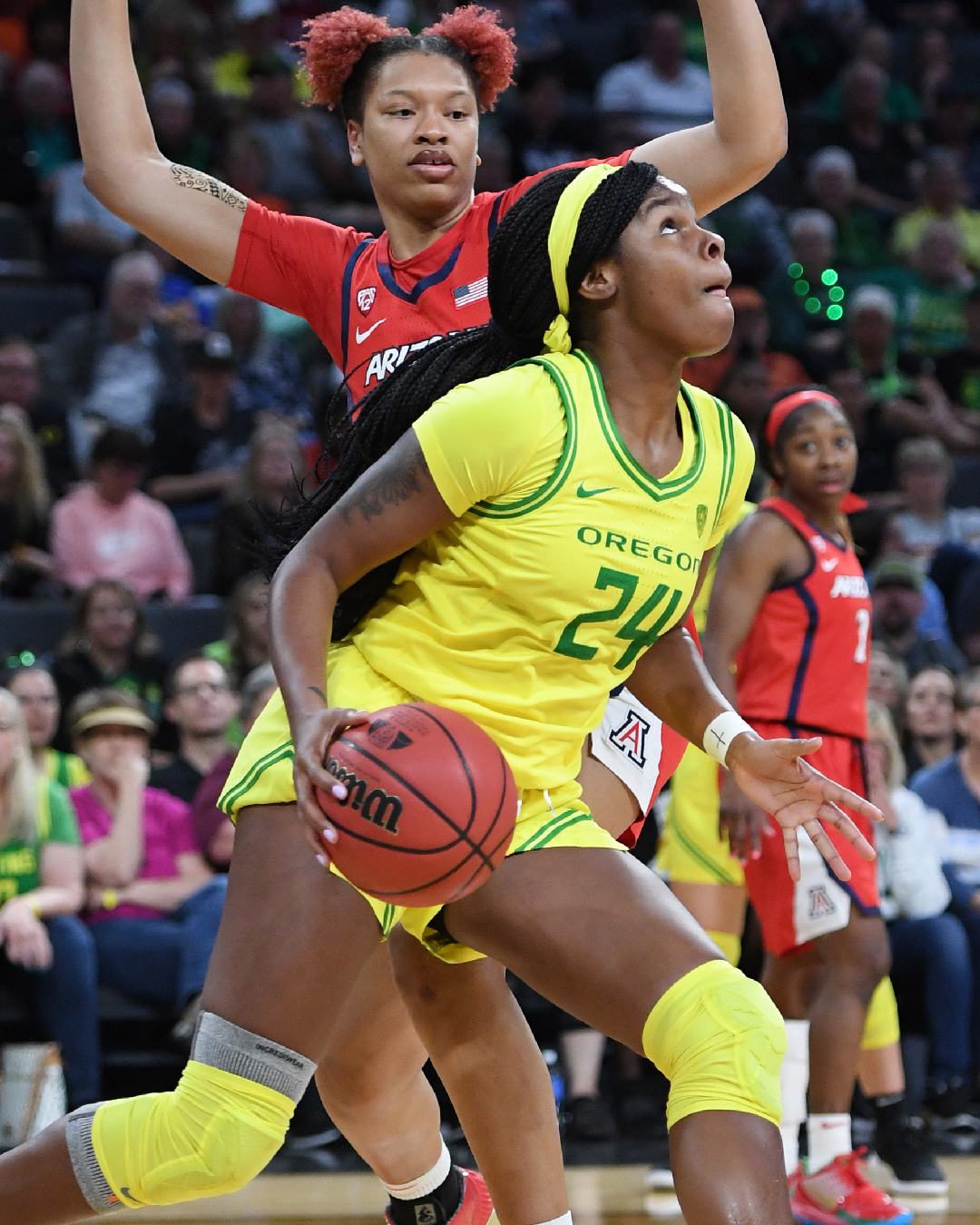 Oregon fans fell in love with Hebard the scorer, but Ducks fans also grew a bond with Ruthy the woman, who is almost always lighting up arenas with her bright smile. Hebard credits her mom for instilling the positive outlook she's mastered.
"My mom always used to tell me, 'If you're not having fun, don't do it,'" Hebard says. "I remember her telling me that one time when I was probably upset about a game. I was like, You know, this is actually really fun, and I kind of took a step back and thought about what my world would be like without basketball. I knew that wasn't going to happen, so I really have always tried to be a light to anyone and let other people see how much fun you can have with the game."
Hebard is now back in Eugene, OR, preparing for her rookie season the best she can. Her WNBA debut was supposed to come May 15 when the Sky were scheduled to host the Minnesota Lynx in their season opener. The coronavirus has postponed the start of the season indefinitely, and Hebard hasn't received any instructions about when she'll be able to head to Chicago and join her new team.
"Everything is still wait-and-see until everything is clear," she says. "Right now, we're all trying to work out, and we're having weekly Zoom calls with the team."
The former Oregon star will have to wait a little longer to fulfill her dream of playing at the next level, but Hebard is anxiously awaiting the challenge. After establishing herself as one of the most dependable collegiate players, Hebard says she intends to pick up where she left off in Chicago once the WNBA season tips off.
"I'm excited to bring my energy to the next level and hopefully continue my consistency at the next level," she says. "I hope I'm able to make plays and keep scoring, really help the team any way I can."
—
Brad Joyal is a contributor to SLAM. Follow him on Twitter @BradJoyal.
Photos via Getty Images.