Minnesota Lynx center Sylva Fowles is 31 years old, and if she retired today she'd likely be headed to the Basketball Hall of Fame. In her ten WNBA seasons Fowles has been a model of consistency. Year in and year out she's one of the best post players in the game—dominant on both ends.
Check the resume; Fowles is a WNBA champion, the 2015 WNBA Finals MVP, a three-time Olympic gold medalist, a three-time Defensive Player of the Year, and a four-time WNBA All-Star. She has also won three Olympic Gold medals, two EuroLeague championships, and three Turkish Cups.
Throughout her professional career Fowles has been a good scorer, but more known for her shot blocking and rebounding. This season she has taken every aspect of her game to a new level.
Fowles ranks third in the WNBA in scoring (20.1 PPG), second in rebounding (10 RPG), is tied for second in blocks per game (1.9), is averaging career highs in assists (1.7) and steals (1.6) and she currently leads the WNBA with a 66.3 field goal percentage.
Following a heartbreaking Game 5 home loss to the Los Angeles Sparks in the 2016 WNBA Finals, the Minnesota Lynx have redemption on their minds. The team has steamrolled the competition in 2017 and sit atop the W with a 13-2 record. The catalyst for the Lynx's success is Sylvia Fowles.
We caught up with Fowles to talk about her season, the heartbreaking Finals loss and more.
SLAM: What is the main factor behind the success that you're having this season?
Sylvia Fowles: I definitely have to thank my coaches, starting with [Lynx head coach] Cheryl Reeve. The coaches that we brought in this year have done a good job keeping me poised, but at the same time making sure I'm locked in on what I'm dominant at. That's taking my time in the paint and doing what I do best.
SLAM: Your loss in the '16 Finals was heartbreaking. How did the way the series turned out drive you for this current season?
SF: We want to be back in the place where we were last year. As salty as that ending was, I try not to think about it as much. My main focus was coming into the season hoping I do a good job to make sure we're back in that position. If we get back to that point I'm pretty sure we'll keep a hold of it.
SLAM: In your teams' two losses this season you scored the fewest points and had the fewest shot attempts of the year. Is it safe to say that the more touches you get the more successful the Lynx are?
SF: I wouldn't say the more touches I get. I think once we play in and out we're more successful. Of course if we pick up our defense it'll drive our offense. When we're effective in those areas I think we'll be all right winning wise.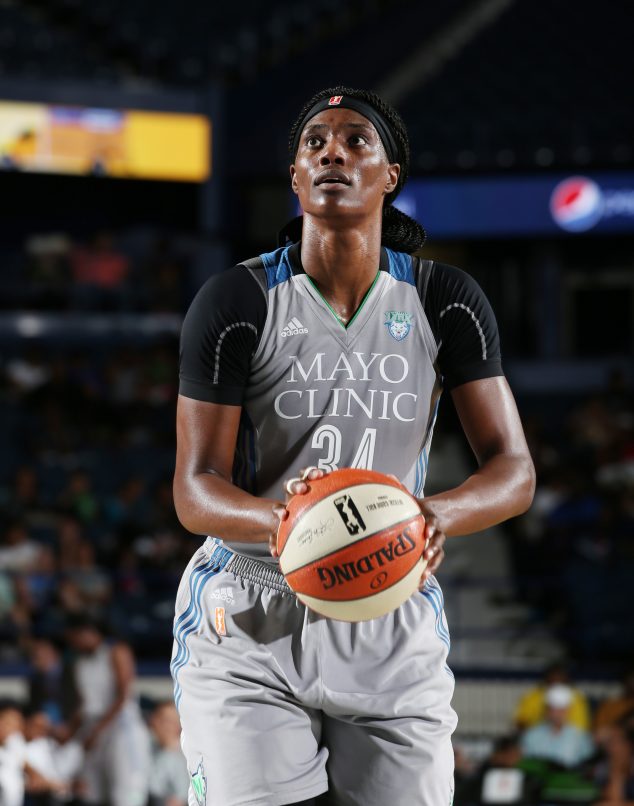 SLAM: You're headed to your fourth All-Star Game this month. Does being selected to the All-Star team ever get old?
SF: No, it doesn't get old. Every game has been different, so you can't say it gets old. I know we get in our little slumps where we want our time off, but at the same time it's such an honor. The fans are thankful to have us there so we have to go perform and give them a show.
SLAM: Many fans were surprised when you left Chicago and later Elena Delle Donne followed in your footsteps. Were you surprised when Elena asked to be traded and is there something about the culture in Chicago that isn't suited for top-tier players?
SF: I can't speak for Elena. My time in Chicago played a role. I was there for seven seasons and hadn't won, so I was ready to move to something different. I can't speak about anybody else. I don't think it's the organization. I think [Sky owner] Michael Alter is a good man and he tries to do things right. Just for me, I was ready for something new.
SLAM: A lot of people look at the core of your team and think that your window is closing as far as being a dynasty. Is it a point of emphasis to maximize your opportunities this season because it might be your last shot?
SF: I don't think so. I think our veterans have proven themselves. A lot of people were talking about how old our team was when we started the season and we're off to a 13-2 start. It's all about heart, gut, and grit, and that starts from the top on down. Our coaches do a good job of maintaining us, and our veterans do a good job of going out there and doing what they do best.
SLAM: How much does health play a part in the success that you're having?
SF: Health plays a big part. I mean, if your body doesn't go, you don't go, so you definitely have to take care of yourself and eat right.
SLAM: How many more years do you think you'll play?
SF: I can not answer that question. However long my body says I can go.
SLAM: You're the frontrunner for league MVP. How meaningful would it be for you personally to win that award?
SF: I'll have to get back to you on that question. If I win it, then I'll let you know.
—
Photos via Getty Images
456