As the men's national team's leading Olympic scorer, Carmelo Anthony has reached a legendary status in international basketball. He has three Golds, more than any other man to wear the red, white and blue. But not the most for an American.
Teresa Edwards has four Olympic Golds.
Edwards, a 5-11 point guard from Cairo, GA, played before the WNBA was even an idea. There's not much footage of Edwards out there, but luckily, Katie Smith was around to see Edwards play.
"I even missed some of her prime but understood she could score, could guard, could pass like no other," Smith, who played with Edwards on the 2000 Olympic team, says. "Drop 40, no problem."
Smith says Edwards had all the tools of a textbook point guard.
"Her size, her scoring ability, her ability to play defense and on the other hand, just run your team, understand how to find people," Smith rattles off the list of what made Edwards great. "Just that savvy, [she] just knew how to do it. She could literally do it all."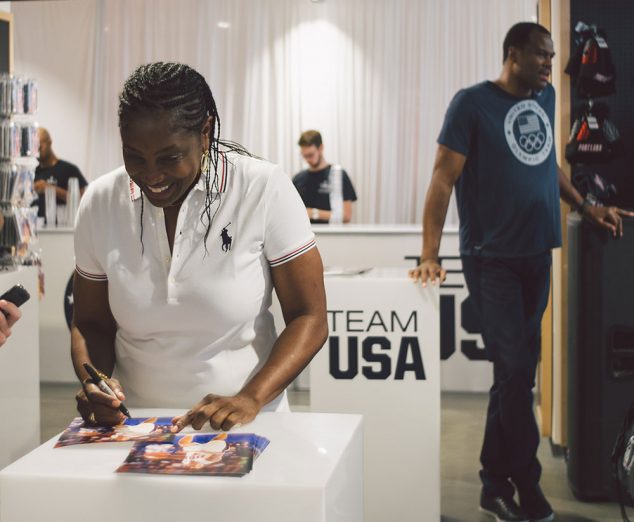 Throughout her career, she did a lot of winning. She went from being the youngest player on the 1984 national team, to the oldest on the 2000 squad. Both won Gold.
Edwards' international career lasted for five Olympics. In 1992, she and Team USA finished with the Bronze medal. But from her very first time in the Team USA pipeline, in 1981, to her swan song with Smith and the 2000 group, she suited up in 216 games with 'USA' across her chest. For comparison, Carmelo has only appeared in 72 games for America.
"When you play in the Olympics the first time, you don't think that you're a part of history," Edwards says a day after the Women's Team captures another Gold in Rio. "You don't know that there's a legacy or anything. You're just playing the game because you love it.
"As I watched the women win the Gold medal yesterday, I'm like, Wow, I'm a part of something that's really big. Something that should go on forever," Edwards says. "Something that we as Americans women's basketball players have truly built a dynasty."
Dynasty is the best word to describe the women's national team. Since 1984, they've won eight Gold medals, six straight since 1996. They've absolutely dominated their competition, establishing themselves as the best basketball team in the world. A dynasty in every sense of the word. Every dynasty needs to start somewhere. This one started with Edwards.
"She was huge," Diana Taurasi says. "She's the one that everyone looked up to. She was by far one of the best players to ever touch a basketball."
Edwards wasn't ever trying to build something that would last for more than 30 years, though. She wasn't looking to inspire an entire generation of young women. She was just tryna hoop.
"When I was young, I knew I wanted to be great at the game," Edwards says. "You don't know the impact you're going to have on others. For me, I'm always totally flabbergasted. I'm totally humbled by something like that."
Something like Taurasi or Smith, two of the best ever, looking up to her, both on and off the court. The vision, poise and leadership that Smith played with, and now coaches with, can be traced back to Edwards. The trademark aggression that Taurasi plays with can be traced back to Edwards.
After 216 games, four Golds, a Hall of Fame induction and uplifting too many young basketball players to count, the real Captain America knows the program is built to last.
"We love this game tremendously, it's such a part of America's fabric," Edwards says. "The experience is immeasurable because it continues on."
And if Teresa Edwards won't take the credit for molding the best basketball program in the world, Katie Smith and Diana Taurasi will give it to her.
"She was nasty," Smith says, completely complimentarily. "She was gonna do her part. She holds herself to a higher standard. She'll do whatever it takes just to get that win."
"She played with this aggression that I loved," Taurasi says. "No matter what was happening, she was just gonna go hard. That was what was so amazing about her."
—
Top photo courtesy of Getty, body photo by Bayley Claro Resetar