'The Gold Mamba Workout': Jewell Loyd and Phil Handy launch Kobe Bryant-Inspired Training Series
Phil Handy says there is no excuse to not get up and exercise, and he and 2x WNBA Champion, Seattle Storm guard Jewell Loyd are going to show you how.
While the pandemic has closed gyms, and limited hoop sessions and pick-up games on courts around the country, they've created an exclusive way to help hoopers train anywhere, at any time. They're also offering a series of training drills that Loyd and Handy learned from the late-Kobe Bryant himself.
Handy, founder of training business 94FEETOFGAME and a 3x NBA coach who now is the 3rd assistant coach on the Lakers, has partnered with Loyd to launch a training series, "GOLD MAMBA WORKOUT" on the 94FEETOFGAMEAPP. Both Jewell, also known as the "Gold Mamba"—a nickname Bryant bestowed upon her in 2015 when she went pro—and Phil had a close relationship with the legend. In 2011, Handy was offered his first NBA position as the Director of Player Development for the Los Angeles Lakers, working with Bryant.
The GOLD MAMABA WORKOUT is entirely inspired by Bryant. It will feature 24 Kobe Bryant-inspired drills, a tribute to the number he wore when he won his second scoring title, two championship titles, and made 10 All-Star Appearances.
"I was one of a few people that really got to know Kobe and spend time with him to understand his mindset of how he worked and how he approached the game of basketball," says Handy. "It's a tremendous blessing for me to carry and be part of a community. There's a lot of people that knew Kobe and are doing their part as a whole to continue what he left the world with. For me to be a part of that is a tremendous honor and blessing. It's a humbling experience to be able to understand what he was about and try to continue to share that with the world."
"I always try to you know, kind of idol my game around Kobe's (Bryant)," adds Loyd. "Because I thought his fade way jump shot, that you know he obviously got from Jordan and things like that…Just seeing how he (Kobe) trained and working with him and seeing all these things, I realized that I could do that. He realized that I could do that. There wasn't much that I couldn't do if I really focused on the details. And Kobe only, you know, trained and hung out with people that were real serious about the game of basketball."
"So, the fact that I was even in his presence was an honor [and] knowing that, I was able to take things from his game and implement into mine and knowing that Phil (Handy) worked with Kobe, and just trying to really key in on the main points of creating space, jab steps, and things like that… I want to take full advantage of that."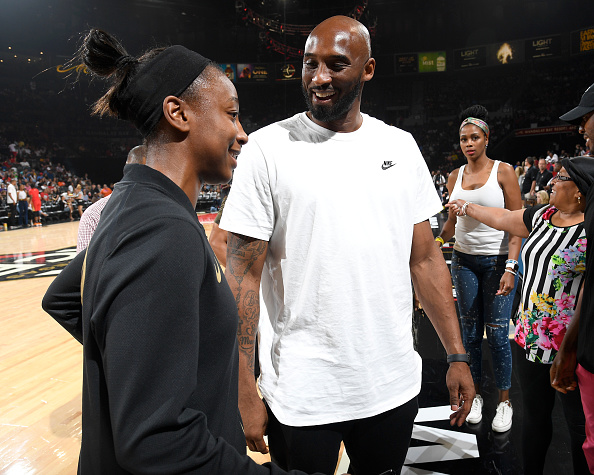 Bryant's work ethic was unmatched. At Lower Marion, he'd show up to practice two hours before, even shooting in the dark. By the time he got to the League, his teammates would try to beat him to the gym—but Byrant would be there, shooting even while injured with a broken wrist. Shaquille O'Neal has recalled memories of Bryant practicing, even during shootarounds, at full speed without a ball.
In a promotional video, Bryant narrates over a highlight reel of both himself and Loyd, preaching about the importance of not only putting in the work but that, through preparation, confidence is built.
"Confidence comes from preparation. You know, so when the game is on the line, I'm not asking myself to do something you haven't done thousands of times before."
WSLAM's Camille Buxeda caught up with Loyd and Handy to learn more about how the app came to be and what it means to them both to carry on Bryant's legacy.
WSLAM: What's good Jewell! What's going on?
Jewell Loyd: I've been good! Trying to stay warm in Chicago, it's a blizzard.
WSLAM: I'm in Brooklyn so, we've been feelin' all the snow…I want to start off with talking about the success of last season. You won a second championship, what did that mean? How did you feel coming out of that season, like, 'Damn, I really just did it again.'
Loyd: You know it was obviously a different season, our why was different and why we went into the bubble, and why we played you know having Breonna Taylor's name on our jerseys was super special. It was really educational to be down there, honestly, we had a lot of zoom meetings and a lot of things that we didn't really know beforehand. So knowing all that and then knowing everything that everyone put into the season on our team and trying to stay healthy and playing in a new schedule, to finally blend it was just like "We did it," you know it's like a relief and you know, for me, obviously it was a little bit more personal with losing Kobe (Bryant) and stuff like that. Having that in the back of my head going through and trying to you know go through grief and things like that. But it was just a really, I think at the end of the day we were just like "Uh, let's go home, like we did it!" We said we wanted to do this, we finally did it. You know celebrating, but let's get out of this bubble.
WSLAM: Looking back did you learn something new about yourself, that maybe you didn't know before going into last season?
Loyd: Yeah, I think of the things that I learned is that I have a voice and that I don't necessarily always have to be the loudest in the room, but I could definitely have my input and effects on different things, the way I'm comfortable with. So, that's communicating with the next generation of kids or having Breonna Taylor's name on my jersey. Things like that I can always educate in different ways and that was super important for us, for me, because I have nieces and nephews who look up to me. So, what I do and what I say actually really, really matters and affects them.
So, that's kind of how I felt about it like I really do have a voice, and people are actually listening to me. Which sometimes you kind of forget about when you're just, you know, in the season and you're just doing things you kind of forget that you also are a pretty good role model, regardless if you see yourself that way or not.
WSLAM: How did you and Phil first connect and get together to workout? And when did this idea for the app begin to come to fruition?
Loyd: Honestly, I got to know Phil through Kyrie (Irving). I met Kyrie, a couple of years before I met Phil and we just connected. It's pretty amazing that a lot of people who were really close with Kobe, we're still close even when he's not here. I mean, we still feel his presence when we're around each other.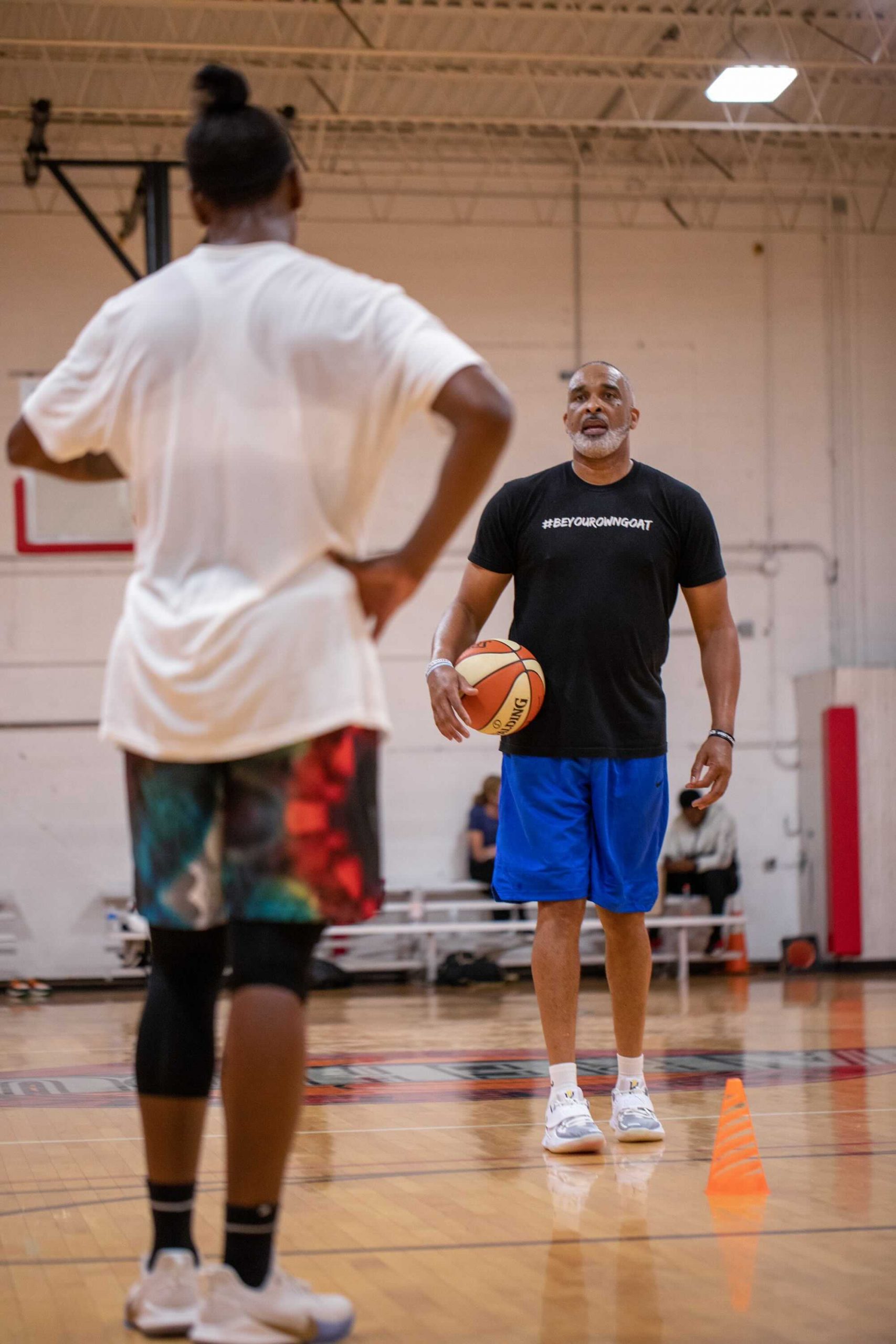 Honestly, I wanted to really invest in my game. Coming into the 2020 season, I just wanted to invest in myself and really get going. You know a lot of times that people don't know we travel overseas and we're always playing, and we don't have a chance to really work on our game and I wanted to be more efficient, more effective, and really grow my game. A lot, of times I don't like to reach out to other trainers because I'm very hit or miss. Like I keep my stuff very private, and I need to know that you're actually here for me, not just to post me on IG (Instagram) and stuff like that. So, the moment I worked out with Phil it took us maybe 10 minutes I mean, connected because he was there, he believed in me, he was there, he knew my game. He knew what I wanted to do, how to accomplish it so it's been a great blessing to have him in my life, in [my] corner, and we're working, we're putting a lot of good work in and it's exciting to see.
WSLAM: So, tell us more about the app and this "GOLD MAMBA" program…
Handy: I wanted to put together an app to simply share my knowledge and impact basketball on a global scale. Just have a place for players and coaches to improve from a teaching standpoint. 94ft app is a basketball community set up for coaches, trainers, and athletes of any age, gender or skill level. It's a place people go to get detailed, quality basketball instructions. And for coaches and trainers to learn how to teach better.
The history of the workout and how Jewell got her name is Kobe. He blessed her with that nickname. It's really just a combination of "Jewell-isms," Kobe inspired drills and some things that I have learned over the years that I use heavily in my training techniques. It's a great compilation of things that Jewell has tried to apply to her game, things that Kobe used in his game and things that I've applied to my training over the years. It's 24 drills in honor of Kobe's number and Jewell's number, who both wear 24. It's a great way to share some high level basketball training with the basketball community. It's a great high level workout that we really enjoyed putting together.
WSLAM: Jewell, what's the workout like?
Loyd: I'm not going to lie, it's pretty tough. Which it should be, because I mean that's how you gotta get better, you got to challenge yourself and get yourself out of your comfort zone. Then there's a lot of footwork, a lot of footwork, and I think people kind of overlook that stuff when they come to training. They don't really realize that's like the basics of that, it's understanding, a certain jab step, or what different jab step to use. There's a lot of ball handling my thing, that's a big thing is understanding if you could control the ball you could go anywhere on the court because confident in your handle. So, understanding ballhandling is you know jab step, crossovers, fadeaways obviously really creating space, with little space and little dribbles. So, understanding how to use that and understand that it's not, you got to take 15 dribbles to get a shot off, a simple jab-step or a simple shot fake do the same.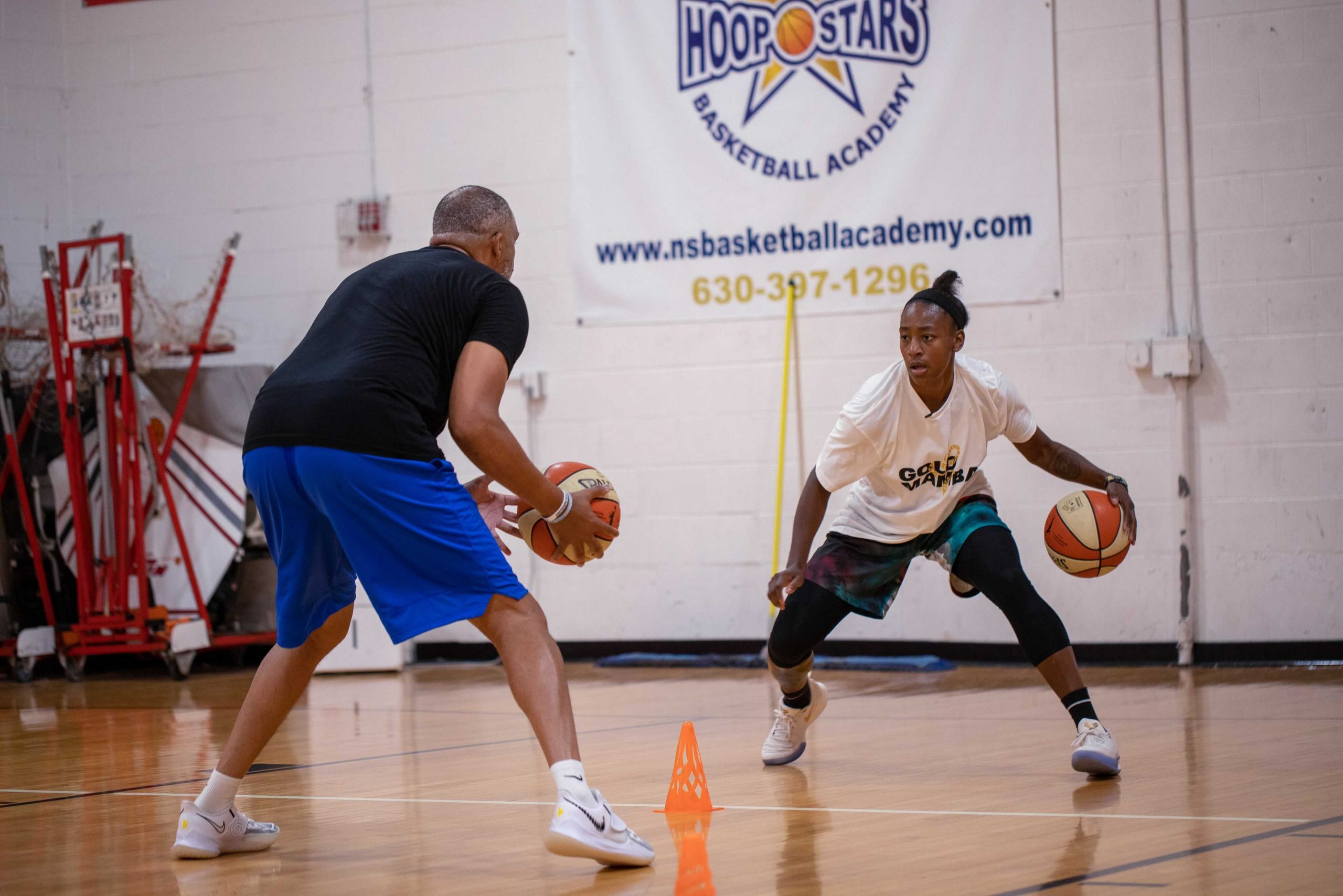 Then we get a little crafty, you know a little finishes, a little Kyrie (Irving) stuff in there as well so it's a full workout like you could do the workout over and over again. Like I said I do the workouts, I'm doing all the workouts so it's not just out there for show, it's real stuff so it's, good.
WSLAM: Why was this such an important thing for you to do with Phil, at this time?
Loyd: Everything's kind of changing. How people are learning, how people are training, and you could take this (App) anywhere. You could go and find a parking lot, you can shoot in your garage, you could go work on your ballhandling. I guess my whole thing is like there's no excuse and Phil knows this too, anytime anywhere. You can always make time, you can always figure out how to do it and being able to have access in your phone, being able to have this, like you don't have an excuse to say, "oh well I didn't know what drills to do." Now on your phone, here's this. Maybe you don't have a time or place to go get a trainer, but you have two minutes, if you have time to check social media, and Twitter, you have time to put 15 minutes on your ballhandling. Or watch film on your game, or study how people think and how to come up with a ball screen like that's all on your phone.
WSLAM: Going into this program what's something you want these hoopers to take away from when they use this app? And, what does it mean to continue Kobe's legacy through an app?
Handy: Inspiration. I hope that from the app itself and from the Gold Mamba Workout people feel inspired to not be lazy and take away the excuses. Covid has been a bad thing for people around the world. It's easy for people to say there is nowhere for me to work out, there's no gyms, there's no coaches. There are all these different excuses you can use. Hopefully, this program will remove all these excuses because you can take the app and your phone in the palm of your hand and go in the driveway, your backyard, living room, garage. This whole app is to implement the philosophy of no excuses and training anywhere anytime. Find a way to get up and get some exercise.
Loyd: It means a lot. You know, I think Kobe's last couple of years he was focused on, the next generation of female hoopers. He dedicated his time, obviously with Gigi's (Bryant) team and really investing in women's hoops. Knowing that I'm a part of that legacy knowing that I know some of the philosophies and I'm hanging out with and I'm close with a lot of people who worked with Kobe, and I'm not alone in this process either. It's not just one me right, it's on our team and people that he's mentored me, Ky (Kyrie Irving), Phil (Handy), all of us we're trying to do what we believe is right. Do it the way it should be done. Right, we're not trying to do this for glory or fame, we're really trying to just help and that's the biggest thing it's not about us, it's about giving back. That's just something we have pureness about and joy about. It's really about the next generation, you know, I'm here doing what I love and I want the kids, and people, to be able to do the same.