Sami Whitcomb's Seven Years Playing Overseas Led to Finding Love and a Home with the Liberty
WSLAM is spotlighting different women around the game who are breaking barriers, elevating the game and continuing to empower others.
Timing is a funny thing in the life of New York Liberty captain Sami Whitcomb. Timing led to Whitcomb's chance interaction with her wife Kate Malpass in an Australian basketball league. Such is the case because if her basketball team in Germany didn't go bankrupt in 2013, she wouldn't have moved to Australia to play and wouldn't have subsequently met her wife there.
And if Whitcomb didn't play in Australia, she may never have gained interest from WNBA teams.
But once in the WNBA, the brutal nature of timing forced Whitcomb to miss her former team's (Seattle Storm) championship because it overlapped with her son Nash's birth.
"That meant I was going to have to miss the championship which was devastating in its own right but when you compare it to the alternative of missing the birth of my son, there wasn't a comparison," Whitcomb says.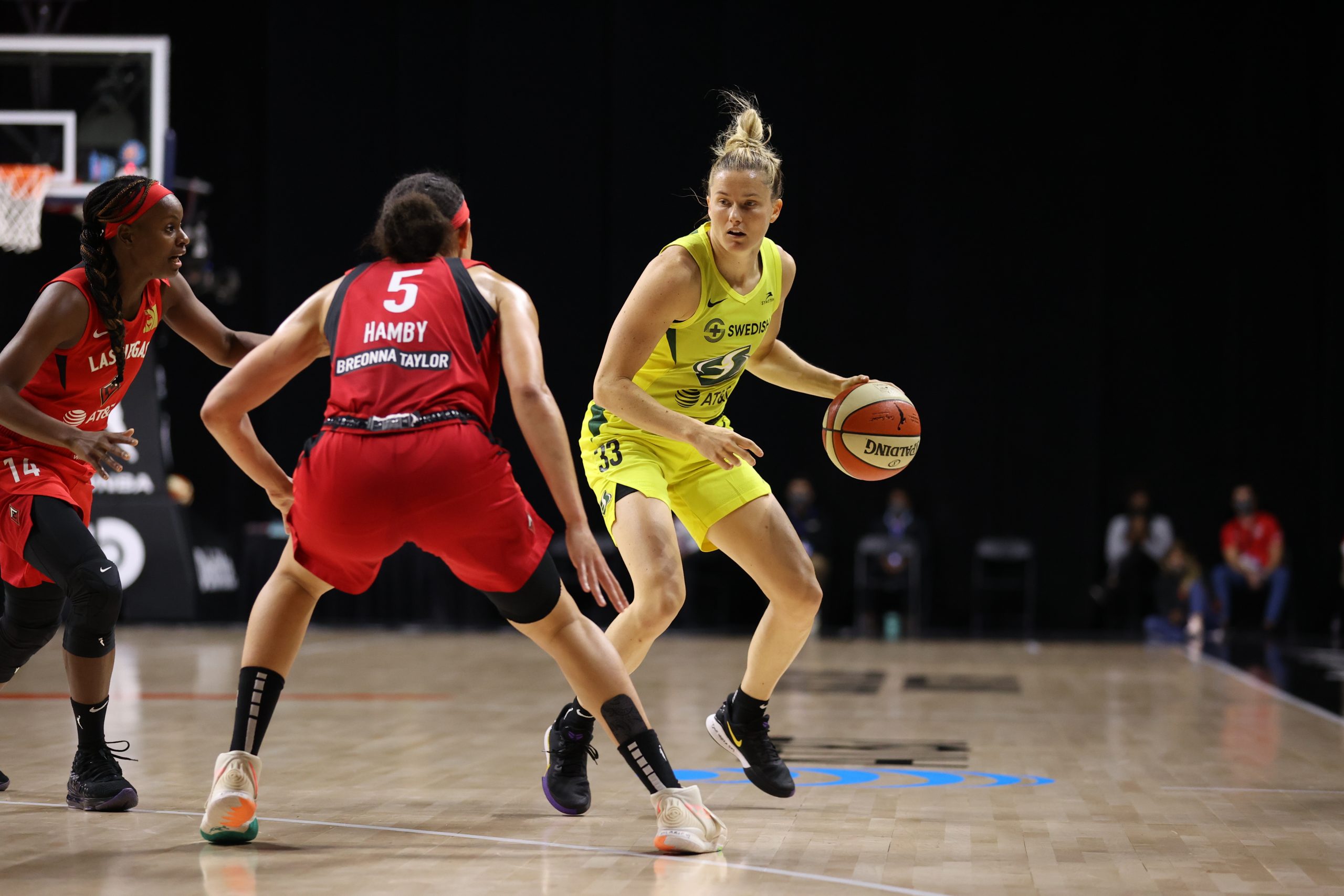 In 2020, just as Whitcomb became the energizer bunny off the Storm's bench and made herself a staple sniper in the W, Malpass was due with their son, Nash, and was expecting him across the world in Perth. So Whitcomb prepared to do everything for her Storm teammates as the due date approached and then planned to be present to support Malpass in their son's arrival. The journey included two, two-week quarantines in Australia—one in Sydney and the other in Perth.
Whitcomb says that being there for Nash's birth was "the most exciting and rewarding thing in the world."
---
Let's rewind to where Whitcomb's overseas journey truly began. Germany.
What do you do when your team goes bankrupt as you're making the finals? The seemingly hypothetical question is one that plagued Whitcomb during her second year of playing professional basketball overseas. After her storied college career for the Washington Huskies, which included being named a two-time Pac-12 all-defensive nominee, Whitcomb couldn't latch onto a team in the WNBA beyond training camp, and so she went overseas. Her squad, the Wolfenbuttel Wildcats, had just secured a bid to the Bundesliga final. A breakthrough in Whitcomb's career only to be stymied by the team's bankruptcy. Naturally, she did not know what was next.
The turn of events forced Whitcomb to scramble to find a league to play in, which ultimately she did in Australia's State Basketball League (SBL). In Australia she would eventually meet her wife Kate Malpass, a veteran SBL hooper herself, in 2014. The two began getting to know each other and Whitcomb says they "just clicked." Others would call it the sequel to Love and Basketball. Whitcomb's ability to stay calm and collected regardless of where her playing career takes her most certainly contributes to her ability to balance motherhood and hoops now.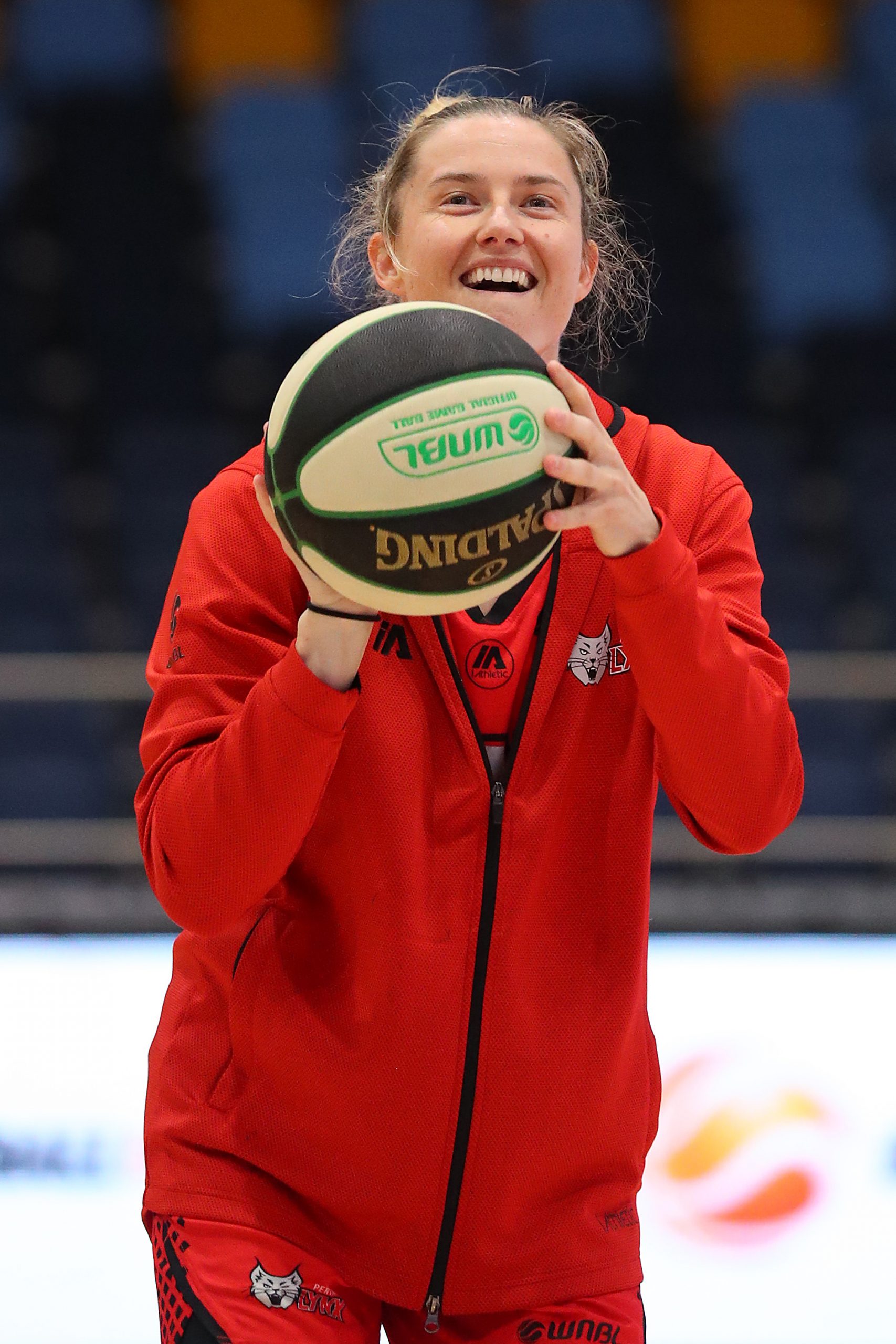 Whitcomb's career has taken her from Germany to Australia, Slovakia, back to Australia, France, Turkey, and finally to New York with the Liberty. It's been seven years of trials and triumphs overseas before finally getting a shot at the WNBA and eventually becoming a captain for the Liberty. Now reflecting on her journey twelve years later, Whitcomb is as grateful as ever. She credits the catapult from Germany to Australia as what led to her four on-and-off years in the SBL and WNBL.
In Australia, a country in which Whitcomb now shares dual identity, the Liberty guard found on-court success, love, and a place she'll call home for the rest of her life. Whitcomb's breakout year came in 2016, when her Perth Lynx won the WNBL championship and she was named MVP of the WNBL, catapulting her into a training camp audition for the Seattle Storm in 2017.
"I would just say again, if you can focus on your why and continue and try to get better, you'll find it's so rewarding regardless of making a WNBA team or not, and when you focus on that, it takes away from so much of that pressure of worrying about making a team. Sure, it was a long six or seven years playing overseas before I got an opportunity, and looking back, that's probably not how anyone would draw it up and not ideal but I'm so grateful it happened when it happened."
In the time since Nash's birth, a lot has changed for Whitcomb and Malpass. After watching her Storm teammates win a WNBA championship from afar, and her second overall championship, Whitcomb was traded to the New York Liberty. In her first season on the East Coast, she was thrust into long-distance with Malpass and Nash. The Australia holiday break provides a time for Malpass and Nash to come to New York but otherwise, Whitcomb is forced to see her son through Facetime, which she says is a far second to what he'd rather be doing: playing with his toys. All difficulties aside, Whitcomb says the twelve-hour time change is better than it was when she was in Seattle.
In her first year with the Liberty, Whitcomb produced a stat line of 11.7 points, five rebounds, and 2.7 assists per game, and was second in three-pointers made across the WNBA with 76. Last season, Whitcomb took on a facilitator role with the Liberty while starring alongside new stars like Betnijah Laney, Sabrina Ionescu and Didi Richards. Fellow Storm teammate Natasha Howard also had the chance to shine in a leadership role for the Liberty.
"I was most proud of our resilience," Whitcomb says. "To come full circle that whole season where our goal was to make the playoffs and a lot of people didn't believe in that, to see that come to fruition was exciting."
Whitcomb is, of course, referring to the Liberty's narrow loss against the Mercury to begin the first round of the WNBA playoffs. For a 12-20 season overall, the Liberty fought like a championship contender in Phoenix, only losing because of a last-second shot. The nail-biting loss served as the perfect transition to the upcoming season, in which the Liberty are returning Laney, Howard, Richards, and Michaela Onyenwere—solidifying a core of what the future could be in New York. Additionally, the team struck gold in free agency with the landing of Stephanie Dolson. The mix of up-and-comers and veterans under the tutelage of the new but experienced head coach Sandy Brondello could make the Liberty tough to beat.
"I don't think we have a ceiling," Whitcomb says of this year's roster.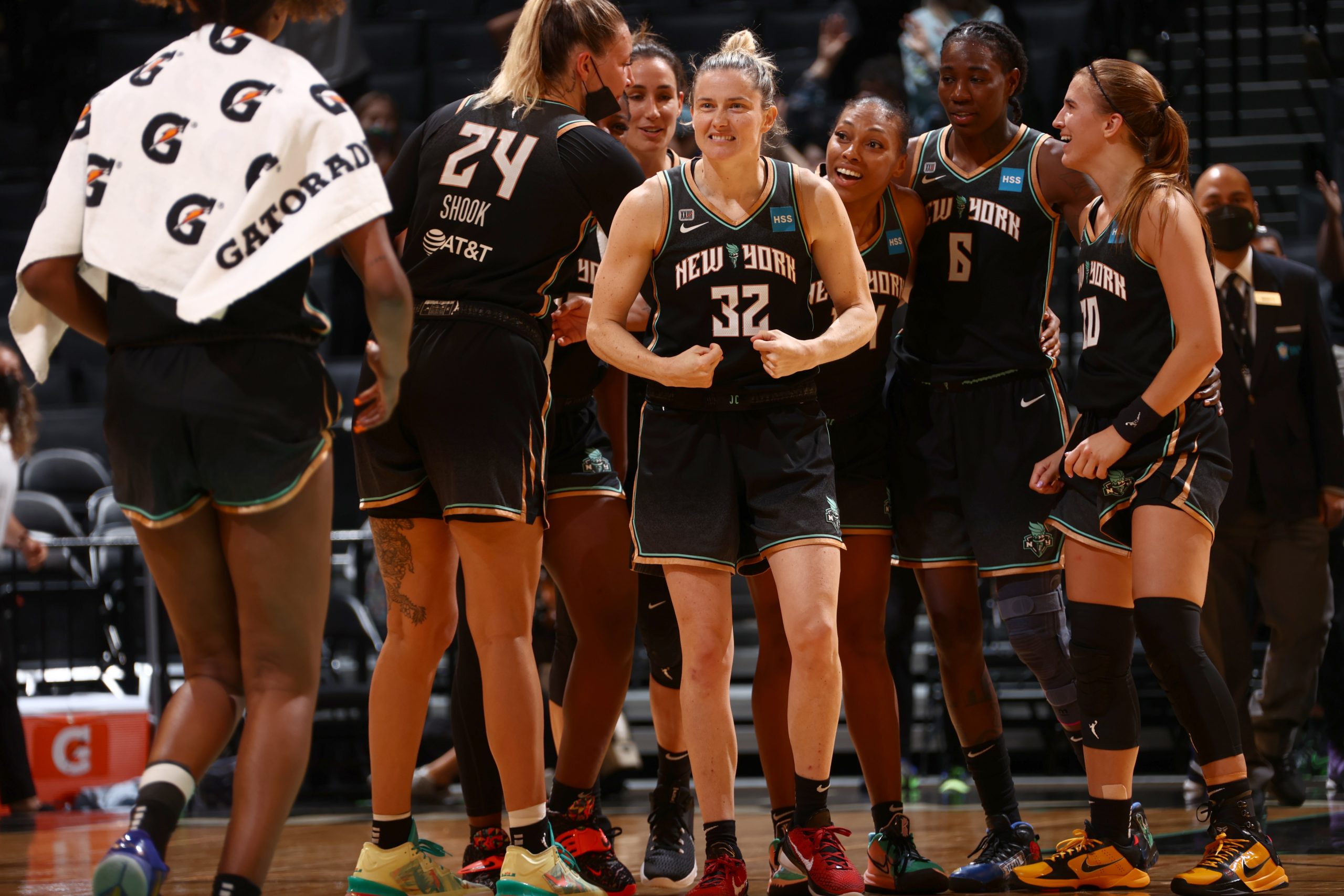 All the while Whitcomb is balancing motherhood and a new leadership role with Liberty, she also maintains immense gratitude for the moments she's had playing the game she loves. But there's still one bucket-list item to accomplish.
"I was proud of winning that championship in 2020 but being there for [Nash's] birth as well," Whitcomb says. "I'd love to have him get to see me win a championship and be older for that."
---
Photos via Getty Images.