Cleveland, OH—The Cleveland Cavaliers spent two months strategically planning the coordination of Cavs media day. Over 300 credentials were issued for the event, as reporters from Brazil, Canada, China, Germany, Israel, Japan and Poland joined a contingent of local and national outlets in coverage of LeBron James' return to Northeast Ohio.
Cleveland Clinic Courts were home to an ESPN studio set on media day, situated on the wall opposite the main entrance. Avery Johnson occupied the analyst seat, as David Aldridge and NBA TV were broadcasting live nearby. Countless other outlets, including SLAM, occupied designated areas of the floor throughout the facility.
The atmosphere was festive, the excitement was palpable, and the expectations for the 2014-15 Cavs seemed to rise as the day went on.
LeBron James was back in Cleveland, wearing the wine and gold of the Cavaliers for the first time since making his decision to return. The visual provided significant reason for Cavaliers fans to continue their off-season celebration. But that party ended quickly for those involved as training camp began over the weekend.
When I arrived at Cavs practice on Sunday, the same building that hosted Cavs media day looked drastically different. It had transformed into a place of business, and nobody understood this more than the championship teammates James recruited to join him in Cleveland.
Two-time NBA champion James Jones spoke with SLAM about his approach to camp, and setting an example of the collective work that's now required.
"You come in and push physically," Jones told SLAM. "This game is physical. A big component is mental, but in order to get where we want to go we have to go through the world's best athletes. The world's best teams. And your conditioning level is the key."
Coach David Blatt praised the overall conditioning level of his team heading into camp during media availability on Sunday. But according to Jones—a 12-year NBA veteran who has shot 41.5 percent from three-point range during 108 post-season games—conditioning is only where the real work begins.
"The way you lead is you get out there and you get on the floor and compete," Jones said. "If you compete, you will make those guys better. And when they get better, and develop their talent, especially the young guys, it makes your team better. And it makes you tough to beat."
In terms of leadership, Jones added that he and fellow free-agents Mike Miller and Shawn Marion—who combine for six Championship rings between them—aren't trying to be overly vocal at the onset of camp. But if there is a reason to speak up, they're equipped with the respect required to do so effectively.
"Unless you see something," Jones said, on when he might motivate or offer advice to a fellow teammate during practice. "But our guys are here early in the summer. You see the work they're putting in, you see the energy. They're anxious. They're coming from a time where they were rebuilding. Now they have a chance to take some of those things they learned, some of those experiences they had while they were rebuilding, and help us translate those into wins. So there is an excitement level. When guys are excited about winning, you don't have to do much talking."
The impact a veteran like Jones has in this League is immeasurable in many ways. But his value isn't lost on James, who actively recruited his former Miami Heat teammate this summer, nor is it lost on his new coach.
"They have a great impact on the younger guys," Blatt said, when I asked how Jones, Miller and Marion have arrived to help set the tone for camp. "Great deal of impact. And the fact that they, themselves, they push themselves. They know and understand that we're back to work. We have to get our reps in. We have to get our conditioning in. We have to take in a lot of information. They make a tremendous impact. That's why coaches always want experienced players. It makes our job easier."
As the Cavaliers bid farewell to the organized chaos and red-carpet spectacle of media day, the message is clear throughout the organization. Now is when the real work begins. The only celebration that Jones, Miller, Marion or James actually showed up for comes much later.
Cavs Sing Happy Birthday To Anderson Varejao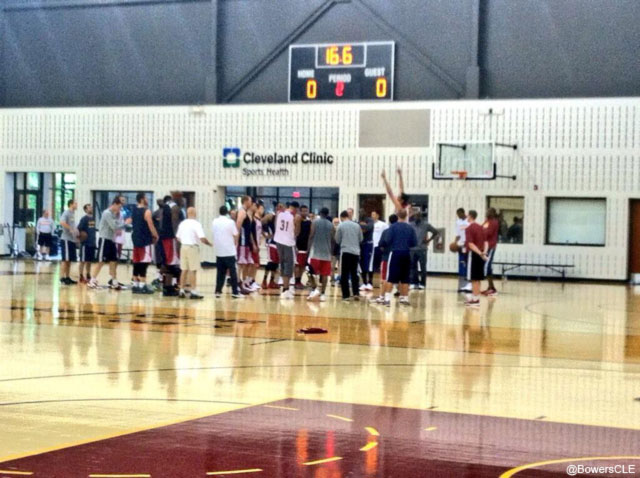 Anderson Varejao is entering his 11th NBA season—all as a member of the Cavaliers. In 2007, he helped LeBron James advance to his first NBA Finals appearance before being swept by the San Antonio Spurs. He will join Jones, Miller and Marion as a critical leader in support of James again this year.
On Sunday, Varejao was positioned at a shooting station with Marion and Kevin Love as practice concluded. He knocked down a corner three after Love and Marion each did the same to make it three-straight for their group from that spot. As the shooting session ended, the Cavs then gathered around their long-time big man to collectively sing happy birthday. Varejao turned 32 on Sunday.
The singing was terrible from a harmonic standpoint. But it was encouraging to see an element of chemistry being built as a group of new faces attempt to bring Cleveland its first championship since 1964.
The Cavaliers open their pre-season schedule with Maccabi Tel-Aviv at Quicken Loans Arena on October 5. The following Saturday, they travel to Varejao's home country to square off with the Miami Heat in Brazil.