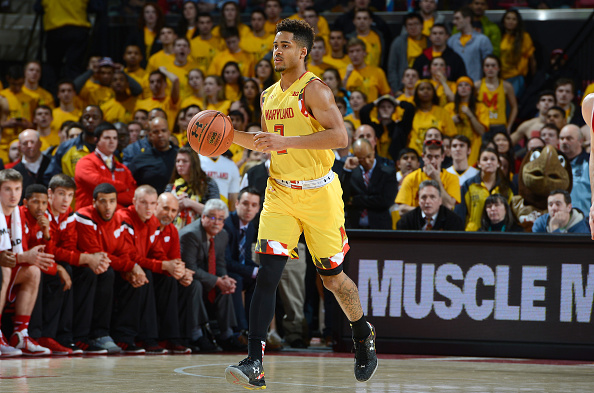 Bad news for the rest of the Big Ten, as Maryland announced that star guard Melo Trimble will return for his sophomore season today. Trimble—who was projected to be a first-round pick if he declared for the 2015 NBA Draft—was a first-team All-Big Ten selection during his freshman campaign, and helped lead the Terps to a 28-7 record this year with a 14-4 conference mark during the school's first year in the Big Ten. The Maryland native averaged 16.2 points, 3.9 rebounds, 3.0 assists and 1.3 steals a game.
More, from the school's official site:
Guard Melo Trimble will return to the University of Maryland for his sophomore campaign, head basketball coach Mark Turgeon announced Wednesday.

A native of Upper Marlboro, Md., Trimble led the Terps in scoring, averaging 16.2 points per game and ranking in the top five in the conference. His 207 made free throws rank third all-time in single-season Terrapin annals. Trimble was a first team All-Big Ten selection and a USBWA Freshman All-American.

"We did our due diligence and also had a number of great discussions with Melo and his mom regarding what would be best for his future," Turgeon said. "He is excited about playing with a great team and is looking forward to his sophomore year at Maryland."

"I am excited about spending another year with my teammates and building on what we accomplished this year," Trimble said. "I want to thank Coach Turgeon for helping my mom and I through this process. This was the best decision for me. Being a member of the Maryland basketball program has been an unbelievable experience and I can't wait to be back in front of the best fans in college basketball next season."

Trimble helped guide Maryland to a school-record 26 wins in the regular season. The Terps punched their ticket to the NCAA Tournament for the first time since 2010.