As a child, Matt Scott never took the first steps that a healthy baby usually puts together around his first birthday. He never ran to catch the school bus or rounded third base in little league. Scott was born with spina bifida, a congenital spinal condition that robbed him of the use of his legs even before he had the ability to use them. Still, he was dead set against playing wheelchair basketball when he heard about it around age 15.
"I always played ball with my able-bodied friends and never knew what wheelchair basketball was. I heard about it but didn't really want to play it," says Scott, 30. "Growing up, there weren't other kids in wheelchairs in my school district, none at all."
At home, Scott did the same laundry and took out the same trash as his able-bodied sister. On the courts near the Detroit townhouse where he grew up, he played in the same pick-up games as kids with working legs. Even having both feet amputated didn't stop Scott from wanting to show everyone around him that his paralysis didn't define him.
"Kids from across the city came to play at the courts by my house and they'd always look at me like, 'Is he going to play?'" Scott recalls. "My friends would say, 'Oh, he's going to play, and he's going to kick your ass.'"
Scott earned respect playing on the playground, but he wasn't able to compete in organized ball until he reluctantly gave wheelchair basketball a spin. Today, Scott is one of the sport's most accomplished players in the world and, after starring in a 2008 Nike commercial, the only even remotely recognizable American. Despite the obscurity, Scott earned gold medals at the Parapan American Games in 2006 and 2011 and represented the US in the 2004, 2008 and 2012 Paralympics.
Though adaptive sports date back to the toughest heroes of World War II, athletes still battle a stigma that says wheelchair basketball is more of an activity than a competition or "some kind of charity game," as Scott puts it. With the 2016 Paralympics in Rio coming up, Scott and everyone involved in wheelchair basketball are hoping to make a statement.
"Whenever I'm in the game, I realize there's someone watching that hasn't seen wheelchair basketball, and I think about what I'm going to show them," Scott says. "I've always felt like this is me, and this is the disability that I have, and that I need to show people that I can do things, or else they're going to think otherwise."
Modern wheelchair basketball began in 1949, when the first National Wheelchair Basketball Tournament was held at the University of Illinois by professor Tim Nugent, the institution's director of rehabilitation. The sport was being championed by wounded soldiers returning from the war in need of rehabilitation and recreation, but Nugent, who served as the NWBT's commissioner for 25 years, created the tournament to encourage participation among all people with paraplegic conditions and spinal cord injuries.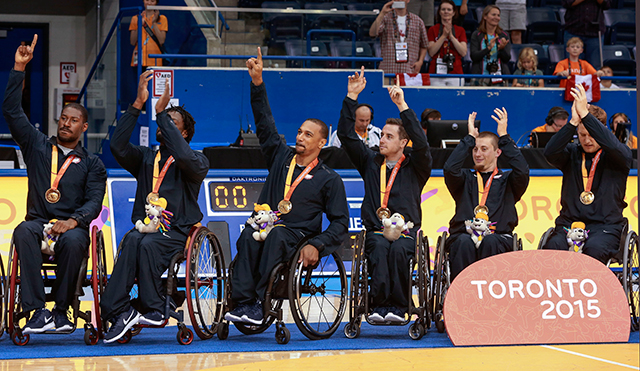 The tournament evolved into what is now the National Wheelchair Basketball Association, which joined USA Basketball in 1991. The NWBA has a membership of about 2,400 players, on roughly 220 teams across five divisions (collegiate, championship, DIII, women's and junior), playing in local leagues that qualify for the national tournament every year based on a team rankings system.
Although the NBA doesn't sponsor a pro wheelchair league, adult teams in many markets have varying types of affiliations with NBA clubs; there are the New York Rollin' Knicks, Dallas Wheelchair Mavs and Cleveland Wheelchair Cavs. The NBA also funds an annual "demonstration game" at All-Star Weekend, but no formal arrangement between the groups exists.
"Atlanta bought uniforms for the last three years and Chicago held three wheelchair demonstration games this year, whereas in the past there'd only been one," says NWBA associate director of sports Jeff Jones. "Some teams get good funding that helps with the travel and some get minor financial support [from the NBA]."
The NWBA hopes a new agreement they've reached to work directly with the NBA will help introduce more kids to wheelchair hoops. "We're going to be working directly with the NBA on a two-year program called Junior NBA, targeting kids 8-14, and we expect the backing of the NBA will help us grow programs everywhere," Jones says. "We add one prep and one varsity team each year, so wheelchair basketball remains the largest sport for kids with disabilities."
One place there is steady interest in wheelchair basketball is among college level participants. Many large universities like Illinois, Texas-Arlington and Arizona have successful and well-funded programs, but smaller schools, like Scott's alma mater, Wisconsin-Whitewater, have built programs based on catering to the niche.
"Our DIII school competes against every division and all these teams compete for a national championship," says Whitewater wheelchair athletics director and wheelchair hoops head coach Jeremy Lade. "I think we're meeting the needs of the kids who want to play at the college level, and you'll see more opportunities when more kids are interested in playing."
One issue that has created some division in the wheelchair basketball community is whether to allow able-bodied players to compete against players with disabilities. While most foreign countries allow able-bodied players to compete with disabled players at least on the club level, America has yet to follow suit, as the NWBA has voted down the inclusion of able-bodied players at its national assembly each of the last two years. While proponents of able-bodied players think more participants could only help the game, critics think it would create an unfair advantage on the youth level.
The NWBA membership did, somewhat reluctantly, approve a one-year pilot collegiate program for able-bodied players to play on and compete against other collegiate teams who have able-bodied players, but not against any teams that don't.
"We're on the cusp of having college wheelchair basketball expand and the programs that can't recruit enough student athletes will be able to use able-bodied athletes and help in developing programs," Jones says. "I've never seen an able-bodied player outplay a player with a disability, but it was still a very close vote, we're going to take it step by step and evaluate it."
Wheelchair basketball uses a classification system that rates players based on their functional ability. Players are rated 1-4.5 and higher-rated players tend to be the most able; the total number of ratings points in a lineup cannot exceed 14. The current classification system would prevent unfair advantages and lopsidedness if the able-bodied were regularly allowed to compete against disabled players. Most elite wheelchair players with disabilities are open to the challenges and expanded opportunities the able-bodied would bring to their game.
"I'm a 4.5 and able-bodied players are rated 4.5, as well," says Canada's Patrick Anderson, a four-time Paralympic gold medalist. "In Canada, we have able-bodied players on our club teams but nothing gives them an advantage over me. I'd say players with disabilities have the edge by power-weight ratio because I'm not carrying extra weight below my knees."
While wheelchair basketball players—disabled or otherwise– are still trying to find their place in the basketball landscape, most players are much better equipped to do so. Scott has a sponsorship deal with Per4Max, a company specializing in sports wheelchairs designed specifically for adaptive athletes.
"I didn't have a basketball wheelchair when I first started playing, just a regular day chair rusted out from the Michigan snow," Scott says. "Improved chairs are really helping advance the game."
Another thought circulating around wheelchair hoops is that having one of their athletes or coaches hired as a major college or possibly NBA assistant coach would help to break the stigma of limitations disabled sportspeople face. Basketball coaches with disabilities—lifers, like current DIII Concordia (WI) University assistant coach Dave Cooks—have coached able-bodied players for years, yet there hasn't been one known to coach on a high level.
"There are a lot of logistics involved, but I'm open to the challenge," says Cooks, a Whitewater alum and former graduate manager at Duke. "People in wheelchairs want to get into coaching [high-level hoops]—I know I'm not the only one."
After finishing college in 2008, Scott joined Galatasaray, a top pro team in Istanbul, Turkey. Scott says players earn between 500-5,000 Euros monthly competing in domestic and inter-European cups. Anderson, who played pro for four years in Germany, says overseas clubs are "very sophisticated" and fans have a greater appreciation for the game as a spectator sport.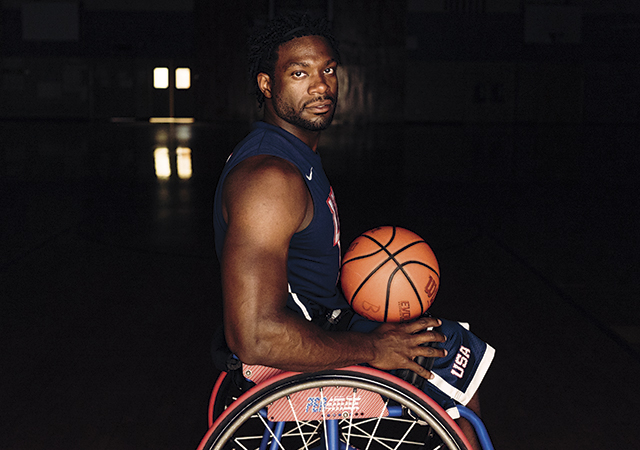 "Most North American talent goes overseas, but if there was a pro league closer to home, it would be special just to be recognized," Scott says, "As long as there is a way for me to make a living playing wheelchair basketball, I want to do it—but there isn't a way for me to do it in the States."
According to the NWBA, an affluent businessman they would not name recently submitted a proposal to them outlining some type of formal professional league for the US, but for now it's just an idea. "It really starts with interest: How are you going to get funding for something people aren't interested in?" Scott asks.
Wheelchair basketball's best shot to generate interest now is by making a push forward during the 2016 Paralympic Games in Rio, where the US aims to capture its first gold since '88. Scott, who will be 31 and playing in his fifth international tournament, will approach the competition just like he does every other one.
"I've always felt this obligation and responsibility to legitimize the game and get people to check out my sport," Scott says. "It's a tough and beautifully played game, it just needs a chance."