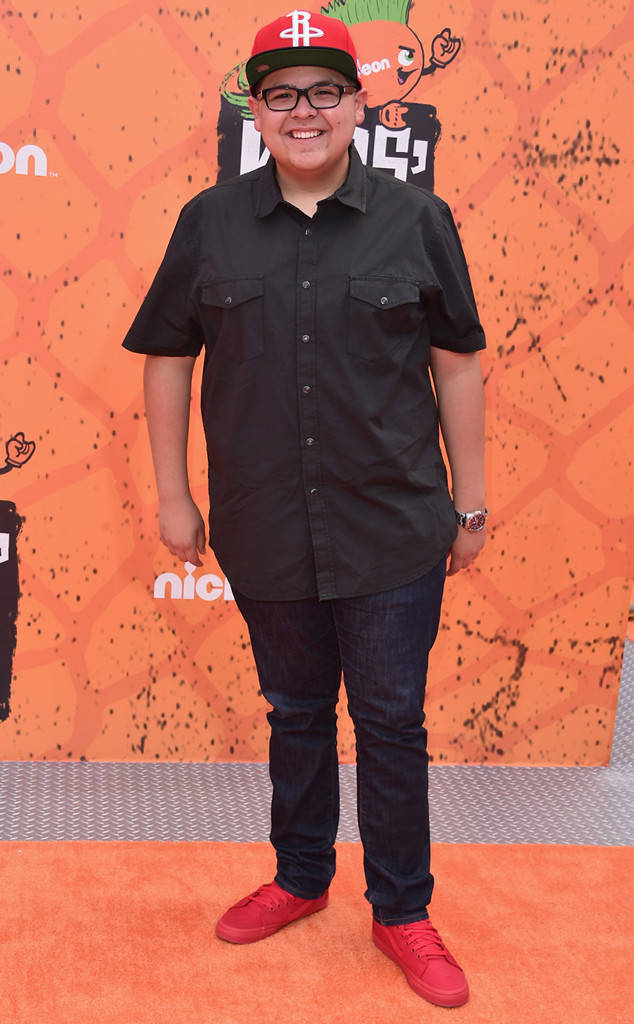 For eight years, Rico Rodriguez has been one of the stars of the Emmy Award-winning Modern Family, playing the upbeat, romantically inclined Manny Delgado. When he's not filming, the 18-year-old can be found watching hoops or adding to his growing sneaker collection.
SLAM: When did you start following the game?
Rico Rodriguez: I was kinda playing around with it on set or at home. I was like, You know, it's kinda fun. And I started watching on TV. From then, it stuck. I gravitated toward the Houston teams, so I was like, What's a team I could follow? And I saw the Rockets, like, you know, I wanna be a Rockets fan.
SLAM: There's lots of pictures on your Instagram of you with Rockets players. What's it like talking with them?
RR: It's awesome. They're really down to earth. A lot of the players, like Sam Dekker, he watches Modern Family and he watched my sister's movie, Paul Blart: Mall Cop. [Rico's sister is actress Raini Rodriguez.—Ed.] Now whenever he has a good game, I'll DM him, 'Hey buddy, good game, dude!' He's like, 'Thanks for watching, man!'
SLAM: You filmed an episode with Kobe in 2010. What do you remember about that?
RR: It was before I knew basketball. But the Lakers, I know they're historic. We got to film during an actual game. Every commercial break, they'd bring the cameras out. The episode was about the Kiss Cam, so they had the Kiss Cam out and once the fans started catching on, they'd cheer even louder. We were there at morning shootaround and were able to meet Kobe and Pau Gasol.
SLAM: Does anyone else on the cast play or watch bball?
RR: Ty [Burrell], he's a Blazers fan. Nolan [Gould], he plays Luke on the show, he's a Spurs fan. A lot of our writers and crew follow basketball. It's always fun to come the next day and say, Hey, what do you think about that game?
SLAM: Your sister did an interview and mentioned being a fan of Dwyane Wade. Who else do you root for?
RR: Of course D-Wade. He guest-starred on an episode of my sister's show, Austin & Ally. I didn't get to meet him, but my sister was able to snag the Wade jersey she was wearing while he was in Miami and she got him to sign it. We follow Isaiah Thomas—we love his whole story. I always talk about Giannis Antetokounmpo.
SLAM: T-Mac and Harden are two of the best players in Rockets history and they've also had adidas kicks. What sneakers do you rock?
RR: Oh, man, that's hard. Right now, Harden's sneaker. It has great colors, it's very comfortable. I collected the Crazylight Boost before he had his Vol. 1s. I always wore that. My sister and everyone, they know I love sneakers, they all know I'm crazy about them. I have four pairs of the Vol. 1s.
SLAM: What's your all-time favorite sneaker in your collection?
RR: My brother got me the Air Jordan XII "Wool," the black ones. I think those are really sick. I always try to wear them at special events. I'm always like, I'm gonna throw on these Air Jordans, feel cool. One of the best things is when someone compliments them.
SLAM: We gotta get you in the Celebrity Game next year.
RR: I know! That's what I'm striving for, to be honest. Gotta get the handles right, gotta get the jumper correct.
—
Photo: Susan Osser