It's almost All-Star time, baby! Welcome to the game's biggest party, industry shindig, etc…or at least how those of us who attend think of it. Of course, the vast majority of basketball fans, in the US and around the world, don't experience it like that at all. All-Star Weekend is basically a three-day television show, one that features a decent amount of hoops thrown in with talking heads and commercials.
Last year at this time, the basketball world's focus was on New York City, and when all the events and hype had happened and it was time for the best players in the NBA to just go out and ball, one particular dude rose above all the others: Russell Westbrook. You guys remember? Taking the floor at Madison Square Garden and attacking the East All-Stars as if they were the host Knicks ('14-15 edition), Russ came off the bench (silly fans) to score an ASG-record 27 points in the first half and finish with 41 (one short of Wilt Chamberlain's all-time record) in less than 26 minutes of play to lead the West to a 163-158 victory that doubled as a referendum on just how insanely talented this dude is. It marked the fourth time (incidentally, RW's career shooting percentage in the mid-winter classic is an unconscious .557) that Westbrook played in the ASG as a reserve, but the first time he'd been the game's best player and chosen as its MVP.
Is it last year's stellar showing that prompted fans to wise up and vote him in as a starter for the 2016 edition? That got Jordan Brand to put its full and considerable marketing might behind him as the face of the much-awaited Air Jordan XXX we're gonna see on his feet this year? That led SLAM to give Russ his first completely solo, not-split cover? Seems likely times three.
This issue, which features a front-to-back redesign that looks amazing, will be out nationally (and of course in Canada/Toronto!!!) next week. Enjoy.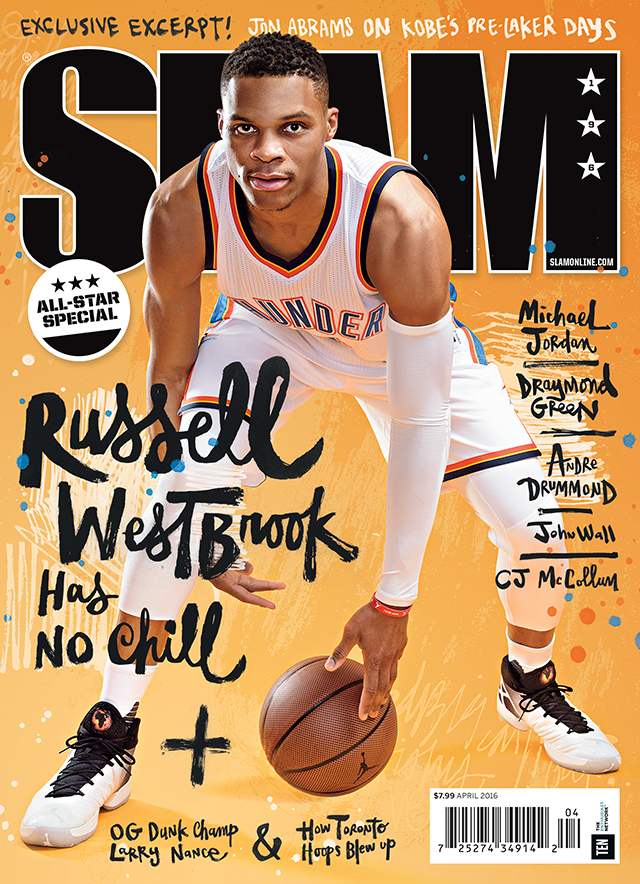 Portrait by Trevor Paulhus
Illustration by Ty Paulhus
370