The best birthday gift I ever received was a ticket to a Knicks game.
This is weird, because as a member of the basketball media, I've now been to maybe hundreds of Knicks games. But this was no ordinary Knicks game. This was March 9, 2003. Knicks-Wizards. Michael Jordan's last-ever game at Madison Square Garden.
I was a shade under 15 years old at the time, and though the hoops stars who "raised" me were a trio of superstars who followed MJ—Kobe, Iverson and Sprewell—my earliest basketball memories are of watching Mike dominate the League.
So to have the opportunity to see him play against the team I grew up rooting for, the team he perpetually destroyed throughout my formative years, was truly a pleasure. Not only because I got to see Him in the flesh—but because, despite the popular narrative that Jordan's post-Chicago career was entirely a mirage, he was still so good.
On that Sunday afternoon in MSG, at age 40, Mike scored 39 points, doing so not with athleticism but with calculated mid-range jumpers that were somehow impossible to defend even when he was flanked by above-average defenders like Sprewell and Shandon Anderson. His footwork was impeccable; his basketball IQ was off the charts. And his heart was still there, too. After the game—in which the Wizards fell by just 1—Jordan said, "It's very disappointing when a 40-year-man has more desire than a 24-, 25- or 23-year-old, diving for loose balls, busting his chin and doing everything he can to get his team into the playoffs, and it's not reciprocated from the other players on the team." Mike was 40, and instead of prepping to spend a minimum of three hours per day on some well-manicured fairway, here he was giving all he had for a subpar Eastern Conference team with barely an outside shot at making the postseason—and taking seemingly deserved shots at his teammates for not doing the same.
Anyway, my point: Even to those of us who weren't old enough to truly appreciate The Shrug, The Move, The Flu Game or The Last Shot as they happened live, Mike never stopped mattering. This was true for me, true for the basketball world at large, and perhaps most crucially to you reading this, this was true for the sneaker community.
As Nick DePaula writes in this issue, when Mike retired for the first time, Nike wanted to pull the plug on the Jordan signature line. Fortunately for everyone involved, a few intelligent people—such as design god Tinker Hatfield—rejected that idea and doggedly prepared for a return that inevitably went down not long thereafter. This laid the groundwork for what would take place in 1998: Mike's second retirement, after which everyone agreed the line (obviously) needed to stay. Almost two decades later and here we are, with the 31st version of MJ's signature sneaker adorning the feet of young NBA studs like Russell Westbrook and Kawhi Leonard.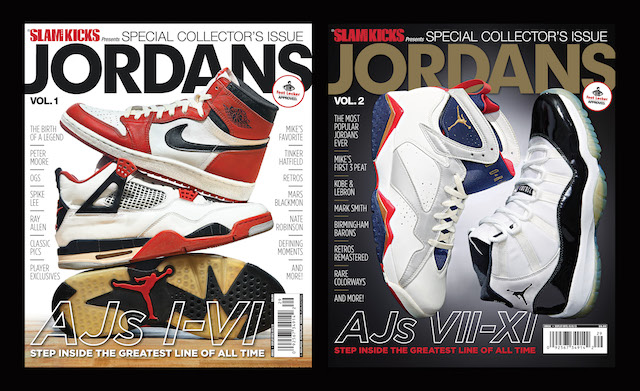 SLAM Presents JORDANS Vol. 3 picks up where Vol. 1 and Vol. 2 left off, with the XII, the sneaker Mike wore as he brought home his fifth championship. We then follow the line right through the end of his Bulls career, through his time with the Wizards and all the way up to today. The fact is Jordan—both the man and the sneaker line—never stopped being important. He should have faded on-court before I caught him in 2003, but he fought to the very end, using a specific skill set to maintain relevance. The same should've happened years ago in the sneaker world, too—and though those first 14 kicks forever remain in a near-untouchable class of their own, Jordan Brand is still releasing a signature MJ shoe on an annual basis and holding its spot at the front of the line all these years later.
Along with write-ups about every Jordan from XII to XXXI and Nick's aforementioned feature, we've got first-person essays by NBA legend Ray Allen and one of MJ's sons, Marcus Jordan, who both have unique perspectives on the GOAT's sneaker legacy. Theoretically, Vol. 3 could put an end to this series, since we're now officially up to date. In order to keep going, we need Jordan Brand to continue doing things that hold our attention and to continue to matter. I wouldn't bet against it.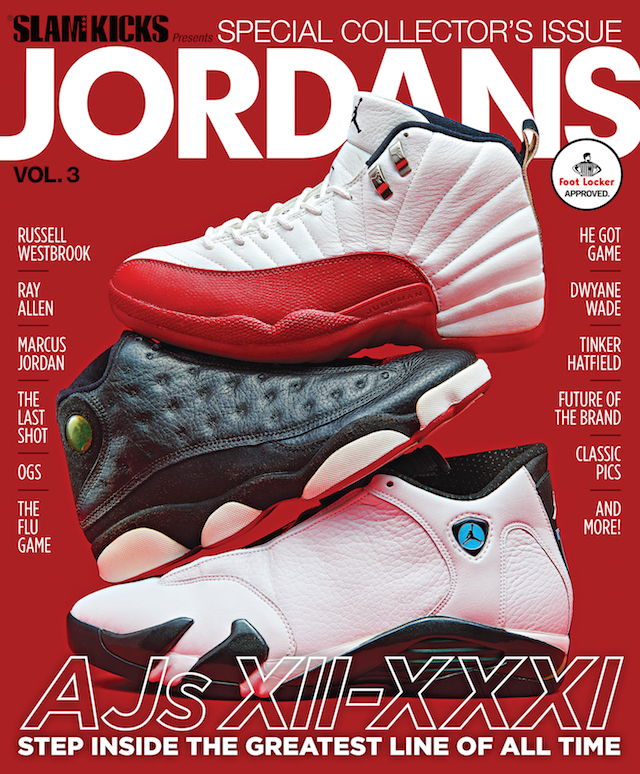 CLICK HERE TO ORDER YOUR COPY OF JORDANS VOL. 3!
—
Adam Figman is the Editor-in-Chief of SLAM. Follow him on Twitter @afigman.
Cover shot by Tom Medvedich; MJ pic via NBA/Getty Images