Following his sophomore season at Newton High (Covington, GA), 6-4 point guard Ashton Hagans planned on transferring to national power Oak Hill Academy (VA) in hopes of being able to get more exposure to high major Division I programs, as well as climb up the national rankings by playing on a bigger stage.
But he found out how much can change in just a few months.
Hagans was named to the Atlanta Journal-Constitution 2nd Team All-State squad after helping guide Newton to the Class 7A Elite Eight, and then took the grassroots scene by storm this past spring and summer running with Game Elite on Adidas' circuit.
On the heels of a monster July, in which Hagans collected offers from just about every big time program except Duke and Kentucky, he decided to stay put at Newton.
"After this summer, my goal was to get into the top 25 and I did that, so I felt like there was no point in me going to Oak Hill anymore," Hagans says. "I'd rather stay and just take over Atlanta."
"I'm happy to take a big role this year," he adds about the upcoming high school season. "I'm trying to build a better relationship with my coach this year so we can go farther. A lot of the guys on the team played J.V. last year, so we're just trying to find a groove right now."
As the national scouting services released their post-summer rankings, Hagans found himself ranked #5 overall in the Class of 2019 by Scout, #6 on Rivals, and #19 on ESPN.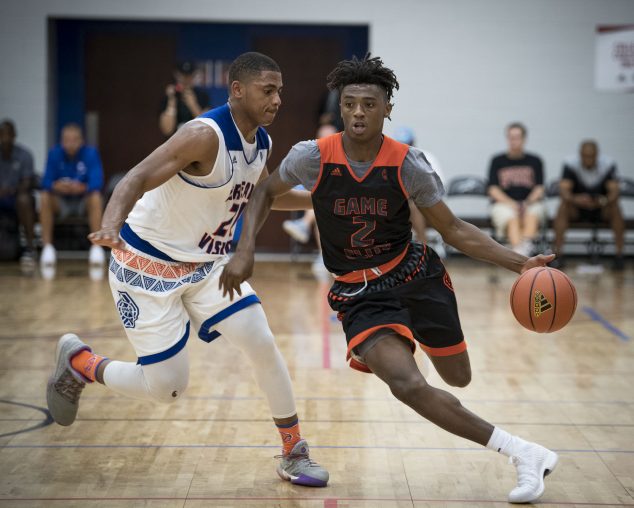 While he participates in open gyms with his high school squad, schools that have offered him and schools that are close to offering, such as Kentucky, have been filing in. The Wildcats reportedly had an assistant stop by on Wednesday. Baylor and Florida, both of which have offered, also paid a visit this week.
"We sit down and talk for a long time," Hagans says. "I am getting used to them. We are building a relationship, and they talk about what they would love to see me improve and what they like about my game."
Getting up at the crack of dawn to get shots up in the gym in order to improve his jumper, both from midrange and out to the three-point line, has been Hagans' main focus. As his game stands now, he combines a ferocious disposition on the court with a nasty handle, great vision and passing ability. He is also dangerous getting into the lane and finishing at the rim.
Even though he is working on becoming a more well-rounded offensive player, and more of a scoring threat from the perimeter, make no mistake about how Hagans defines himself as a player – he's a floor general.
"I like to win," he says. "I know if I have a shooter on my team, I couldn't care less about scoring. I love giving the ball up, and sharing it with my teammates. That's all I'm about. It comes natural."
His competitiveness on the court, potential to lock down the opposing point guard on defense and his ability to distribute the ball on offense has caught the attention of every program in the NCAA. Add on the fact that he's now a consensus five-star recruit, Hagans focus is back on trying to dominate the high school scene at home in Atlanta – the city he feels has the best talent in the country.
"I see us at the top," Hagans said. "Atlanta's got some real dogs. New York tries to be cute, you know with the Jelly stuff. They try to be too fancy. Atlanta's just straight dogs."
411