The road to becoming one of the nation's top prospects can be a bumpy one, rife with experiences that a lot of kids would rather forget. But the early days of top-10 recruit Brandon McCoy's basketball career are fresh on his mind. Especially one game, and one play in particular.
In eighth grade, the 6-11, 245-pound center had decided to take up hoops seriously. He relocated from Chicago's West Side to sunny San Diego to live with his uncle and joined his youth organization club team, Ground Up. But McCoy wasn't really getting minutes at the time. And so when he did get on the floor, a mental lapse on his part led to a sequence he would never forget.
"We were blowing a team out and there was like two minutes left. I come in and they were pressing us so that we wouldn't get the ball on the court," recalls the undecided five-star senior. "They were pressing us so hard that it made me feel like we were on our side of the court, you know? So as soon as I got the ball, I shot it thinking we were on our side. I ended up scoring on the wrong basket. Everyone started laughing. Ever since then people would call me 'doo-doo' and 'negative-two.' There was a time when I didn't want to play basketball [after that]."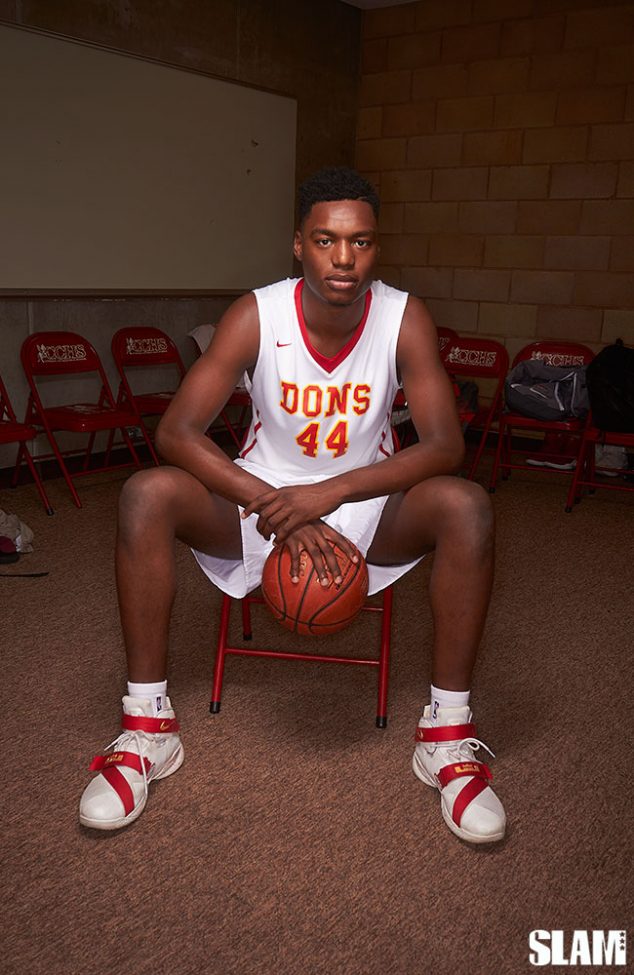 While the embarrassing moment was one McCoy could have done without, it's one he credits for getting him to this point.
"And now I'm one of the top seniors," he says. "Those days are what keep me going. There was a point when everyone overlooked you and now everyone has seen you come up."
Today he's highly touted for the impressive mobility he demonstrates at his size. His presence in the lane alone causes problems for opponents; he almost averaged a double-double in the prestigious Nike EYBL summer circuit last year, posting 17.7 points and 9.2 rebounds per game for Cal Supreme.
Aside from being slept on at the outset of his career, McCoy, who cut his college list to five in the fall (San Diego State, Arizona, Michigan State, UNLV and Oregon), also credits his mother, an Army veteran, for his meteoric rise up the national rankings. Having a parent in the military offered him a much different upbringing than his peers.
"I was used to moving around a lot when I was younger—moved with my auntie for a couple of months here and my grandma a couple of months there because my mom would have to go overseas at any given moment," recalls McCoy. "She's been there for 21 years, I think. She was a Master Sergeant E8 and is now a reserve. So that played a role in being comfortable wherever I was at. Moving around made me tougher and made me mature as a person."
When he's not on the hardwood, McCoy could be found playing the trombone for Cathedral Catholic's school band, performing at every one of the football team's home games. He likens the experience to basketball in that it all has to "synchronize—if one sound is off, the whole thing sounds off," just like on-court team chemistry.
With his dad having some D1 collegiate experience under his belt—he hooped at Southern University—and the discipline McCoy garnered from his mother, the makings of something special were already there. But, in retrospect, that middle school game helped provide the extra push that would give McCoy a reason to go for it all.
"One thing my mom always instilled in me was accountability," says McCoy. "I was put in a position to shine and I think when it came I did enough to push me to where I'm at now."
—
Franklyn Calle is an Assistant Editor at SLAM. Follow him on Twitter @FrankieC7.
Portraits by Charlie Langella. 
141