Since its inception over a decade ago, the NY2LA Sports Summer Jam has hosted plenty of future NBA talent in its showcases in suburban Milwaukee.
NBA big men like Karl-Anthony Towns, Thon Maker, Jahlil Okafor, Myles Turner, Mitch McGary and many more have all showed out at the Summer Jam during their respective high school days.
This past Wednesday and Thursday, Team Loaded VA's David McCormack and Armando Bacot played like they're determined to add their name to that list.
Team Loaded VA won all three of its showcase games, and the duo's rebounding dominance and overall presence in the paint was a primary reason why.
McCormack (below), who attends national powerhouse Oak Hill Academy, is one of the most sought after centers in the Class of 2018 and it was easy to see why at the Summer Jam despite him not having any eye-popping scoring outputs. Due to the up and down nature of many club basketball games, sometimes those who bang in the post and rely on paint touches get lost in the shuffle for stretches.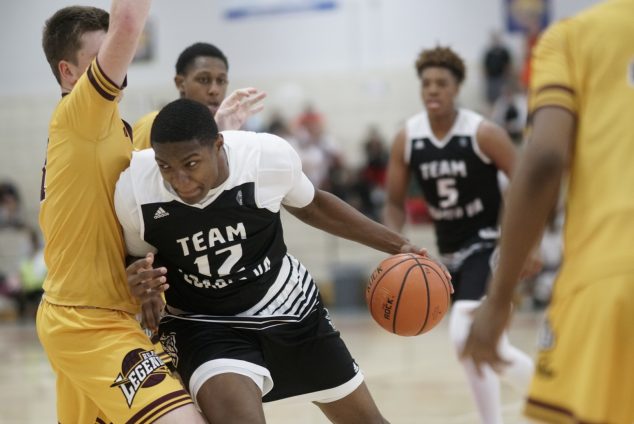 "That goes for any big man. Unfortunately we can't bring the ball up the court," McCormack adds with a sly smile. "We depend on the guards to feed us the ball. At the same time, someone once told me that I could control how many points I get because guards won't make every shot. So it depends on how hard I work on the offensive boards to get my own points. I took that to heart, and now I know I gotta stay on the glass and now it's my bread and butter."
Standing 6-10, McCormack moves really well for his big frame and his motor didn't seem to shut off during his time in Milwaukee at the Summer Jam. And that is by design.
"Recently I dropped 40 pounds, but when I was 15 I started to pick up offers it hit me that if I actually worked hard at this I could go far," McCormack said. "Once the offers started to pick up and I saw the development in my game, I knew if my work ethic met up with my determination then the sky is the limit.
"My motto is don't get outworked, that's just what I do. I don't get outworked. I fight for every rebound, every loose ball and every basket. I do things some bigs don't want to do as far as setting screens. I've just been trying to work on my touch around the rim with both hands, and my midrange."
McCormack flashed some great moves and nice touch around the cup with both hands, as well as an ability to knock in shots from 10-to-15 feet out. Already an imposing presence defensively in the paint, he has noticed how the game in college and in the NBA has been evolving and is doing his best to adapt now that the days of sticking anyone over 6-10 in the around the blocks and telling them not to drift any further out are well behind us.
"I try to get my coaches to help me work on my lateral movement and my lateral flexibility so I can blitz ball screens or when I just need to hedge and get back. I'm trying to work on my foot speed and footwork," McCormack says.
The combined package of size, skill, motor and basketball IQ has just about every program recruiting him heavily and he said after his final club hoops game at the end of July he will sit down with his family and begin to figure out where he will play hoops in college.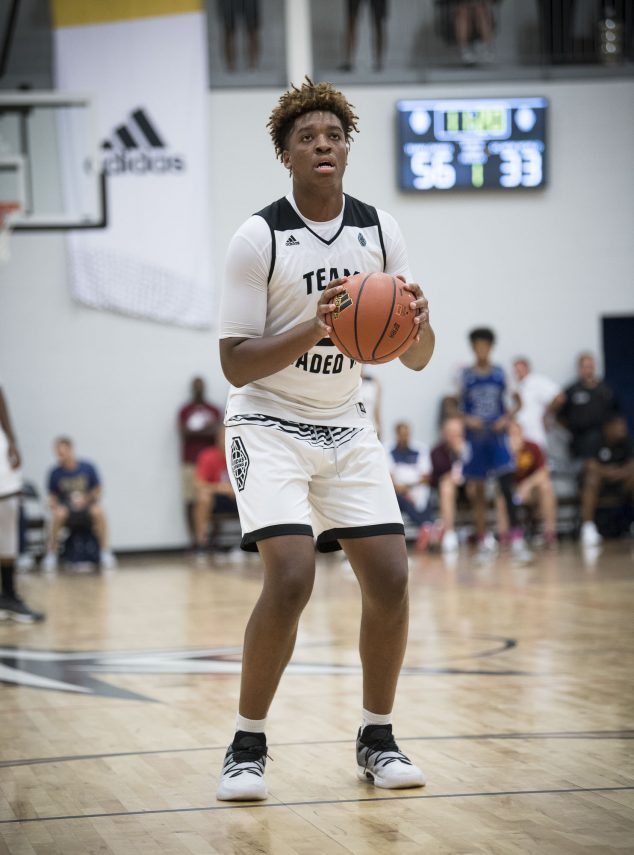 Bacot (Above), a 6-9 power forward from Trinity Episcopal School (VA), has even more time to sort through all the blue bloods recruiting him heavily. A consensus 5-star recruit, Bacot has watched his phone blow up this past spring when 12 high major offers rolled in and again throughout the summer.
"At the time it was so fun, but now with so many coaches contacting me sometimes it can be overwhelming but I've been trying to embrace it," Bacot said. "I'm not making a decision any time soon. So now I'm just trying to figure out which schools I want to keep a relationship with."
At the Summer Jam, much like McCormack, Bacot's opportunities to show off his talent on offense around the hoop was limited compared to what it will look like during his high school season but also like his teammate he was able to make a gigantic impact on the game doing board work.
Bacot was happy enough to be a big part of the reason Team Loaded VA was unbeatable at the Summer Jam. Had he been concerned with just doing numbers, he would have stayed on the 16U level at the Adidas Gauntlet and the other tournaments Team Loaded VA is in.
"I knew if I played 16's I would've dominated, so I just wanted the challenge of playing 17's," Bacot says. "Also, playing 17's, I knew I'd play the four and be able to show more versatility against better competition and hopefully still excel."
Also like McCormack, Bacot was quick to reply with an answer when asked what he was focused on improving the most to help take his game to even greater heights.
"I'd definitely say my lateral quickness so I could guard any position I can possible," Bacot says.
As the game of basketball continues to evolve with players 6-10 or bigger being more skilled on the perimeter than they are in the paint, there will always be a need for bigs who can bring the noise on both ends in the paint. If McCormack and Bacot both continue on the trajectory they've been on, don't be surprised if you see both of them donning an NBA jersey at some point in their careers.
(Photo Credit: Leon Threat / www.ThreatHoops.com, adidas) 
224