Northeastern has qualified for its first NCAA Tournament in 24 years, and Huskies junior guard David Walker is sufficiently psyched. In terms of basketball success, it's the best thing he's felt so far.
That being said, Walker is continually cognizant of the past, of the chips that fell into place for Northeastern to make its thrilling run to this year's Colonial Athletic Association tournament title. The storylines that have taken root these past few seasons. Motivation embedded. It's what makes this thing so special.
Two years ago, the Huskies had rolled into the conference tournament as heavy favorites, before falling to James Madison in the championship game. That still stings. Walker brought it up at the press conference following this year's title, and he reiterates the point during a SLAM interview. He felt so bad for the seniors, Jonathan Lee and Joel Smith, who missed out on the NCAAs in '13.
Walker and his returning teammates made a pact. They were going to get back to that point. But wait a second. Walker would first like to recount the journey of his teammate, 6-8 redshirt-junior Quincy Ford, who missed the '13-14 season to undergo surgery for a lingering back problem. After scoring 22 points in last weekend's CAA tourney final, a 72-61 win over William & Mary, one of four teams (including Northeastern) to nab a share of the CAA regular-season title, Ford was named the tournament's Most Outstanding Player.
"First off, I just want to say how proud I am of Quincy. What he went through, playing all of his sophomore season hurt, and no one really knew about it. Then, he goes through major back surgery and all the rehab, being lonely…he never traveled with us. That takes a toll. But he worked really hard, and got his confidence back. I applaud him for that," Walker says over the phone on a Wednesday afternoon.
He is known around Northeastern as "Davey", but given his proclivity for flight—seriously, check YouTube—Walker was quickly bestowed a nickname heralding his aerial inclinations. (Think: last name of a certain Star Wars protagonist.)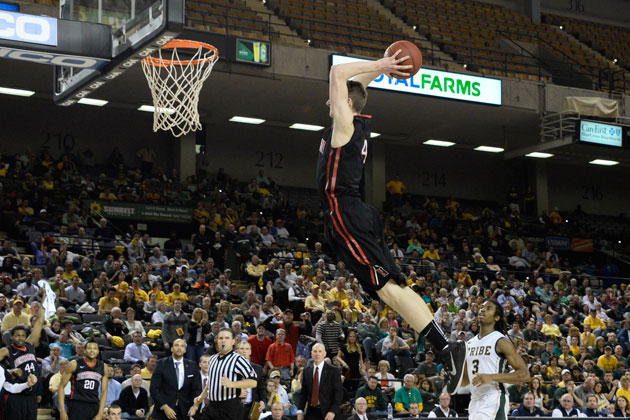 But Walker won't bring up that nickname, in large part because his focus is always turned toward others. Northeastern coach Bill Coen calls his star junior an indispensable component to this team, and there are the 13.4 points and 3.5 assists, along with the fact he leads NU in six statistical categories, including clocking in at 37.0 minutes per game.
When a team reaches the NCAA Tournament, there is something special about it, an undefinable quantity that, in this age of everything metric, is part of what gives March its luster. Say, selflessness. Asked about his impact, Walker first brings up senior teammate Scott Eatherton's rebounding ability before proffering, "I think I just try to bring…well, I'm quiet. But I'm working on becoming more of a leader, and I think my teammates agree. The last four or five games, I've been more talkative, bringing energy, talking guys up, giving them confidence. I'm just trying to make plays and knock down shots," Walker says.
In three games at the conference tournament, he averaged 14.3 points, 5 rebounds, 4 assists and a shade under 2 steals. Twice he went the full 40 minutes (in the opener, he merely played 37.) Along with Ford and Eatherton, Walker was named to the All-Tournament team.
"Once we won, it didn't even feel real," says Walker. "We were standing up on the ladder, cutting down the nets and taking all these pictures."
Northeastern is on spring break this week, so when the team returned by bus to Boston from Baltimore on Tuesday morning, they were met by a greeting party consisting predominantly of academic staff. "But even going around campus now, there's a few people around, and since this hasn't happened in such a long time, you get people saying 'Congrats'," says Walker. "That's a shock. We're not really used to that."
Northeastern drew an average of 1,254 fans to 12 home games at historic Matthews Arena, the lowest tally among the 10 CAA teams this season. The Huskies love that court, though—all the tradition associated with the oldest multipurpose athletic building still in use in the world. Walker can't wait to unveil the championship banner at the first home game next season.
As for the recipe behind this season's success, Walker attributes cohesiveness. "We have the closest team I've been a part of. Every guy is cool with each other. We tell each other we love each other. Even out on the court, it's, 'I love you, man.' We want to play for each other. It doesn't matter who scores 20 this game or that. As long as we win, we're happy," he says.
He's a biology major. Asked about the future, Walker says he would like to pursue basketball. If not, well, there's always med school.
But now, he's prepping for the NCAA Tournament. Doesn't get much more fun than that.
Photos courtesy of Colonial Athletic Association Sports.