Today, top 2016 prospect Harry Giles announced that he will be attending Duke next fall during a press conference live on ESPN. The 6-10 forward was also considering Kansas, Kentucky and Wake Forest. This has been a roller-coaster week for the Winston-Salem native, who on Tuesday tore the ACL in his right knee in the first couple of minutes of the season-opener. He missed his entire sophomore year after tearing his ACL, MCL and meniscus in his left knee during the summer of 2013. The highly touted recruit will now also have to miss his entire senior year as a result of the recent injury. We visited him at Oak Hill last month for a photo shoot and feature running in SLAM 193, currently in newsstands. Check it out below.
In the rural mountains of Mouth of Wilson, VA, where not even a GPS can save unfamiliar drivers due to the large hills intercepting satellite data, and where the only reliable cell signal is provided by US Cellular, one of basketball's most promising young talents prepares for his turn at national powerhouse Oak Hill Academy.
Harry Giles, a 6-10 power forward who some argue is the top player in the Class of 2016, transferred this past summer to the storied program—with a 20-plus NBA player alumni list that includes Carmelo Anthony, Brandon Jennings and Kevin Durant (transferred)—after three years at Wesleyan Christian Academy (NC). A native of Winston-Salem, the 90-plus minute ride into the remote location just north of the NC-VA border was strictly a business decision, with benefits that include eliminating distractions while narrowing in on priorities.
"I just wanted to focus and lock in on school and basketball," says Giles of the move. "I wanted to be as prepared as possible for college. And I knew Oak Hill would help. It was going to help me stay focused."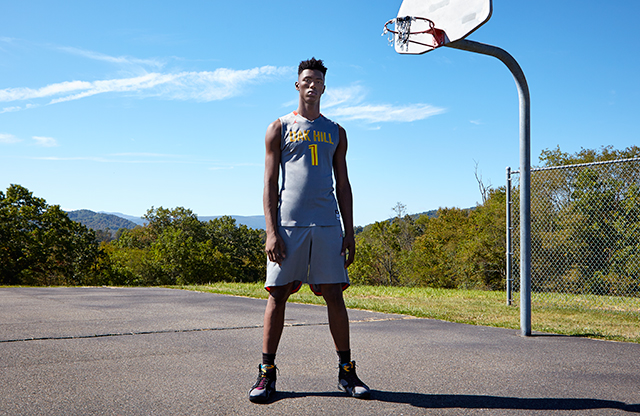 From Durant to Anthony Davis and Chris Webber, the comparisons have all been auspicious. Playing in the travel grassroots circuit for CP3 All-Stars, backed and (sometimes) coached by Chris Paul himself—also a Winston-Salem native—Giles couldn't have a better pro to lean on.
"Having Chris in your corner, the player he is, it's unreal," says the uncommitted senior, who's down to Wake Forest, UNC, Duke, Kentucky and Kansas as of press time. "We're boys, like brothers. When we kick it, it's not even about basketball; we just talk about life."
His journey has experienced its own set of steep mountains. After an impressive freshman season that saw him rise to the top of the national rankings, averaging 12.5 points and 9.5 rebounds while helping lead the Trojans to the NCISAA Class 3A state crown, Giles tore his ACL, MCL and meniscus that following summer while hooping for USAB's U16 squad at the FIBA Americas Championships.
A long rehab proceeded, missing his entire sophomore season and slowly finding his rhythm the following spring and summer with AAU.
"Coming back from injury was tough because even when I came back I was still struggling—trying to get back in shape and keep up," recalls Giles. "I kind of felt like people were going to be like, 'Oh, he's not going to be the same,' or question how I was going to be. But I accepted that. It was part of it. I learned to never take the court for granted."
Any fears that he would never fully get back on track to reach his full potential were put to rest last season, when he averaged 23.9 ppg and 12.5 rpg as a junior, leading Wesleyan to a 29-5 record and the NCISAA 3A state championship game.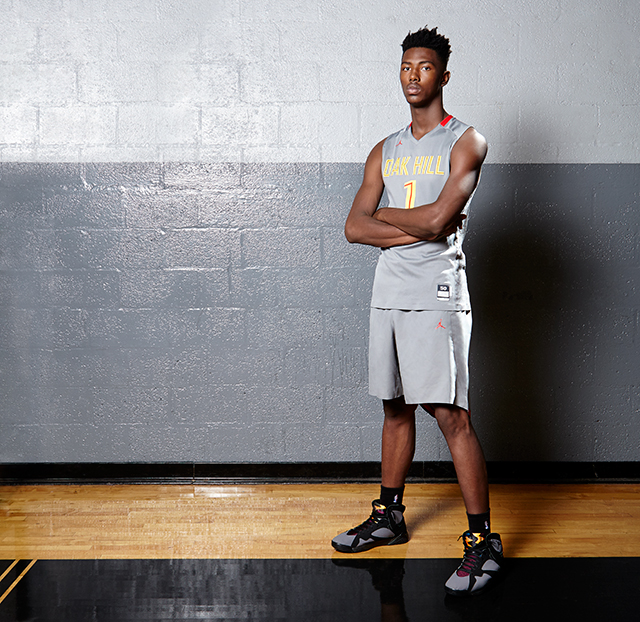 Not only did he regain his swagger, he extended his game from dominant post player to face-up forward whose agility and power allow him to create while also showing he can step out and sink jumpers from as deep as the perimeter. In an age where many early hyped prospects never regain their status after bumps along the way, Giles has managed to emerge from it all untouched.
"I didn't know when it was going to happen or how it was going to happen," says Giles of whether he thought he would bounce back and retain his status among the best post-rehab. "But I just knew if I put in the work, it'd eventually happen."
—
Franklyn Calle is an Assistant Editor at SLAM. Follow him on Twitter @FrankieC7.
portraits by Geordy Pearson