"Dominant" is a word often used to describe Jameel Warney's impact upon a game.
The Stony Brook senior is the two-time America East Conference Player of the Year. This past season, he was named conference player of the week eight times, including four in a row. He led the nation in double-doubles. Twenty-four in 35 games in '14-15. This, while facing double- and triple-teams. He's helped amass 71 wins in three seasons. Some kinda tune.
So, how does Stony Brook coach Steve Pikiell begin his assessment of his 6-8, 240-pound senior forward?
In fits and starts. "Jameel is one of the best…he's the best…," Pikiell says, before saying, simply, "I love the kid."
Pikiell played for Jim Calhoun at UConn, and he's coached long enough to have an accurate pulse on the collegiate game. He can say, unequivocally, that Warney would be a star at any program in the country. What makes him special, and an outlier in this transfer-crazed age, is that he's chosen to begin, and end, his outsized career at a program deemed "mid-major." Forget that tired term. This was the right fit.
Pikiell was one of the first coaches to begin recruiting Warney, who starred at Roselle Catholic in New Jersey. A relationship was forged, which became important in the summer before Warney's senior year of high school.
After an AAU game that July, a tweet went out: Warney just offered by (BCS conference program). The news went viral. Schools swarmed to his next game. Says Pikiell, "That's recruiting these days. Jameel went from having five teams recruiting him to having 150."
It was here that Warney displayed a slice of the loyalty that defines him. The attention from all these schools was nice, but it barely made a ripple in his decision process. Within weeks, he'd committed to Stony Brook, and he stuck with it.
"A lot of kids pick the highest level," Pikiell says. "Jameel picked the right place."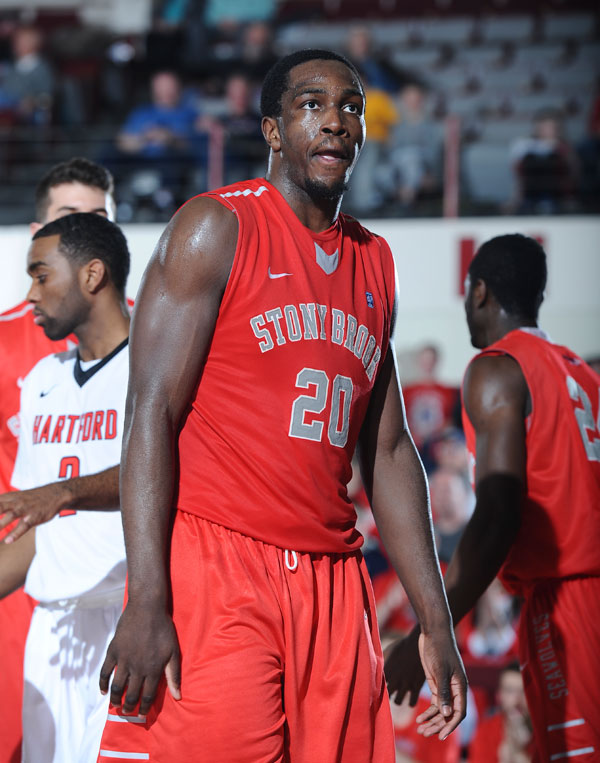 His greatest attributes? Warney feels it's a tie between rebounding and passing. (He dropped over 2 assists a game last season.) The latter skill is something he's always had in his locker, and it might just help him land a roster spot on an NBA team next fall.
"Every year, there's a smaller power forward that gets drafted, and finds a way to make his skill set work in the NBA," says Warney. He used to watch DeJuan Blair, when he played for the Spurs, and he's a big Draymond Green fan. "Got robbed for Defensive Player of the Year," Warney says.
Pikiell takes it a step further. "He's got unbelievable hands—that's the first thing that jumps off the page. He might be the best passing big guy in the country. It's like Checkers with him—he can read double teams and make the right pass. A lot of big guys can't pass. He wants to pass."
He's a leader now: a kid who went from barely talking as a freshman on a veteran-laden team, to a captain in '14-15. "That was an honor," he says.
It's been a great summer—the obvious highlight a team trip to Italy and Germany. The chemistry is humming. All five starters are back, and impact transfers Lucas Woodhouse (fifth in DI in assists in '13-14) and Ahmad Walker join the core.
Warney could become the third player in America East history to win conference player of the year three times. Even if he doesn't get it, there's good company in the conference's two-time POTY category. See: Malik Rose of Drexel, a 6-7 backboard-shattering ram of a forward who carved out a pretty nice career for himself in the NBA.
https://youtu.be/ryszvFn0AgA
Warney's long since eclipsed the program blocks record, and is on pace to finish first in points and rebounds. He'll graduate in December. He's become the face of the program, a reason Stony Brook was able to pack 2,785 fans into their newly renovated arena last season.
He keeps picking pieces from players he admires. He's a huge Celtics fan, and loved following the Big Three last decade. He saw the way different personalities and skill sets morphed into a title-winning team. KG's intensity, Ray Allen's deadeye shooting and drive, Paul Pierce's leadership and scoring savvy. Leon Powe and Glen Davis: both undersized, highly skilled, forwards.
Powe and Davis are what Pikiell calls "find guys." Many wouldn't have predicted NBA careers for them, but they made a mark because of uncommon skill sets. "I look at a team like the Spurs," says Pikiell. "They always get guys like Warney, and I think, maybe this is one of the reasons they're so good."
During that tour of Europe, Pikiell watched teams drool over Warney. In '15-16, he'll watch college coaches wring their hands trying to contain him.
"I haven't had one issue with him," Pikiell says of his star. "I've been around a lot of great players, and there's always something. Jameel has been a dream."
Photos courtesy of Stony Brook Athletics
118