The deep, defensive-minded team that coach John Calipari has built at Kentucky and we're featuring on this month's cover is rolling through its opponents one by one—and the Cats might not stop until they walk away with a chip. Historically speaking, what does it all mean?
Whenever I talk to Villanova coach Jay Wright about building a program in this uncertain era of one-year campus residences and transfer mania, he always refers to one man.
"I don't know how Cal does it," Wright says, admiringly.
Cal, of course, is Kentucky coach John Calipari, whose ability to reinvent his roster every season has impressed some and infuriated others.
Many people consider Calipari Exhibit A for "everything that is wrong" with college basketball. Others, like Wright, marvel at how he works within a highly imperfect system to gain an advantage by keeping top recruits for a season before sending them to collect NBA first-round paychecks.
It's the ultimate case of athletic ADD. The players don't want to stick around longer than six or seven months, and Calipari doesn't seem too worried about it, especially since another bunch of five-star prodigies is waiting for its turn in Lexington.
Calipari is college basketball's Modern Man, embracing the rules set in place by others and thriving because he understands how to operate within them better than anybody else. It's always funny to me why people get mad at him for recruiting players who would rather go to the NBA right out of high school if they were allowed—and then encouraging them to leave after a season. Like he decided this was the way to go. You think he wants that kind of pressure? While other coaches add a couple players every year to replace some departed personnel and shore up various areas of the roster, Calipari has to refurbish the whole team.
He's the best at what he does, and he deserves credit for it. You want to stop him? Get Adam Silver and the NBA Players Union together and ask them to find a New Way. Until that happens, leave Cal alone. "Coach Cal was an NBA coach. He runs his program like an NBA team. He does a great job of getting guys ready for the NBA," says Anthony Davis.
Anyone still railing at the Kentucky program probably still wears Stockton shorts when they play pickup. And all of that anger is obscuring what could well be a historic season for the Wildcats. By the time you read this, Kentucky may have lost a game, although given the caliber of play in the SEC this year, UK's potential for loss doesn't get above the Ridiculously Colossal Upset Stage until at least the Elite 8. How'd you like to be coaching the poor team that has to face Kentucky in the second round? You'd have to stage practices against Imperial Storm Troopers to get ready.
This season, Cal has convinced 10 prep superstars (the rotation has dipped to nine prep All-Americans since the loss of Alex Poythress, with the relatively unheralded Dominique Hawkins stepping in) to accept diminished roles, when each could be taking 20 shots a game somewhere else. Think about the names, or just look at our cover: Booker. Cauley-Stein. Harrison (x2). Johnson. Lee. Lyles. Towns. Ulis. At 99 percent of the DI programs in America, a parade would have been held if any of them committed. Cal and UK got all nine of 'em. And they're playing together.
Anybody who wants to crack on Calipari's methods ought to try pulling that off. It's a wonder a posse of crazy uncles and AAU hangers-on doesn't descend on his office demanding more highlights for the superstars. What's more, Coach Cal has these guys playing defense. Real, nasty D. The kind of defense that has people using the word "historic" to describe it. That's the real magic of this year's team. As of late February, opponents were shooting 34.3 percent from the field against the 28-0 Wildcats. That's it. Barely one of three shots hits their mark. Keep that up, and it won't matter whether Kentucky's top scorer averages 11 points or 4. The Wildcats aren't losing.
So, the defense is great. If Kentucky continues at its current rate of opposition strangulation, the Wildcats will be among the best defensive outfits since the three-point shot was introduced. And when UK has to turn it up offensively, it can fill the bucket, as it did in the late moments of a 68-61 February win over Florida, when the Wildcats shrugged off a 28-point first half with 40 after intermission. Kentucky shoots it well enough from long range (35 percent) to force rival defenders to respect the perimeter and has four frontcourt players shooting better than 50 percent from the field. The Wildcats don't cough it up too often and share it well enough to make the other guys move around every possession.
It's an impressive package that is more complete than anything else in today's college basketball orbit. The question that continues to be posed, as Kentucky attempts to become the first team since the '75-76 Indiana Hoosiers to finish the season undefeated, is how Calipari's outfit compares to the greatest of the great.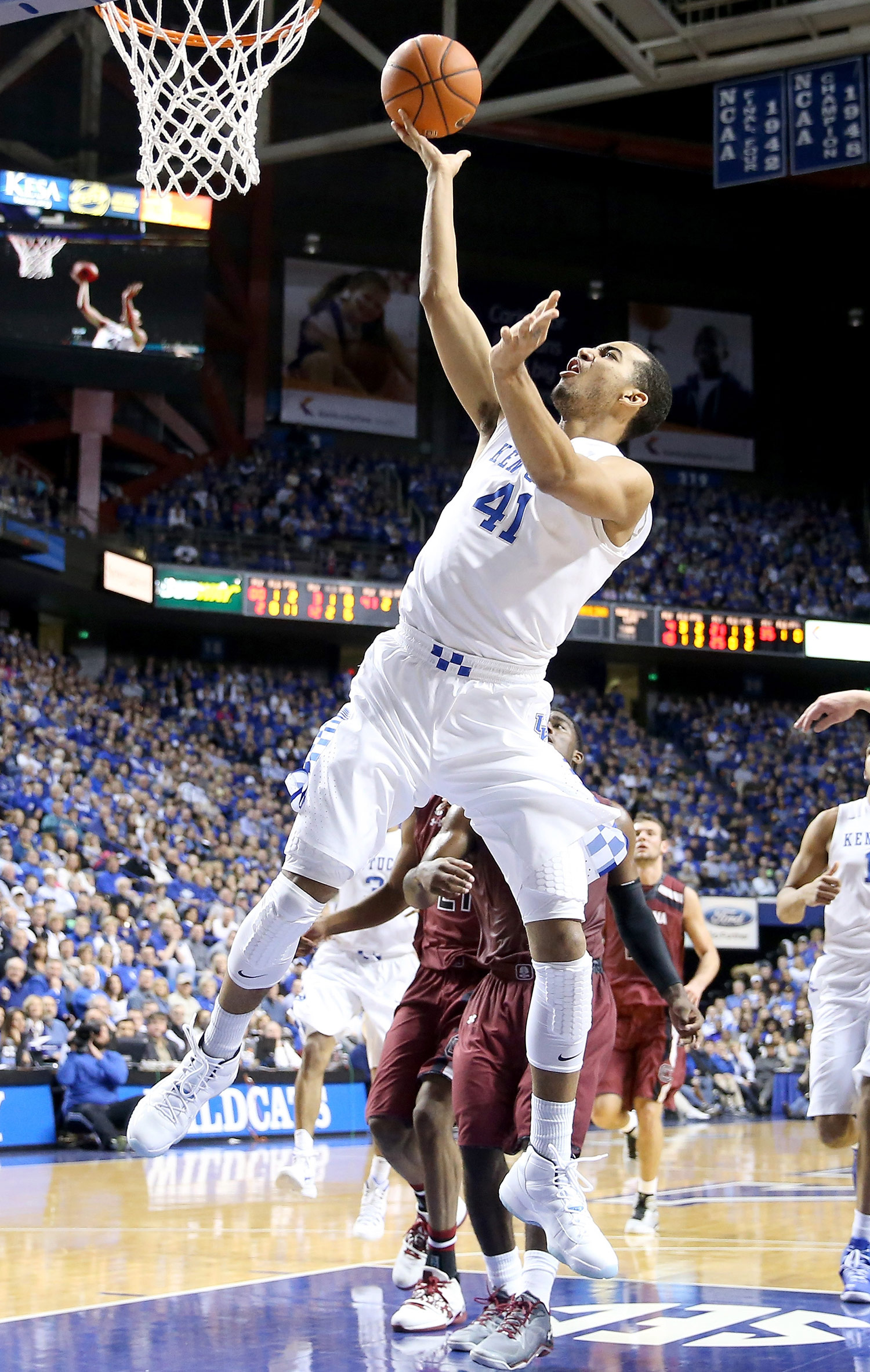 And that's where the trouble starts, at least in an era when we are told everything is better, simply because it exists now. Broadcasters provide breathless accounts of athletes' exploits in highlight packages that often appear more like music videos than news reports. Games and teams are sold to fans by outlets reliant on viewership, so the mundane is portrayed as spectacular, the better to guarantee future attention to the product. As a result, perspective doesn't exist. Only today can be great. Everything else is "old" or "irrelevant."
Well, I've been around for a while, so trust me when I say: This year's Wildcats may well be one of the best teams ever, but the college hoops climate in which it's operating is vastly different than what prevailed 20, 30 or 40 (or more) years ago. And different isn't better. The athletic ability of today's players may be superior to that of previous ages, but their skill levels are diminished. A big man—if you can find one—with more than one rudimentary post move creates a sensation. Ball movement and patterned offenses that result in easy shots have been replaced by dozens of pick-and-roll variations and isolation sets designed to draw fouls or attract defenders away from three-point launchers splayed around the perimeter. "Motion" offenses are actually white flags flown by coaches who realize trying to get a collection of AAU stars to be disciplined enough to run a system based on understanding their own and their opponents' various strengths and weaknesses is impossible.
Further, and perhaps most important, the annual exodus of players after one or two seasons robs teams of maturity and experience, which are huge in big games against tough comp. It's one thing to celebrate a freshman's potential and another to rely on a senior's performance.
So, how would Kentucky fit into some of the old college basketball worlds? It's not like the Wildcats would be rolled over by some of the best, but imagining how Lew Alcindor (later Kareem Abdul-Jabbar)—perhaps the greatest college player of all time—and his UCLA teams from the late 1960s would approach Kentucky is a fun exercise. It would be compelling to watch Bill Walton's '72-73 Bruins, who won all but five of their 30 games (without a loss) by more than 10 points, attack the Kentucky defense.
That '75-76 Indiana team would be particularly difficult for the Wildcats to handle. The upperclassmen-dominated Hoosiers, who featured four future first-round picks, was the epitome of focused fury, a lethally efficient extension of their martinet coach Bob Knight. The Hoosiers did it all and did it all well—or else. Magic Johnson and his '79 Michigan State national championship team would provide a different type of challenge, thanks to Magic's rare combination of size and point-guard skill. Most important, though, was his desire to win. Duke's 1992 National Title outfit had just about everything a basketball team needs. And it would be interesting to see how these Wildcats fared against the streetfighters on Michigan State's 2000 championship squad.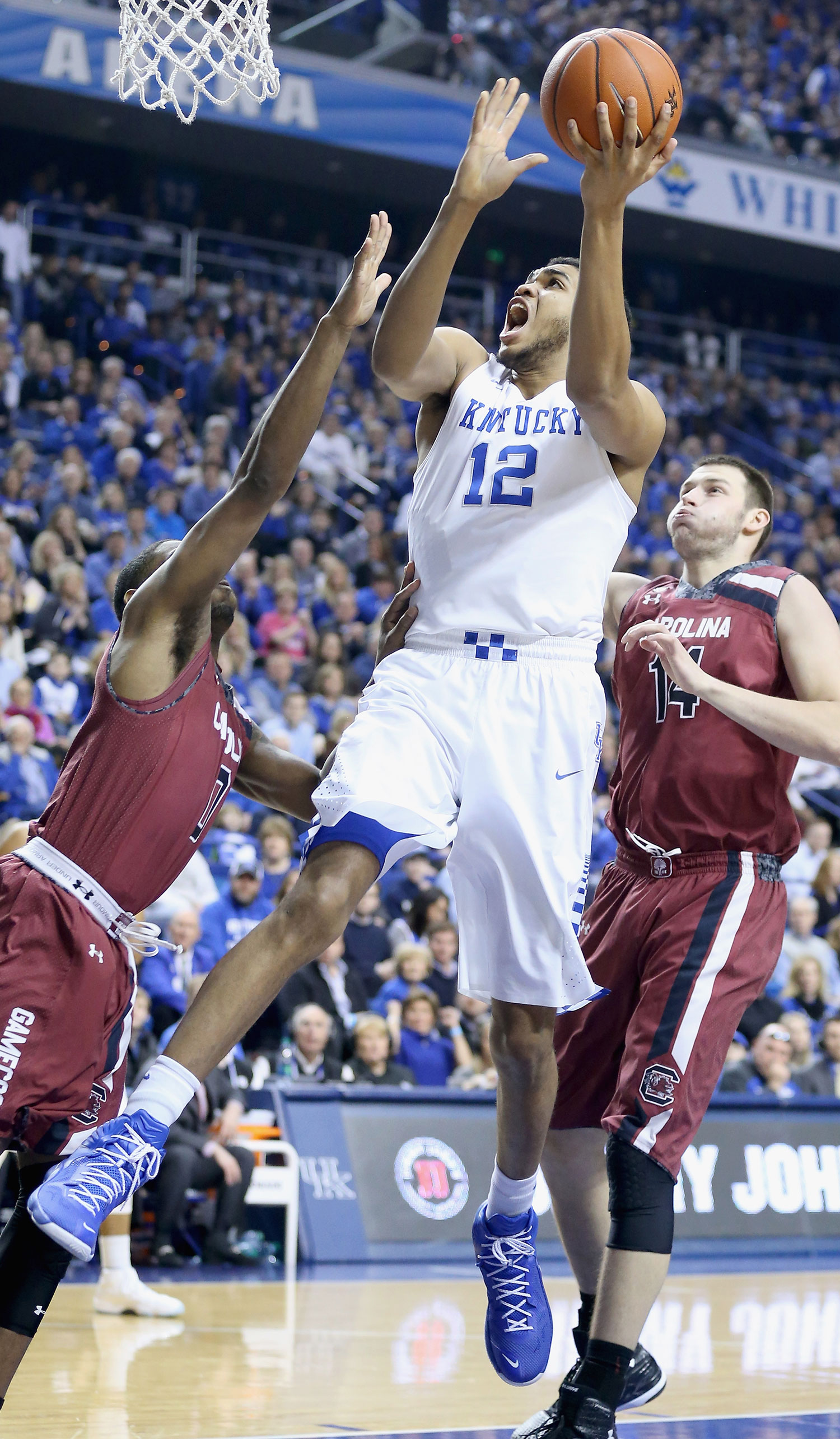 If Kentucky finishes 40-0 and cuts 'em down, it will be irresponsible to minimize its accomplishment. From 1956-1976, there were seven undefeated teams. Since then, nothing. It doesn't matter whether the game is better or worse than it was in the past. Winning them all in one season is a tremendous accomplishment.
This is a plea for perspective. Celebrate Kentucky's perfection, if the 'Cats achieve it. But avoid the hyperbole and superlatives certain to come from fawning media members charged with selling the product, rather than analyzing how things fit into the greater universe. This is a tremendous Kentucky team, but an undefeated season won't make it the best ever. Times have changed, and not necessarily for the better.
One more thing: Lay off Coach Cal. He didn't make the rules.
Michael Bradley is a Senior Writer at SLAM. Follow him on Twitter @DailyHombre.
RELATED: Not long ago, Anthony Davis was a March Madness phenomenon at Kentucky. Three years later, the 22-year-old might be the best player on the planet.