The 1988-89 UNLV Runnin' Rebels went 29-8 and advanced to the Elite Eight. Then they added the sought-after Larry Johnson, a bruising 6-7 forward who had averaged 26 ppg in two years at Odessa JC. Big things were expected—and they were delivered.
"Larry put a good team over the top," the late coach Jerry Tarkanian told SLAM in 2004. "You knew he was going to be special the first time you ever saw him play. He had that body and great hands to go with tremendous basketball intelligence, but the biggest thing about Larry was his attitude. He is probably the best person I've ever coached or been around.
"All he cared about was the team. I can honestly say there was never a time when Larry knew how many points he had after a game, and that rubs off. He did more to unify a team than anyone I've ever coached. He must have led the country in hugs during his two years here."
LJ's game was all that, but his image was far from the good-natured, teddy bear his coach recalled. Tark was the Blackbeard of the NCAA and the '89-90 team that brought him his only title was his personification, a swashbuckling band of brothers. With their gold teeth, love of the hard dunk and (relatively) baggy shorts, they were the hip-hop nation's first hoops team.
"We were some renegades and we had that swagger," says Johnson. "We played with our shirttails out. We played with our shorts down on our knees."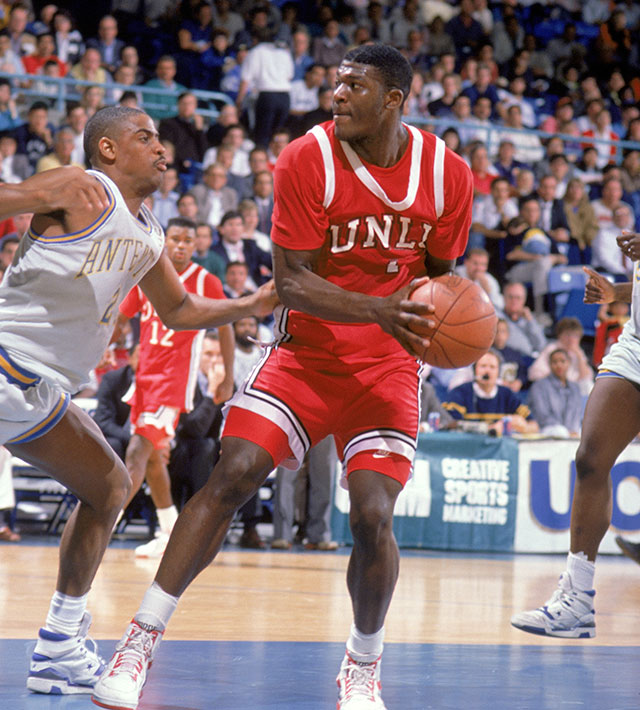 Johnson's style may have flashed, but his actual game was precise, relying on hard work, strength, repetitive motions and a great shooting touch. He was fundamentally sound; while his strength and athleticism allowed him to run the floor, explode to the hoop and dunk with intimidating power, he also had a strong post and mid-range game. And he played with supreme control.
"LJ did whatever he wanted to do because he was a man amongst boys at UNLV," says Mark Aguirre, a high-scoring forward at DePaul a decade earlier who watched Johnson's college career from his perch in the NBA. "Larry's game was different; he was very precise and very effective."
In addition to LJ, the Runnin' Rebels included future first-round picks Greg Anthony and Stacy Augmon as well as the excellent Anderson Hunt. The squad was deep, but no one questioned who was boss. Johnson led them with 20.6 ppg on 62 percent shooting and 11.4 rpg as the team rolled to a 30-5 record. Their finals matchup with Duke was blown up as an epic clash with the dark side, with each person's own perspective determining which team filled which role.
"We had the mentality of us against the world," says Johnson. "We never got good press—when we played Duke, it was good vs evil. We were the bad guys of college basketball. And honestly, we loved it at the time."
UNLV dismantled Duke 103-73, the largest margin of victory ever in an NCAA Championship game. Traditionalists didn't know what had hit them. And while Duke would return to defeat the Rebels in the semis in '91 and to win the next two titles, the 1990 season really was a turning point. There's a reason the team is so well-remembered 26 years later and a reason that Larry Johnson was on the cover of the first issue of SLAM in 1994. It has much less to do with the Charlotte Hornets jersey he was wearing.