It's that time of the year, when conversation around the NBA's MVP race is reaching its pinnacle while debates regarding the top collegiate prospects and the order of mock drafts are simultaneously heating up.
Russell Westbrook and James Harden have owned the MVP conversation all year. At the college level, mock drafts have freshmen sensations like Washington's Markelle Fultz, UCLA's Lonzo Ball, Kentucky's De'Aaron Fox and NC State's Dennis Smith Jr pegged among the top seven picks in the 2017 NBA Draft.
Of course, all the names mentioned above resemble a distinct evolution of the game over the past few years. The common thread? Every player mentioned is a point guard.
Not only has the League shifted to a guard-dominated game—with PG emerging as the most competitive position in the Association—but the upcoming NBA draft, expected to be one of the deepest in history, will be top-heavy with highly touted freshmen point guards leading the way. Add up the college players noted above, and four of the first seven picks in the 2017 NBA Draft could be PGs. That would be unprecedented.
The top three scorers in the NBA right now are all PGs, too, with the Celtics' Isaiah Thomas sandwiched between Westbrook and Harden. Harden wasn't even a point guard until this season, yet nonetheless is the League's assist leader with 11.2 per game. Likewise, 6-11 Giannis Antetokounmpo is now a PG, and he leads the Milwaukee Bucks in just about every major statistical category, assists included.
The top pick in the 2016 Draft, 6-10 Ben Simmons, drew hype because of his court vision and playmaking abilities. Sixers head coach Brett Brown publicly stated last December that the team plans to make him the starting point guard when he makes his pro debut after fracturing his right foot last October.
Whether in the body of a player standing 5-9 or 6-11, point guard play has gone through a transformation right before our own eyes over the last few years. Which brings us to bigger, overarching questions: Why is almost every great player, regardless of height, looking to run point? Why is the game, at every level, filled with star lead guards? Are we witnessing some sort of golden era for the PG position?
https://youtu.be/HVO2ICmCa_4
"I think before we used to get so caught up into positions," says Jay Williams, current college basketball analyst for ESPN and a former star PG at Duke who was selected with the No. 2 overall pick in the 2002 NBA Draft. "You heard a lot of GMs and scouts try to categorize you and tell you, 'No, you fit into this box.' But I think as the game evolved into positionless basketball, you now have guys who have the ability to do so many other things than what the prototypical style of a PG was 15 or 20 years ago."
Positionless basketball: A phenomenon that has taken the League by storm and subsequently has trickled down to college and high school ball, too. It's enabled players who weren't traditionally "allowed" to bring the ball up to now do so and make plays.
"Guards are a lot more of combo guards now," says Williams of where he thinks this trend stems from. "There's not a lot of prototypical point guards. There's been an evolution of the point guard position and you've seen that with the likes of Derrick Rose, John Wall, Kyrie Irving, Isaiah Thomas—all these guards are able to score prolific-like numbers but are considered PGs. That's where our game is trending."
All of which is to say that the qualifications of the position have been modified. It isn't just about being able to dish out great assists anymore. Today's starring PGs are also expected to drop 35 or 40 points every so often.
Even guys currently in the League have taken notice. Portland Trail Blazers superstar Damian Lillard says his position has experienced a shift even in just the five years since he's been in the League.
"Now you see a lot of scoring point guards. They score points and make plays and rebound the ball—do so many things well and I think it's kind of the golden age of point guards," says the Oakland native. "When I got in the League, it was heading in that direction but it wasn't quite there. But I think now, every night that you go out there, you gotta put your best foot forward or you can get embarrassed. To win, you need a point guard that can score, that can dominate a game. If you don't have that, you don't have much of a chance at winning."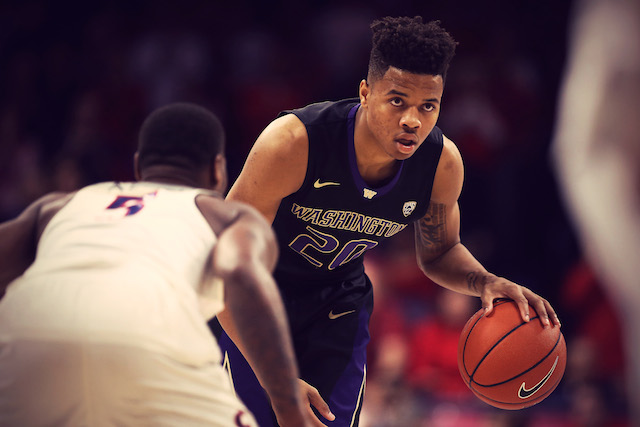 Fultz (who has already declared for the NBA Draft) is a dynamic offensive player who can score from anywhere on the floor in a smooth, effortless manner. And while his scoring prowess tops the list of his strengths, the 6-4 guard can do much more than just put up points in bunches. This season, on more than one occasion, the Maryland native came close to becoming the first UW player to ever post a triple-double.
Ball, the oldest of the now world-famous Ball Brothers out of Chino Hills, CA, has drawn comparisons to legends like Magic Johnson and Jason Kidd. The 6-6 freshman literally averaged a triple-double his senior year of high school: 23.9 points, 11.3 rebounds and 11.5 assists per game, leading Chino Hills HS to a perfect 35-0 season and the top spot in the national rankings. He's helped turn the UCLA program around this season, earning a No. 3 seed in the NCAA Tournament after going 6-12 in the Pac-12 last year.
Smith Jr is arguably the most explosive prospect in the college ranks. After missing his senior year of HS with an ACL tear, the 6-3 Fayetteville, NC, native has bounced back stronger than ever. Aside from making SportsCenter's top plays periodically thanks to his high-flying finishes, Smith Jr became the first ACC player ever to put up two triple-doubles against league opponents in their entire career. And he did it all in a one-month span.
Fox has drawn comparisons to fellow UK great John Wall, mainly because of his lightning speed and agility. The freshman became only the second Wildcat ever to post a triple-double in the program's rich history, when he finished with a 19-10-10 line against Arizona State in December. You'll see him get busy this weekend as March Madness kicks off for 2-seeded Kentucky.
NBA veteran Jamal Crawford is among the current players aware of the PGs slated to enter the NBA in June and he's quite excited for what they'll bring to the L.
"These young guys coming up, the League is going to be in great hands," says the Seattle native, who worked out with Fultz last summer in Emerald City. "With guys like this coming in, who really appreciate and respect the opportunity and take full advantage of it."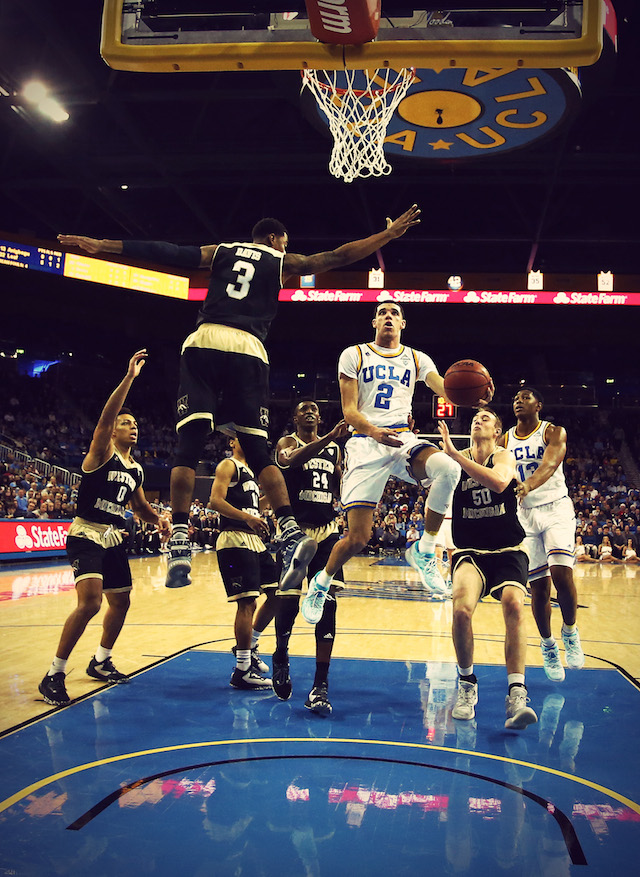 Sonny Vaccaro, the legendary sports marketing executive referred to as the godfather of grassroots ball—and who is best known for having signed Michael Jordan to his first sneaker deal with Nike—has witnessed this evolution into positionless basketball up close.
"When basketball started, what did you do? Inside, out. You guarded the big man. You had to sign the big man. You had to draft the big man," says Vaccaro. "One of the biggest mistakes ever made was going for the big men and not getting Michael [Jordan]. In today's game, Kevin Garnett would have been a 1. Kobe [Bryant] would have been a 1. Tracy [McGrady] would have been a 1. The mindset back then wasn't ready to make them 1s yet."
In Williams' opinion, the globalization of the game has also opened doors for today's contemporary style of PG.
"We have a lot of European influence and one thing about European basketball is that from a skill-level, they're still better than us," says Williams. "And so you're starting to see a lot more younger players do this: Regardless of what their size is when they're young, they're working on the ballhandling and offensive skill set in order to be a more complete basketball player."
There's also no denying that the athleticism and explosiveness of young players has hit unseen levels, ultimately allowing guys of different physical builds to play out of their traditional positions and still hold their own. That versatility was on full display at this year's All-Star festivities, when for the second year in a row a big man won the Skills Challenge, which has historically been a contest designed for point guards. (The Knicks' Kristaps Porzingis won this year's; Minnesota's Karl-Anthony Towns won in 2016.)
"It's a scary place where our game is at—in a good way," says Williams. "I think our game is at a place where we have the best athletes in the history of the sport. We're seeing things we've never seen before. The athleticism is at an all-time high and now the skill set has started to catch up."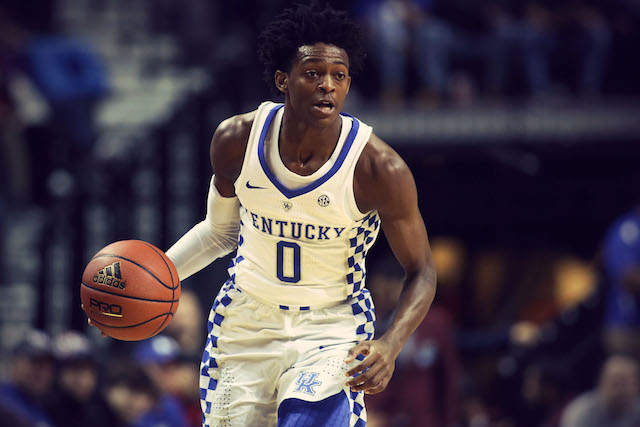 But considering the amount of love point guards are getting these days and that so many wings and big men are making the transition into the 1 slot, could it be that there are also business reasons behind the trend of everyone suddenly wanting to play point? Because having the ball in your hands and being the team's playmaker does increase one's marketability off the court, right?
"I don't think you can consciously say that, but yes, it does," says Vaccaro, who is more qualified than anyone to speak on the matter. "Just look at the big men in the league today. There are about four or five traditional big men today that are just great and stand above all of them, but none of them have the Shaq-type sneaker endorsement. Shaq was an anomaly in that he was a personality. Giannis is going to get signed for a nice dollar. Now you got a foreign big guy that's going to make a lot of money because he has that guard skill."
Vaccaro says it's vital for players to be able to relate to the average fan in order to sell sneakers. That personal connection is the hook.
"At first, it used to be the 'We're all like him' narrative, meaning we can identify with him by being 5-10 or 6-feet tall," says Vaccaro. "That was Jordan's strength at the beginning. He could look like us. None of us could identify with Moses [Malone] or Wilt [Chamberlain]. So Kareem Abdul-Jabbar, one of the greatest ever, had a little shoe thing. But that didn't fit then and it doesn't fit now. The grand slam right now is to be the point guard who's not a point guard—but he is a point guard."
At the moment, Stephen Curry is the face of Under Armour, Harden of adidas and Westbrook of Jordan Brand, while Kyrie is rising up the Nike ranks. All "point guards." In the end, Vaccaro believes there's an emotional connection that players must offer to ultimately allow them to become the face of major sneaker brands. And no other position offers that opportunity better than PG.
"We all like to root for the little guy," says Vaccaro. "Russell's attempt at doing what Oscar [Robertson] did [by averaging a triple-double] is an unbelievable thing because you're putting the physical equations of everything. The game has changed—it's so open now. It's not 18 passes and then throw it to the post guy to dunk it. That game is over. This league is a point guard league. Even the big guys want to play point guard. They're no longer your daddy's point guards. Now they're the show."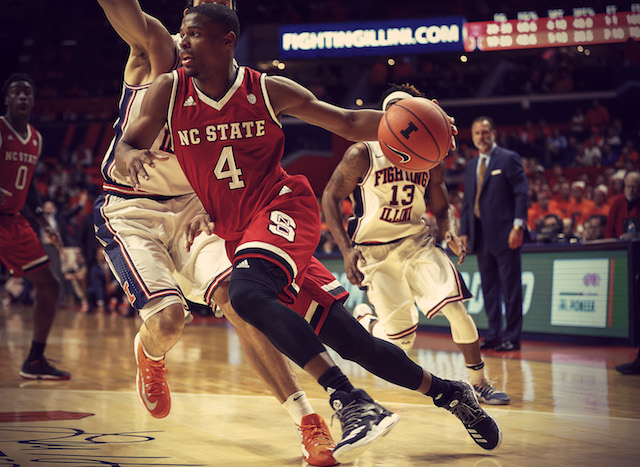 Franklyn Calle is an Assistant Editor at SLAM. Follow him on Twitter @FrankieC7.
Photos via Getty Images