If you had never seen Zion Williamson, but you had to sketch him based on what people told you about his game and how humiliated he makes everyone else look when he dunks on them, you would accidentally draw Obi Toppin.
Obi is not the action-figure-lookin' superhuman that Zion is, at least physically. His frame is within the bounds of reality. But he plays like him and he jumps like him and he dominates around the rim like him.
So, of course, Obi—who's averaging about 20 ppg on over 60 percent shooting as I'm typing this—is at one of those schools that vacuums up 6-9, walking YouTube compilations. Duke. UNC. Maybe Gonzaga, for something a little exotic.
Nope. Dayton. As in the University of Dayton. As in Ohio.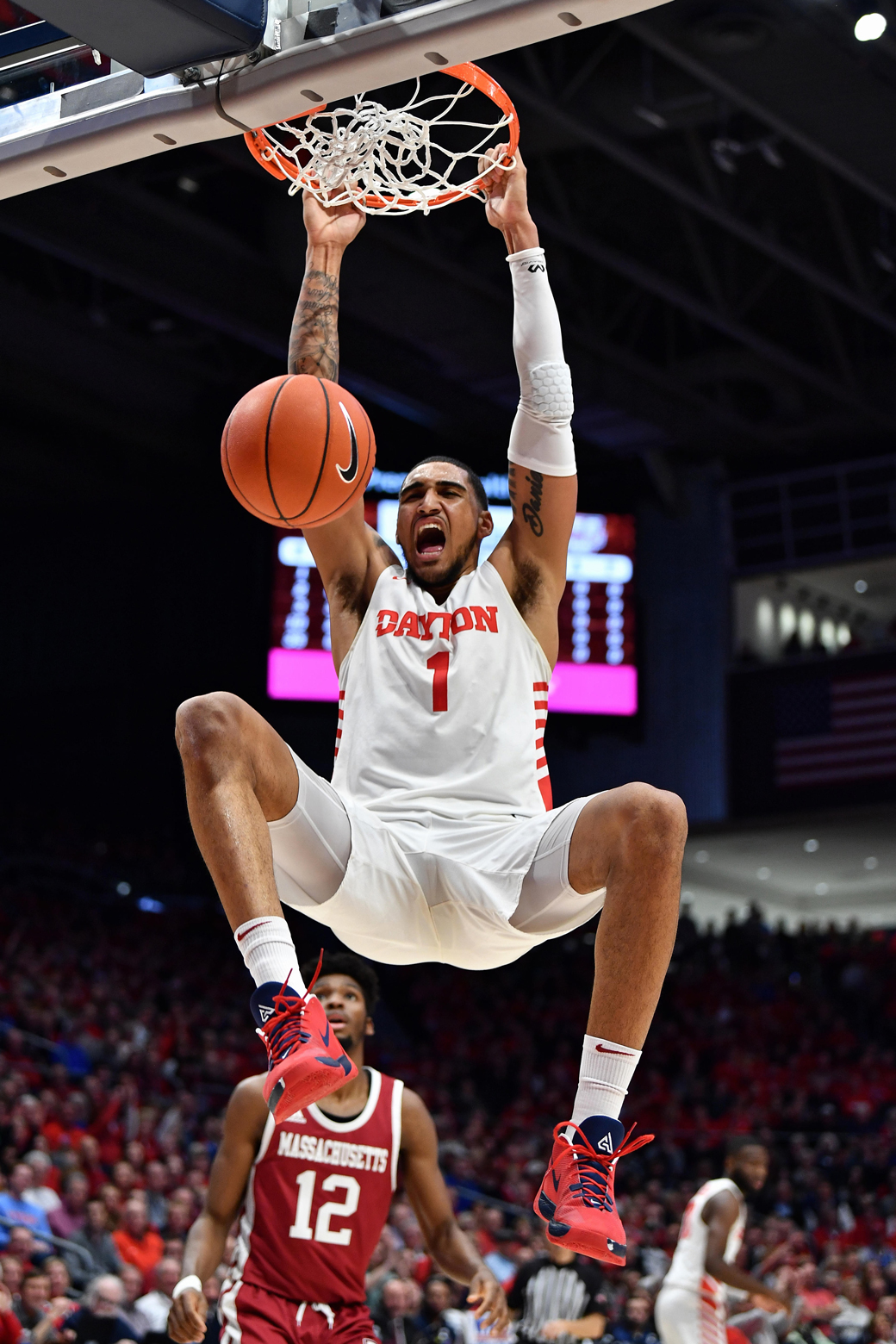 "It's off the charts. We've never had a big name like this," says David Jablonski, who's been covering the Dayton Flyers, which is what they're called, apparently, for a decade.
A perfect storm of events had to happen for Toppin, who is almost certainly going to be a lottery pick, to end up in Dayton, literally playing peek-a-boo with David's 3-month old baby last year, instead of catching lobs from Cole Anthony at UNC.
After all, Obi's from Ossining, NY. His dad was a streetball legend in New York. He spent a lot of his childhood in Florida.
Dayton, OH, was not on Obi's radar. At all. As Jablonski wrote in a profile of a still-unknown Toppin in June of 2018, who was redshirting as a freshman, when Obi got off the plane, he was surprised to learn he wasn't in Florida. He thought he was going to Daytona.
He wasn't recruited after his senior year in high school. Even though everybody raved about him, his grades weren't great. Obi was 6-4 at the time.
Then, suddenly, he wasn't. He grew to be 6-9, very quickly. He went to Mt. Zion Prep in Baltimore and dominated. Dayton's new coach Anthony Grant pounced.
That's how Obi wound up holding Jablonski's kid in Dayton 14 months ago.
A lot of things have changed since.
"The hype grew very gradually. Everybody said great things about him. What he was doing in practice was turning heads," says Jablonski. "Then he played in that pickup game in New York City."
Clips started going viral, and Obi Toppin, unrecruited and currently playing on a team whose previous best player was probably Giannis Antetokounmpo's younger brother Kostas, was suddenly on everyone's radar.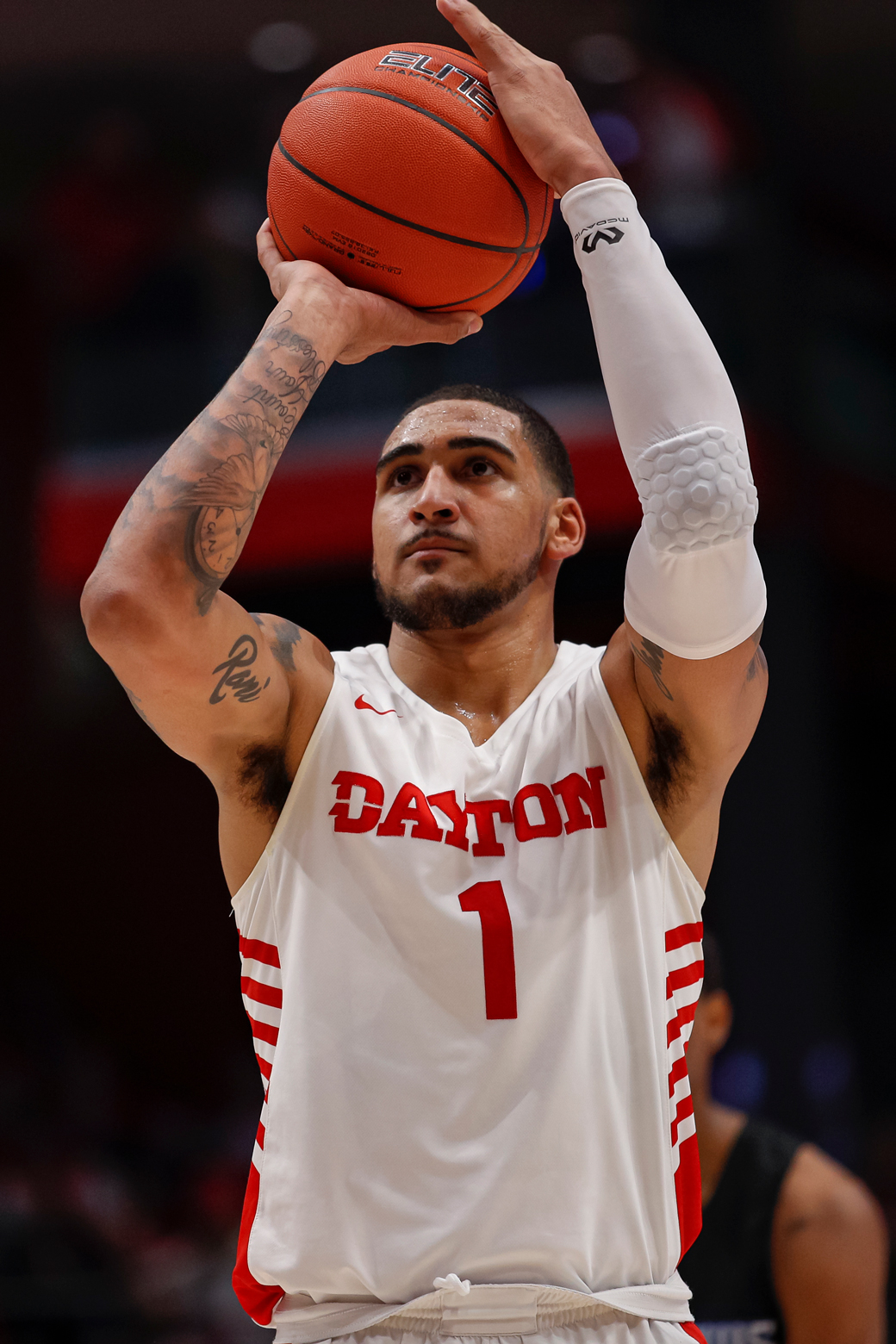 Maybe too much on everyone's radar. We tried to get Obi on the phone to talk about how quickly this has all happened. Dayton's poor PR guy responded somberly, like I was asking for venture capital money to start a multi-million dollar dog trafficking cartel. ("We have so many requests for him. I will put you in line for him," he said, but it wouldn't be soon.)
There's an old YouTube video called the "Hastily Made Cleveland Tourism Video," that semi-jokingly claims "our main export is LeBron James." That's what's going on in Dayton with Obi Toppin, who might win National Player of the Year. Dayton's only two losses this year are in overtime to Kansas and Colorado, who are both really good. Most other games except for the opener have been never-in-doubt blowouts.
You'd figure this would change Obi, that he'd be itching to get out of Dayton as national media and NBA scouts started flying in.
"A week ago, I took my wife and kid, who's now 17 months old, to the game. We were walking around the arena and Obi sees the baby. He recognizes him. He's all excited, and he asks to hold him," says Jablonski. "I'm an old school beat writer. I'm not a fan of the team. I don't wear their colors. But it tells you what kind of man Obi is. And it's a great story to tell my kid. We've had some great players over the years, but nothing like Obi Toppin."
—
Ben Collins is a writer and reporter for NBC News. He's also a SLAM columnist and writes The Outlet, a monthly column in which BC muses on…well, whatever he wants. Follow him on Twitter @oneunderscore_.
Photos via Getty.