It would have been easy for Reed Timmer to grow frustrated with his team's fortunes this past season and turn toward the future—namely, 2015-16. That's when Drake basketball welcomes two Big Ten transfers, a redshirt and four very talented incoming freshmen.
But even as the losses mounted this in 2014-15, to the tune of a final record of 9-22, Timmer resisted that urge. He ended as the Bulldogs' leading scorer at 11.5 points, earning All-Missouri Valley Conference freshman team honors. He boosted that scoring tally by almost four points during conference play. It was a validation of the potential his head coach, Ray Giacoletti, had often referred to when asked about the 6-1 guard.
"Not to sound arrogant, but I expected this out of him," Giacoletti said. "I expected him to be able to push through tough times."
A quick note, before we continue: Timmer was just a freshman.
Puts his teammates' needs before his own, totally embraces the process—including learning from veterans. "We looked to the five seniors for leadership," Timmer said. "Seeing how hard they work and operate, you follow that. Our season was for them, we wanted to make sure they went out on a great note."
Giacoletti took the Drake job two years ago, following six seasons as a Gonzaga assistant. Within weeks, he'd offered Timmer a scholarship. He kept tabs throughout the summer, sharing in the assessment of Timmer's coach at Eisenhower (WI) High: Kid was a program-changer.
He certainly was a scoring savant. In his senior season at Eisenhower, Timmer averaged 28.7 points. He finished as the 19th-best scorer in Wisconsin state history.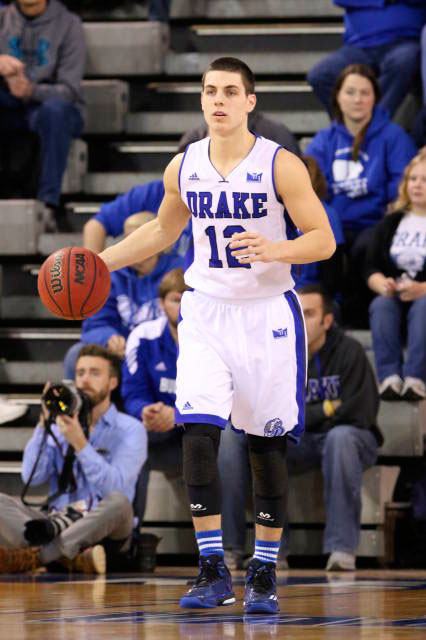 Many have referenced Giacoletti's Gonzaga roots, and figured that he would try to build Drake by emulating the successful model set in Spokane. That's true, to a certain extent. Giacoletti wanted to take the best components he witnessed at Gonzaga: administrative support, a genuine sense of care emanating throughout the program.
And the players. "Go back 15 years to when Gonzaga got rolling, it was Pacific Northwest kids (Santangelo! Frahm! Bankhead! Calvary!) who outworked people," said Giacoletti. "I think Milwaukee and Chicago will help us get to the next level at Drake."
Timmer, who hails from New Berlin, WI, quickly became captivated by the prospect of helping Drake rise. "When I visited the campus, everything fell into place," Timmer said. "It was right academically. It had the right feel of campus, and Des Moines is a great city."
Timmer committed in August of 2013. This past fall, he witnessed the unveiling of a brand-new practice facility. He started the '14-15 season opener, and finished with 16 points and 6 assists.
But Drake started slowly. With his team sitting at 3-9 at Christmas break, Giacoletti opted for a re-set. He set about simplifying things: Win the day. Work every day to get better. This was Year Two in a four- to five-year process. Timmer never worried that the team might splinter. "We stuck together, we came together. We knew eventually we'd find it," Timmer said.
It mirrored Timmer's own adjustment to the college game. The pace on both sides of the ball, the recognition of the way defense fuels everything. In high school and AAU, you could take possessions off. Do that in college, you get subbed out.
Giacoletti gave Timmer a video of former Ohio State defensive stalwart Aaron Craft to study. "We wanted him to watch what a little bulldog Craft is at every defensive aspect," Giacoletti said. "Loose balls, taking charges, making sure his man doesn't score. We expect that same thing out of Reed. I tell him every day that we're throwing a lot at him. But as he continues to listen and buy in, he'll see this experience pay off."
Drake saw success: a three-game win streak midway through conference. An 8-6 record at home for the season. "It was hard for me at times," Giacoletti said of the losses. "But this was about the foundation being built; it's about where we're headed. The big picture is clearly in place."
Timmer was a kid who had a 31 on his ACT. He's a poster child for one of Giacoletti's chosen recruiting pitches, referencing Drake's academic standing: If you're not going to Northwestern or Stanford, Drake's your best option. Timmer is enrolled in the school's pre-pharmacy program, one of the country's best.
Des Moines is one of the premier cities in the Midwest. Drake players have the chance to intern at any number of companies. Two local businesses were listed on the Fortune 500 for 2014.
Timmer's effect might be best have been represented during successive possessions of a mid-season game. On the offensive end, he dribbled around a high-ball screen and nailed an 18-foot jumper. Standard stuff.
He put his head down and got back on defense. Then, on the subsequent defensive possession, Timmer lost his man at the top of the key. Jumper. Onions. It was then that Timmer reacted. He received the inbounds pass, and jackhammered the rock into the hardwood. An expression of personal dissatisfaction. But the moment passed quickly. Timmer set about initiating the offense on the other end.
The type of kid that gets it. Next season, Drake will have momentum. There's a team trip to Italy in August to look forward to, 10 additional practices that will give the newcomers a chance to gel.
"Once we get these guys together, we'll have a chance to figure out these pieces to the puzzle," said Giacoletti.
You can bet Timmer will be leading the way.
Photos courtesy of Getty and Earl Hulst, Drake Athletics.