"Everyone always tries to split us up, but we always find a way to come back to each other."
It was 2019 when Isaiah Mobley said those words to SLAM. He was about to begin his college career at the University of Southern California, while his younger brother Evan—the No. 1 prospect in the class below him—would have one final year at Rancho Christian High School. The nation's best sibling duo was breaking up, but, as Isaiah hinted, the brothers would be reunited soon.
Evan eventually followed Isaiah's footsteps to USC, where the two shined side by side for a season. Then Evan was off to the NBA—selected with the No. 3 overall pick by the Cleveland Cavaliers in 2021—while Isaiah chose to remain in L.A. The Mobley brothers were split up again…
And then they were reunited. Again.
With the 49th pick in the 2022 NBA Draft, the Cavaliers took Isaiah. This time, the Mobley reunion has looked a bit different. The brothers haven't spent much time on the floor together. Instead, Isaiah, who is signed to a two-way contract, has been dominating for the Cleveland Charge—the Cavs' G League affiliate—this season.
At 6-8, 238 pounds, Isaiah is an athletic and versatile big man, just like Evan. Growing up, the two developed their skill sets in competitive games of one-on-one.
"Evan would always want to play me one-on-one after practice because he would play against his teammates and do really well," Isaiah said in 2019. "I just remember that I was beating him but would have to try harder because he was getting better. His competitive drive…he would try to play until 100 until he could win. I think that rubbed off on me because when I was younger, I played hard always and played to win, but not as intense as I do now."
He later added: "We used to [fight a lot] because [Evan] had temper tantrum problems, but now he got it under control so we don't have no problems. It was good though—he was a sore loser, which is good. It plays into [who he is] now because he plays hard and he hates to lose. I used to beat him in 90 percent of stuff and he used to hate it. One-on-one, I'd beat him, and he'd try to fight me. But, also, I think that's why he is so good now."
Fast forward four years and Evan is helping lead a Cavs squad that sits at fourth in the NBA's Eastern Conference standings, while Isaiah is helping lead a Charge squad that sits at first in the G League's Eastern Conference standings.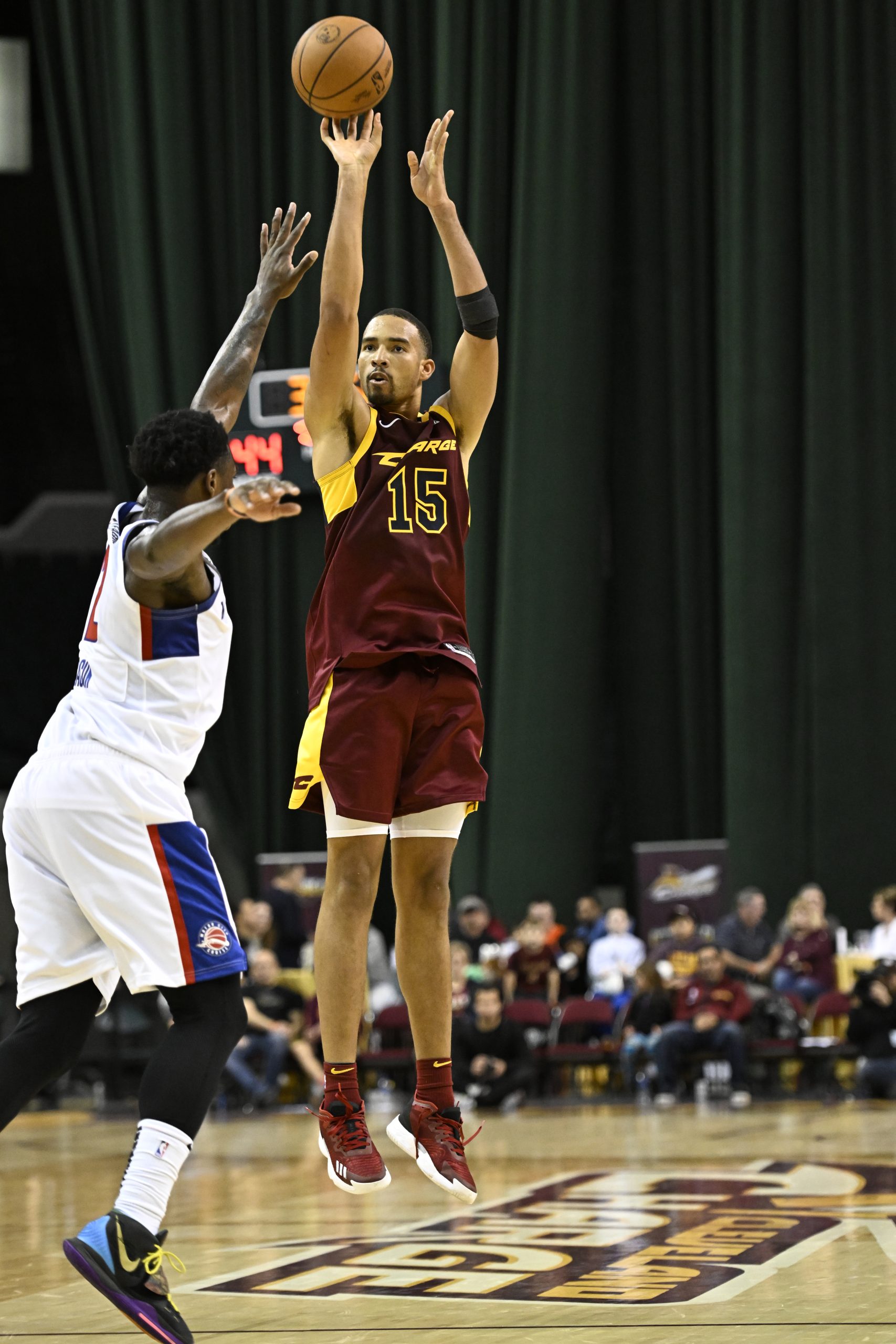 In January, Isaiah averaged 23.6 points (on 52 percent shooting), 9.3 rebounds, 4.1 assists and 1.4 blocks per contest. He led the Charge in scoring four times, in rebounding three times (including a 19-board game against Fort Wayne) and in assists three times. His three-point percentage dropped, but for the full year (showcase + regular season), he is knocking down 35 percent of his attempts from behind the arc. Led by Mobley and guard Sharife Cooper, Cleveland has won nine of its last 10 games.
Below are Isaiah's highlights from a recent victory over the Wisconsin Herd, in which the 23-year-old forward notched 30 points, 10 rebounds and 4 assists. Peep his creativity on offense—Mobley attacks off the bounce, finishes jump hooks in the paint and steps out for threes. (You can see shades of all that in this video of him and Evan playing one-on-one from 2019.)
As of January 27, Mobley ranked seventh in fan votes for the G League's Next Up Game, a new event to take place at All-Star Weekend in Salt Lake City. (Our previous two "G League Players to Watch," Luka Garza and Kenneth Lofton Jr, placed one and two in fans votes, respectively).
With Isaiah starring for the Charge and Evan doing his thing for the Cavs, Cleveland must be super thankful that the Mobley brothers always find a way back to each other.
HONORABLE MENTIONS (JANUARY STATS)
Sharife Cooper, Guard, Cleveland Charge: 27.4 points, 6.1 assists, 4.4 rebounds, 50 FG%
Mason Jones, Guard, Mexico City Capitanes: 24.8 points, 5.4 assists, 4.4 rebounds, 1.5 steals, 49 FG%, 40 3P%
Scotty Pippen Jr., Guard, South Bay Lakers: 24.3 points, 8.3 assists, 3.7 rebounds, 1.3 steals, 50 FG%, 40 3P%
Charles Bassey, Center, Austin Spurs: 23.4 points, 9.3 rebounds, 1.2 blocks, 71 FG%
Lindell Wigginton, Guard, Wisconsin Herd: 24.7 points, 6.4 assists, 4.9 rebounds, 48 FG%, 46 3P%
Gabe York, Guard, Fort Wayne Mad Ants: 24.0 points, 4.8 assists, 4.6 rebounds, 1.7 steals, 48 FG%, 39 3P%
Zavier Simpson, Guard, Lakeland Magic: 15.9 points, 9.6 assists, 4.5 rebounds, 1.5 steals, 57 FG%, 63 3P%
Jay Huff, Center, South Bay Lakers: 15.1 points, 7.5 rebounds, 4.6 blocks, 61 FG%, 44 3P%
JANUARY CALL-UP TRACKER
Chris Silva, Forward, College Park Skyhawks to Dallas Mavericks
Deonte Burton, Forward, Stockton Kings to Sacramento Kings
Donovan Williams, Forward, Long Island Nets to Atlanta Hawks
Dru Smith, Guard, Sioux Falls Skyforce to Brooklyn Nets
Saben Lee, Guard, Raptors 905 to Phoenix Suns
PJ Dozier, Guard, Iowa Wolves to Sacramento Kings
Joe Wieskamp, Forward, Wisconsin Herd to Toronto Raptors
Sterling Brown, Guard, Raptors 905 to Los Angeles Lakers
---
Photos via Getty Images