CHENNAI, INDIA — Nate Seelan, a former fashion designer and current Teach for India fellow at the Vidyaniketan School enters the schoolyard wearing stylish dark sunglasses and slim cut black pants, rolled up to show his ankle. He's organizing the students participating in this year's Crossover Academy while handball practice wraps up and cars whiz by on the six-lane road immediately outside the school's gates.
"Nate!" Shaun Jayachandran shouts from the other side of the yard where the Crossover Academy volunteers are huddled. "When do we get the courts?" The term courts here is used generously. Vidyaniketan lacks any real basketball facilities, instead boasting two overlapping half-courts, with one of the hoops about six inches too low and the other far taller than regulation. Still, it's an enormous improvement from just a few years ago. When Nate first got Vidyaniketan involved with Crossover in 2014, this area was nothing but sand and mud. After partnering with the program and seeing how eager the children were to practice the skills that they learned, Nate fundraised and lobbied hard to give them somewhere to play. This is the kind of incremental but meaningful change that Shaun aimed to make when he founded the Crossover Academy.
It started with a modest and open-ended objective: get kids to play sports and stay in school. As basketball continued to grow as a global sport, Shaun looked at the landscape and wanted to get involved. "I started thinking about how I could combine my work in education with coaching and having a family history in India to build something that would be impactful," he recalls. From that kernel of an idea, the Crossover Academy was born. In 2012, Shaun took two volunteers to India to run the pilot program with 45 students at St. Patrick's School in downtown Chennai. Now in his sixth summer, Shaun has convinced 14 volunteers, many of whom are Indian-American basketball players themselves, to come to southeastern India for two weeks in the middle of the summer to teach basketball to over 300 children from marginalized communities and provide them with hope for a better future.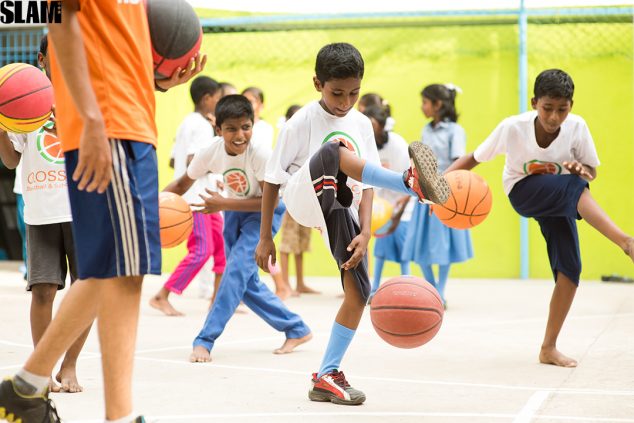 Once the clock hits 3:45 p.m., the handball team disperses and Shaun jumps into action trying to get the attention of 120 students ranging from the ages of 9 to 14. He divides the kids into groups and assigns them names of prestigious American universities, a tactic that he describes as a way to help them even begin thinking about a college education as something that is within their reach. As a school that works with Teach for India fellows like Nate, Vidyaniketan has a relatively low dropout rate but escaping poverty and improving social standing after graduation is still extremely difficult. In other schools throughout Chennai, the dropout rates can reach as high as 50 percent.
"Who's on Team Vanderbilt? You're with Coach Nikhil." The kids swarm Nikhil Lal, a team manager for the Princeton University men's basketball team and one of Crossover's most experienced coaches. He leads his team in stretching and conditioning, later focusing on teaching a proper defensive stance and how to move on defense without crossing their feet. Nikhil has the children shuffle their side-to-side while rolling a basketball from one end of the court to the other to reinforce good defensive positioning. "How do you make sliding fun?" Shaun remarks as he looks on. There's an immense challenge in establishing fundamentals for a sport with which these kids are only barely familiar.
But training elite basketball players or finding India's version of Yao Ming is not why they're here. Instead, Shaun and his coaches are intent on instilling the five pillars on which the Crossover Academy is based: leadership, gender equity, character, teamwork and communication. Shaun has a great admiration for the legendary John Wooden and how he integrated the Pyramid of Success to teach valuable skills that are applicable both in the game of basketball and life in general.
"Having taught in some exceptional private schools, I typically saw it wasn't that 'Student A' was smarter than 'Student B,' but 'Student A' might have those skills of how to be a leader, how to shake hands, how to look someone in the eye, how to be part of a system," he explains. "Teamwork, communication, all of those pieces play a part in sports but also very much play a part in how you conduct yourself and help determine who is successful." Throughout the after-school program, students rotate through four 30-minute sessions: basketball skills, conditioning, yoga and a classroom session focused on establishing those core pillars. Over the course of just two weeks the students rapidly progress in their basketball skills, starting with the most basic of dribbling drills and eventually reaching the point where Shaun is excitedly explaining the concept of a pin-down screen to free a teammate for an open shot.
The fact that there's no established culture of basketball in India plays into the hands of Crossover, which insists on operating with an even number of male and female students. "Sports in developing countries are usually isolated more to boys. So I wanted a sport where the boys weren't lightyears ahead of the girls at the starting point and therefore they couldn't automatically exclude the girls from playing by saying you're not good enough," Shaun reasons. "And so if they're all in the same boat starting at step zero, it gives everyone equal leverage. It's pretty cool watching how fast the girls evolve into it when they're given an opportunity."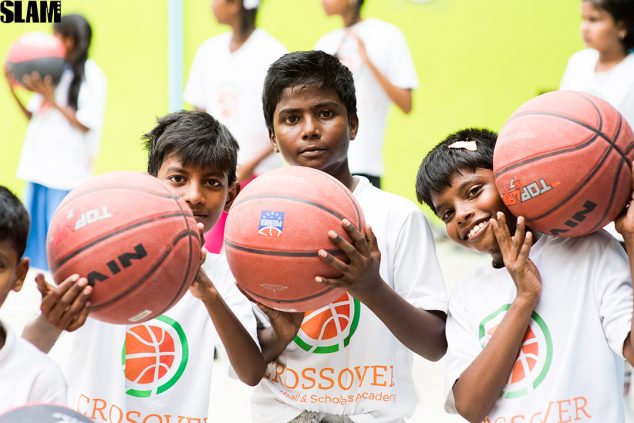 At the end of the camp, Crossover presents each student with a certificate and a basketball to take home and offers them a challenge: if you practice so much that you wear that ball out, and if you go to school everyday, you'll get a new ball next year. While we debate the merit of participation trophies in American youth sports today, we often take the mere opportunity to participate for granted. "Basketball is our vehicle of change," Shaun likes to say. Crossover's premise is that by giving these children a chance to engage in structured play, they're exposing them to something that was so instrumental in many of our lives growing up: the experiences of playing as a team, making mistakes, and learning from those mistakes in a safe setting. "They don't have the means to be in piano class, ballet, and horseback riding all simultaneously. In fact, they're in none of those things," Shaun says. "So for someone to come and teach them how to play and that there are rules and now there's a fairness in a world that is typically unfair to them, that there is an actual fairness to a game. Like, 'this is how the game works'—it excites them, like, 'I get it, I can do X, I can do Y.' And so there's a connection point because they see somebody older than them who is taking time out to play, to be part of their life instead of, 'Hey you should be going to school, you should be studying, you should be going to work,' or, 'It's X number of years until you get married.' Instead it's just, 'We're just here to play,' and sometimes that's the opening you need to connect with a kid."
Of Crossover's five pillars, gender equity is the trickiest concept to teach to young children, especially those who have grown up in a country like India that lags behind more developed countries when it comes to women's empowerment. Still, Nate insists that Crossover's emphasis on gender equity has made a dramatic impact among the girls that attend Vidyaniketan. He recalls two seventh grade girls that forcefully stood up to three older boys that tried to cut to the front of the line for water on a particularly sweltering summer day in Chennai. "I think one of the biggest impacts that Crossover has had is that girls and boys are working together. We stress a lot on teamwork and things like that [at Teach for India] but the kids are always conflicted between school and their communities where it's girl separate and boys separate because we are conservative as a country and a society," Nate says. "I think it makes the teachers' jobs so much easier because Crossover explicitly expresses it and then we can build our classes around it."
Just three miles east of Vidyaniketan, Shilpa Tummala leads another group of Crossover coaches at Holy Angels, an all-girls K-12 school with over 2,000 students, over 100 of which are participating in this year's Crossover program. Holy Angels has two actual basketball courts, which allows nearby St. Raphael's to bring over another 85 girls to join the program. In years past, the American International School in Chennai has hosted the two-week program and students from all over the city were bussed in to participate. But this year, a scheduling conflict threw Shaun and his volunteers an unexpected curveball and forced them to adapt on the fly, deciding instead to bring the camp directly to the schools.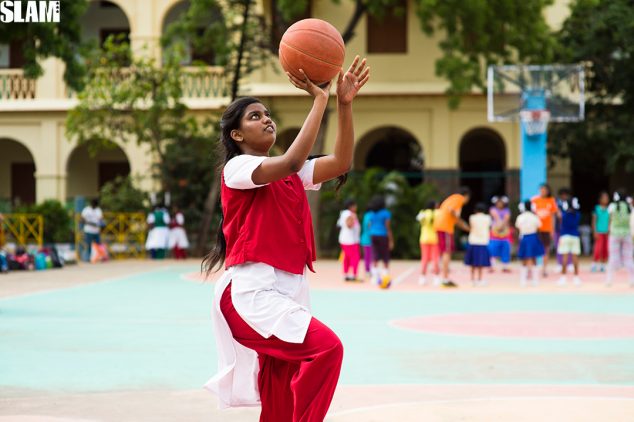 On one of the courts, Shilpa works with a group of 40 girls, urging them to get in a defensive stance, slap the ground and yell "Defense!" on her cue. What appears to be a basic warmup exercise is soon revealed to be quite more difficult than that. Shilpa has a number of factors working against her, including the fact that almost none of the children have heard English spoken with an American accent before today. She soon learns that it takes quite a bit of coaxing to get a group of 8-to-13 year-old girls to be loud, forceful and confident while learning a new sport on a typical Chennai summer day as temperatures creep into triple digits.
What Crossover is attempting to do in a society that doesn't encourage young girls to be outspoken is fairly radical. The students haven't encountered a role model like Shilpa, who just finished earning a degree in neurobiology while also playing Division I basketball at Harvard University. After some experimentation and ad-libbing, Shilpa manages to connect by teaching them a simple call and response.
"What is a leader?" Shilpa prompts, to which the group of 40 young girls respond with "a strong woman!" as they shout and flex in unison. It's not hard to see how a moment like this could have a lasting impact on a young girl that has dreams of striving for more than the seemingly preordained blueprint that the circumstances of her birth have laid out for her.
One such girl who fits that description is Affra, a sixth grader at Vidyaniketan who is participating in Crossover for the fourth consecutive year. Affra carries herself with unexpected confidence and poise as she stiff-arms traffic and makes her way through the dusty side streets of Chennai. She strides with such confidence because she's been doing it for years, getting herself ready and walking to school each morning after her mother, Aysha, has left for her job cooking and cleaning for a wealthy family on the other side of the city. The young girl's father took his own life just a few years after she was born, leaving Aysha and Affra to piece together the 4,500 rupees (about $70) for rent each month. There's usually no money to spare for something like food for breakfast before school. Her morning walk from the small fourth floor apartment where she lives with her mother to Vidyaniketan lasts just under a mile and concludes with Affra crossing six lanes of traffic, which she navigates with ease. She says that she wants to be a teacher when she grows up, just like Nate. In four years, she's never missed a day of Crossover.
Despite the progress that Crossover's focus on gender equity has made in the classroom and on the playground, it's an entirely different challenge to get that mindset to translate to the students' communities outside of school. Many parents in India don't want their daughters to play sports because sports are simply not seen as something a girl should do. Once you get past the 10th grade, there's a significant imbalance of boys and girls in the classrooms because parents opt to pull their daughters to send them to an all-girls school, even if that school may be of lower quality. Even when girls have the opportunity to go to college, they're typically married off immediately after and, at that point, the culture is such that it becomes the husband's decision if he wants to allow his wife to have a career or if she'll stay at home to raise the family. Educators like Nate and Shaun know they're fighting an uphill battle and that change will not be immediate. The goal, according to Nate, is to keep chipping away in hopes that eventually programs like Crossover will make a significant impact. "We know that even if our kids themselves couldn't escape, the hope is that they will ensure that their kids are not bogged down like they were suppressed by their previous generation," he says. "I know if Affra's mom doesn't let her go to college—if I lose that battle, I know for a fact that the seed in the girl is planted and she wouldn't let her own daughter her stifled by society or norms. Change may not be occurring immediately, but I'm sure that these children's children will have way more broad-minded parents than their parents ever were. We're just hoping this snowballs."
—
Conrad Kaczmarek is a writer living in Los Angeles. Follow him on Twitter @ConradKaz.
Photos by Rob Hammer