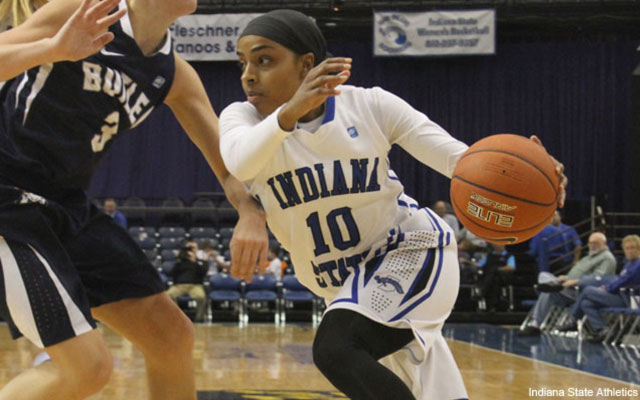 The headlines on Tuesday, although few, declared in big, bold letters that FIBA came to a positive decision about its headgear ban.
Prior to this development, basketball's international governing body allowed players headbands up to five centimeters in width—but banned all other forms of headgear, including hijabs, turbans and yarmulkes. This rule prevented players who wore these religious headcoverings from participating in any FIBA affiliated leagues and tournaments. Muslim players Indira Kaljo and Bilqis Abdul-Qaadir, who practice hijab, couldn't sign with professional teams overseas to pursue their careers. Sikh players Amjyot and Amritpal Singh, who wear turbans, were told they couldn't play in India's game versus Japan at the FIBA Asia Cup this past July. They were only allowed to check into the game when they replaced their turbans with a headband, which fit the mold of Article 4.4.2., but left the players uncomfortable.
Upon first seeing Tuesday's handful of headlines, I was happy, of course. To know Muslim women who wear hijab, Sikh men who wear turbans, and Jewish men who wear yarmulkes could finally play in FIBA tournaments and leagues without being forced to choose between faith and basketball—I mean, that's great news! Go FIBA…right?
Well, yeah. Sort of. The announcement on Tuesday, following FIBA's central board meeting in Spain over the weekend, opened the door for a two-year testing period. In its news release, FIBA said it relaxed its rules, "to enable national federations to request, as of now, exceptions to be applied at the national level within their territory." Detailed requests must be submitted, then approved, then followed up with two times a year "to monitor the use of such exceptions." The players can participate in FIBA endorsed three-on-three competitions as well—which is nice—but again, they need to submit a detailed request to FIBA to wear headgear.
This procedure—inconvenient for both the requesting and approving parties—is unnecessary. Players' needs shouldn't be termed "such exceptions" because soft pieces of cloth on the heads of players ought not to be banned at all. They pose no threat, they cause no harm.
To tell a basketball player to remove his/her religious headcovering because it "might cause injury to a player" is disrespectful and ignorant—especially when said player previously competed in the attire multiple times without a problem, as is the case with all four names mentioned above. These aren't mere pieces of traditional fabric or some kind of fashion trend. Hijabs and turbans represent greater values adherents of Islam and Sikhism across the globe hold dear to their hearts.
And some of those Muslims and Sikhs hold basketball dear too. But unfortunately for them, it's not as easy as lacing up their kicks and throwing on their headcovering the way their teammates do prior to setting foot on the court. There is this lengthy and unnecessary approval process, that FIBA will monitor over the next two years to ensure competing with headgear is safe for all players, looks acceptable on the court, and results in more participants in the game. The real review of FIBA's Official Basketball Rules we hoped for will take place after the 2016 Olympic Games.
I'm glad—really glad, and grateful—FIBA reconsidered its rule that affects hijab- and turban-clad players. It's definitely a step forward, a move I'm sure many across the world appreciate. But at the same time, I'm disappointed my sisters in faith like Bilqis and Indira and brothers in humanity like Amjyot and Amritpal need to go through the trouble of filing special requests to explain they deserve to play just because they choose to wear a religious headcovering.
Baby steps, I guess. But I kind of expect organizations serving people on a global platform to take great strides.