AND 1!
If you've ever played the game of basketball, the phrase should be an all too familiar one. For fans old enough to remember the late-'90s, the phrase probably brings up memories of a sneaker company of the same name.
AND1, the company founded in 1993 by three UPenn students—Seth Berger, Jay Coen Gilbert and Tom Austin—started making noise in the sneaker industry with the signing of Stephon Marbury as its first spokesperson in 1996. In 1998, the brand signed NYC streetball legend Rafer "Skip to My Lou" Alston and simultaneously released a videotape, the "Skip Tape," a grainy film compilation of rarely seen playground moves starring the aforementioned Alston.
The tape was a success and in 1999, AND1 launched a mixtape campaign that would forever change the course of basketball. Kids weren't just focused on working on their jump shots but now were trying to figure out how to master the crossovers and moves showcased in the tapes. The game became flashier, having been injected with an in-your-face, embarrass-you-and-your-family-type mentality exhibited by ballers with colorful nicknames. Before you could even blink, players like Main Event, AO, Skip and Headache were suddenly being discussed as commonly as Iverson, Jordan and Kobe. The game had changed. And AND1 was at the forefront.
The following year, AND1 would hit its pinnacle with Vince Carter's epic performance at the 2000 NBA Slam Dunk Contest, a contest he won while wearing a pair of AND1's most recognizable silhouette, the Tai Chi.
But as quickly as AND1's rise from obscurity was, their fall from grace seemed even quicker. As the label went through its struggles and changes of ownership on several occasions over the years, AND1 suffered. What once was a company with as much buzz as Under Armour has today, is now a brand looking for a new beginning. And from the looks of it, they landed in good hands.
Enter Sequential Brands. With its acquisition of Galaxy Brand Holdings last year—AND1 being one of the brands under the umbrella—Sequential appears to be committed to making the struggling footwear company a major player in the sneaker game once again.
Seeking a fresh start, AND1 relocated its offices from California to New York shortly after the acquisition and the rebuilding process officially began. For its new team, brand president Tom Meer reached out to then-DC Shoes designer Charley Hudak and offered him the position of design director and tasked him with the responsibility of putting together a design team. It was an offer and challenge Charley couldn't refuse.
And in Hudak, AND1 might've found its saving grace.
A man from humble beginnings, Hudak is a Pittsburgh guy raised on a sustainable farm not too far from the city. The youngest of 10 children, he realized early on that he had a true passion for shoes. For as long as he can remember, Hudak constantly found himself tinkering with kicks. Whether it involved cutting, carving or making use of duct tape, Hudak tried all sorts of ways to improve his shoes.
Like many sneakerheads who can recall the very moment they fell in love with a shoe, Hudak had his own seminal moment upon seeing the Air Jordan III. Given to one his brothers as a gift, Hudak's eyes locked on to the IIIs as they made their way out of the box and into the light. It was love at first sight. Right then, he knew footwear was in his future.
Though sneakers have always been his passion, it did take Hudak a bit of time and plenty of incredible life experiences before he realized his true calling. After graduating from Miami University in Ohio, Hudak wasn't quite dead set on what he wanted to do. So he set off on a serendipitous adventure that few people can say they've ever experienced.
Hudak's journey included working as a wilderness guide in the Teton Range, working on a shrimp boat and living stints in both Guatemala and Ireland during which he absorbed as much culture as he could.
Upon his return to normalcy, Hudak was faced with a decision that would ultimately define the next chapter of his life. Accepted to both the Peace Corps and the Savannah College of Art & Design, Charley had to choose between continuing his already impressive cultural journey or pursuing his dream of working in footwear and the stability of a career. Hudak chose the latter.
It was during his year at SCAD that Hudak would discover Industrial Design. And in his attempts to secure a footwear internship, having talked to numerous people, a common theme kept coming up. Many of the people he'd been in contact with all seemed to be from or had connections to the University of Cincinnati's College of Design, Art, Architecture and Planning—DAAP. Hudak knew right away what he needed to do and the following year, he transferred into Cincinnati.
At Cincy, Hudak made his mark as he started the school's first accredited footwear design studio as well as the TREAD Project—an outreach program aimed at appealing to high school students through footwear design. It's also where Hudak would meet the first person he'd hire for AND1.
While recruiting students for the footwear studio, Hudak stumbled upon a sketch that immediately caught his eye, and his search for its owner began. The artist was a fellow DAAP student, Brian Bjelovuk. Though Bjelovuk didn't join the footwear studio because of prior commitments and a loaded schedule, the impression his sketch and work made on Hudak was a lasting one.
So when Charley got the gig at AND1, Brian was the first person he called to join his team. Bjelovuk, who was working at a consultancy in Chicago at the time, remembers the phone call vividly as it came in while he was in the midst of helping a friend move, driving a moving truck from Chicago to Los Angeles. Bjelovuk would accept the offer and currently carries the title of Senior Designer.
Bjelovuk's passion lies in design. In a never-ending quest for knowledge, Bjelovuk engrosses himself in the design world, learning as much as he can about the industry's greatest talents while constantly working on his craft. Though lacking footwear experience, Bjelovuk is a quick study and Hudak has been able to help mold him into a more than capable sneaker designer. In doing so, Charley has been able to feed off Brian's design talents creating a partnership where each play off the other's strengths.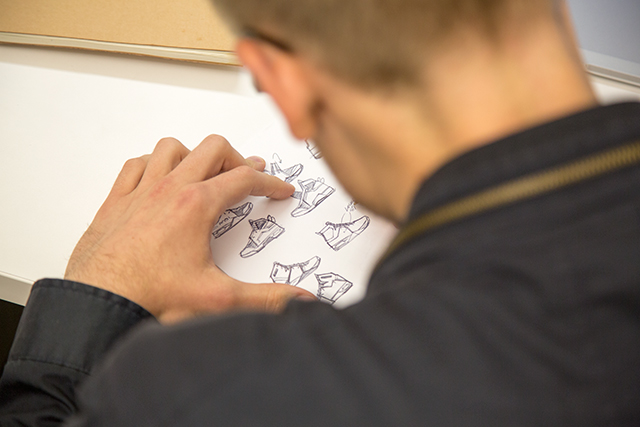 As the duo nears their first full year at AND1, their first sneaker, the Havok, is slated to make its debut this fall.
The Havok is a throwback to more traditional sneaker design with a strong stance and battle-ready exterior. Inspired by the concepts of conflict and chaos, combat and warfare, the shoe incorporates features that fans can appreciate.
Unique details include a tongue tab with a flip-down option that gives the wearer another logo to showcase. Another feature is the use of a functional stirrup lockdown system that offers different lacing options. In these details, as subtle as they are, you can see the team's attempt to bring innovation to the game. Calling upon AND1's design history, asymmetrical elements have been incorporated into the shoe's design, while a daisy chain-inspired pull-tab continues the shoe's military theme.
As AND 1 gears up for a new beginning, so too is their star athlete and face of the brand, Lance Stephenson. "Born Ready," a nickname given to him while playing at famed NYC basketball power Lincoln High School, took his game to a new level in 2013 during his final year with the Pacers. Taking advantage of free agency and the increased demand for his services, Stephenson signed with the Charlotte Bobcats in what turned out to be a disappointing season. After being traded to the L.A. Clippers this offseason, Stephenson is looking to get back on track.
Stephenson is slated to wear the Havok this season along with several other AND1 models. Throughout the Havok's design process, Stephenson has been an active participant. From brainstorming sessions to wear testing and offering weekly feedback, Hudak says, Lance has been awesome to work with.
What the future holds for AND1 is uncertain. The sneaker game is much more competitive now than it was when the brand last enjoyed great success. But with this new beginning and solid foundation, there is hope.
"We know we have some obstacles, we know the road isn't completely paved," Hudak says. "It's like we're starting with a shovel and a pick and we have to create the road. The idea of chipping away, like [Andy Dufresne] in The Shawshank Redemption, building that hole to get out, is a metaphor of sorts."
There's no denying AND1's place in basketball history. And there's no denying the battle back to relevancy will be an arduous one. But with a driven, talented squad, with a passion to succeed and Born Ready looking to bounce back, you'd be a fool to count them out.
Go get your popcorn. Hunker down. And get ready for the latest chapter of AND1. It promises to be a good one.