Whether it was Vince Carter donning the Tai Chi while mid-air at the unforgettable 2000 Slam Dunk Contest during NBA All-Star Weekend in Oakland or Chauncey Billups holding up the Finals MVP trophy while rocking the Rise at the 2004 NBA Finals in Detroit after defeating the Lakers, AND1's place in some of the League's finest moments in history is eternal, if subtle. Yet it's the gritty playground culture and heritage—which led to the explosion of the streetball mixtape tour a decade ago—that has resonated with hoopers and fans alike since its inception. No one has celebrated the blacktop lifestyle more consistently while paying homage to the concrete legends more authentically than the Philly-originated brand has.
But now, as AND1—which turns 23 years old this summer—looks forward to its next chapter in the game, it has begun the process of reuniting with its past while also setting up the infrastructure to put the ball in the hands of the future.
In late 2015, AND1 brought OG designer Dallas Stokes back into the mix. Stokes was part of the design team in the late '90s, when the brand was becoming a giant on the streetball circuit. Original streetball stars like Shane "The Dribbling Machine" Woney, Waliyy "Main Event" Dixon, and Malloy "Future" Nesmith are back, too, in consulting roles of sorts.
"I think so many companies get so big that they get disconnected to the consumer and what the brand means," says Stokes. "When you see all the new products being pushed out there, it's obvious that something is missing. And what's missing is the connection. It kills me how in big companies, you have big design teams that aren't multicultural and nine times out of 10, speaking from personal experience, the guys that design basketball shoes don't even play or like basketball. We stayed true to the culture. That's what it comes down to and that's what made us successful and is what people remember us for. We created a movement that was true to streetball and to the athlete."
The original AND1 streetball players are, after all, the ones who not only witnessed but also propelled the infusion of streetball culture into America. They are the dudes who actually were and still are out there on the blacktops of America today.
"Those guys were always around, but at that time there was old management," Stokes adds. "New management now has more respect for these guys and for what they bring to the table. The new ownership really respects these guys and their input, whereas in the past the brand changed hands a couple of times and I don't think people really understood the wealth of having these guys around."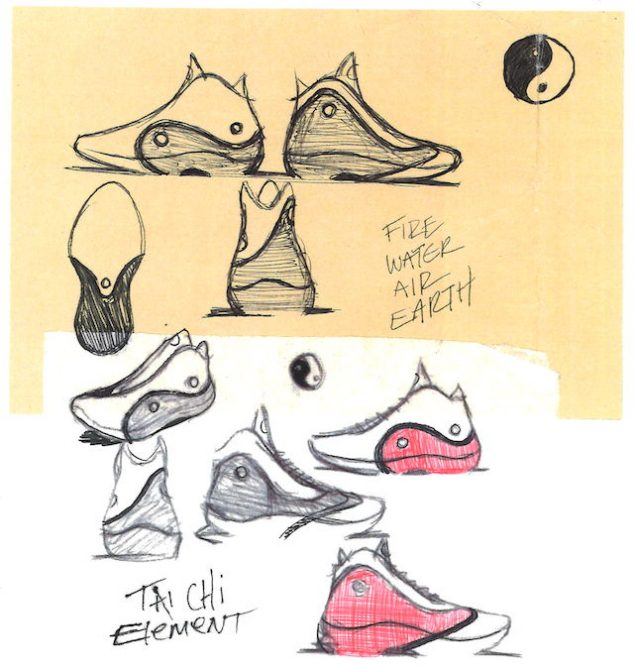 By bringing back some of the old crew—cats from the golden era of AND1, if you will—Stokes hopes the family-oriented culture will refresh the overall perspective of the brand.
"With these huge companies, a lot of things get lost in transition, and you don't have that same kind of family atmosphere where you're able to communicate easier," he suggests. "We're now talking with some of the original streetball legends so much so that they're even incorporated into everything we do, as far as wear-testing product, social media activities. Overall, we have them playing an intricate part of where the brand is headed."
In July, AND1 added Brooklyn Nets shooting guard Sean Kilpatrick to its roster, joining fellow NY-bred guard Lance Stephenson and longtime brand ambassador Rafer "Skip To My Lou" Alston. Kilpatrick, a Yonkers, NY, native, went undrafted in 2014 and had to fight for a roster spot with numerous teams on 10-day contracts, training camp invitations and summer league action, before ultimately landing a multi-year deal in BK. He's got that it-ain't-always-pretty, grind-it-out game that epitomizes hustle on any playground—and it's what makes Kilpatrick and AND1 such a great match.
"He's really into the Tai Chi and the lows," says Stokes of Kilpatrick. "He wore it when he was young. When we first met with him and sat down to talk designs, he really just talked about the Tai Chi. So you'll be seeing him wearing the Tai Chis just like you see Lance wearing the Tai Chis on court, along with the Tai Chi 3 and the Vertical—he's really into the Vertical as well."
In February 2017, AND1 is preparing to roll out an array of new kicks, including the Tai Chi 3, the Vertical, the Alpha and the M2 (which stands for Mark 2, as in, you're making your own mark, too). AND1 doesn't have signature player lines. Instead, each model tells its own story. And while the brand has become more proactive in connecting with its past, it has also begun putting the wheels in motion to help develop the game's future. "Heritage for us is extremely important," Stokes explains, "and moving forward with that heritage as well as finding a voice now is extremely important."
In recent years, all three major basketball sneaker brands have developed spring/summer circuits that represent the modern era model of AAU basketball. On each circuit, teams sponsored by that particular shoe brand play against each other in a league-style format while traveling the country to different weekend sessions. But such a system has left a void, essentially neglecting—even excluding—a large population of other younger hoopers.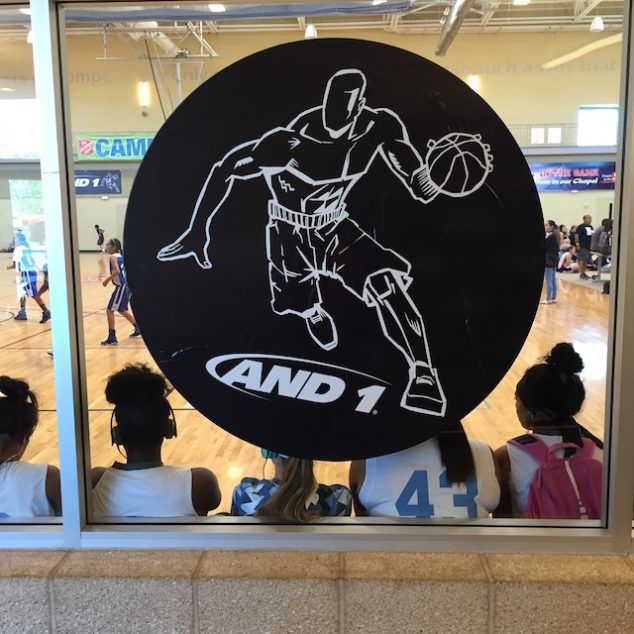 The current existing circuits tend to cater to and feature the cream of the crop of high school basketball exclusively—players who are certain to attract scholarship offers from the nation's top coaches and collegiate programs. But then there's the other 99 percent of young basketball players, kids who aren't at that elite level quite yet but who are nonetheless still competitive and passionate enough about the game to want to partake in travel team basketball.
That's where AND1 is stepping up to provide a platform for the often-forgotten youth players. It plans to introduce its own circuit in 2017 called the "AND1 Dominate The Game" league.
"We decided to launch our circuit because we saw as a brand that there were a lot of kids and teams not involved in the three major circuits that were out there," says Dexter Gordon, Director of Player Development and Grassroots at AND1. "There are still a lot of great players and competitive teams out there who wanted that structure and competitive play of a circuit."
For 2017, DTG is slated to feature 24 16U teams and 24 17U teams, totaling 48 AND1 circuit teams for its inaugural season. There will also be an open division for the age groups of 9U to 17U for teams not competing in the circuit. The first season of the circuit is expected to host three total weekend sessions: two for pool play (April 21-23 in Chicago, May 12-14 in Philadelphia) and then a championship session (July 21-23 in Atlanta). While in Atlanta during the championship week, the DTG All-American Camp will be held on July 20.
"The goal of our youth grassroots efforts is to introduce our brand to a whole new group of consumers while staying true to our heritage, building brand loyalty, pinpointing those players that could be future endorsers of the brand," Gordon says. "And also, through our circuit in which some sessions will be held during the live period, giving players an opportunity to showcase their skills in front of college coaches that could possibly lead to a scholarship and a free education."
In preparing for next season's circuit rollout, AND1 was heavily involved in the grassroots scene this spring and summer, sponsoring a variety of tournaments nationwide, including the Cactus Slam in Phoenix and the Super 16 and the MAC Invitational in Chicago. The company also partnered with TYBA (Talented Youth Basketball Association), a first-year circuit that had sessions in Nashville, Louisville and Atlanta. The founder of TYBA, Cameron Jackson, is now expected to be joining DTG as one of the directors of the circuit, along with organizers from the Cactus Slam and MAC Invitational.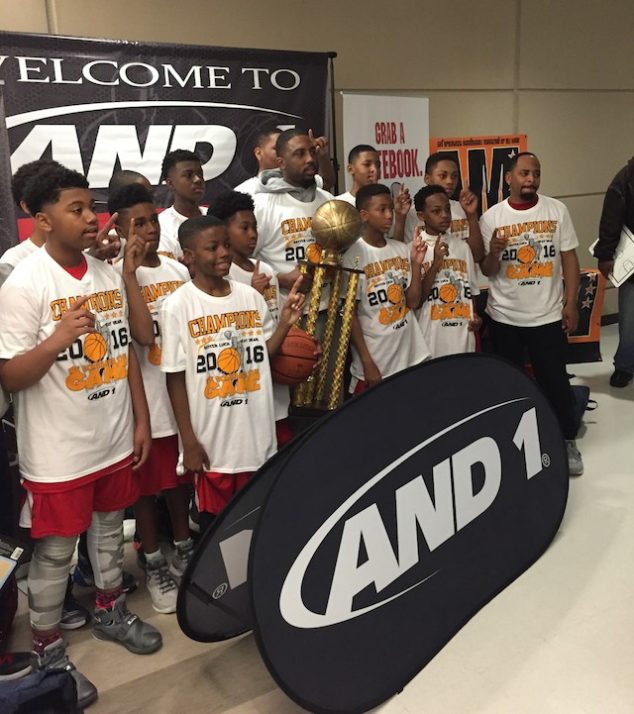 "AND1 was always known for being different and doing our own thing," Gordon says. "Before all of these circuits started, we did the AND1 High School Basketball Championship, which took place in the summer. There were 10 preliminary tournaments that took place across the country with the championships being held in Philadelphia. That was in 2001, so we've always done our own thing—so we will have our own touches on the circuit."
And the efforts at the grassroots level won't just be limited to club teams or endorser affiliations.
"As recent as last summer we were also the sponsor of Five-Star Basketball Camps," Gordon says. "We were only sponsoring our NBA endorsers' AAU or high school programs, but now we are starting to reach out and sponsor more programs. In the fall, we will be sponsoring Simon Gratz High School in Philly, Bedford Academy in Brooklyn and a couple of prep schools. We are slowly working our way back into the grassroots scene. We understand we have to take our time, do it right and build for the future."
—
For general grassroots circuit inquiries, email Grassroots@and1.com. Regional circuit contacts: Chicago (Briant Mills, bmills@AND1.com), Philadelphia (Lynard Stewart, lstewart@AND1.com, Joe Mccann, jmccann@AND1.com), Atlanta (Cam Jackson, cjackson@AND1.com), West Coast (lalonzo@AND1.com).