The Nike Kyrie 3 was a smash hit. Along with Kyrie Irving, players across the NBA, the WNBA, and kids hooping at playgrounds across the country laced up different colorways of the 3. Irving wore ridiculous player exclusives with the Cavaliers and then completely upped his PE game as a member of the Celtics, rocking graphic and patterned versions that completely broke the boundaries of standard sneaker designing.
Kyrie's line has developed a reputation as one of the best in the game. The 1 had a unique design that translated well to the court. The 2 was a performance beast, and the 3 was just different. The success of the first three kicks meant there was a lot of pressure on Ben Nethongkome, the Nike Kyrie 4's lead designer, to deliver another instant classic.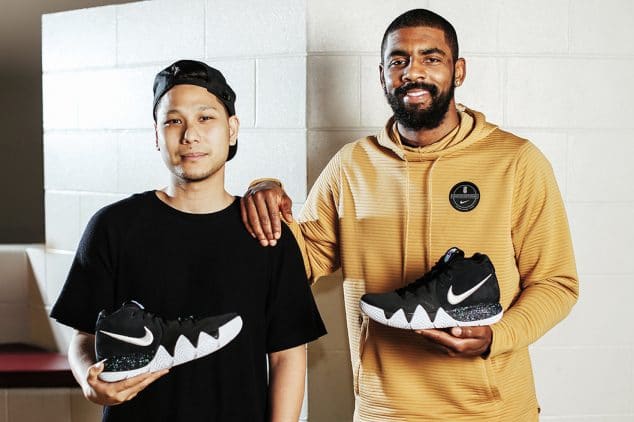 "Every time we meet with [Kyrie], he wants to be better," Nethongkome tells us. "He's like, 'Make sure it's going to make me better on the court.' That was a big request for him. We had to up our game and improve everything we did."
The finished product is an upgraded, premium basketball sneaker that was inspired by Irving's favorite sneakers–Jordans and Nikes from the 90s.
"He's really been into vintage Nikes and vintage Jordans because of the craftsmanship," Nethongkome says. "He noticed that the leathers back then were nicer. The craftsmanship was cleaner back then. We took notice of that and we tried to take better steps in designing the 4 by making it a lot more creative than the previous ones."
Nethongkome says that everything on the Kyrie 4 has been updated. He and his team redid the heel finishing to reflect dress shoes. They included embroidered Swooshes, leather tongue tabs and a new traction pattern to help Irving be even more filthy with his lethal crossovers.
"As you know, the 2 and the 3 were heavily involved with banking and banking off the corners," Nethongkome says. "We wanted to do that and make it better."
They made that better with the 4's biggest innovation, a solution that Nethongkome is calling "decoupling."
"We learned that by decoupling the bottom, it allows Kyrie to be stable and quick," Nethongkome says. "We also upgraded the cushioning material, so it's Cushlon. It's softer, more responsive than our [previous] material.
"And then we also upgraded material from an upper standpoint," Nethongkome continues. "We went from a mesh to more of an engineered material so we can zonally design our engineered performance."
When you physically hold the sneaker, you can see the break in materials on the 4's upper, where it shifts from mesh to suede.
Irving is a reader, constantly trying to learn more about himself, the people around him and the world in general. When we spoke to him last year for the SLAM 206 cover story, he spoke about being on a journey.
"On that journey along the way, I just had to figure that out," he told us earlier this year. "Everything in my life, if I'm not loving to do it, loving to be a great brother to my sister, loving to be a great son to my dad, loving to be a great father for my daughter. I gotta love all those things. So I'm giving it everything that I have inside of me. I had a clear conscience after that."
Nearly a year later, Nethongkome uses the same word in describing Irving's evolution.
"Kyrie's on this journey of challenging every one to think beyond," he says. "That also challenged us and our creative to dig deeper than what we traditionally do."
Whether he's methodically dicing people up and hitting clutch shots, or working with designers on his sneakers, Kyrie brings the same mentality, focus and discipline. It's no wonder he has the C's sitting at 24-6 and a fire signature sneaker.
—
The Nike Kyrie 4 "Confetti" (above) officially releases on December 16 for $120.
Max Resetar is an Associate Editor at SLAM. Follow him on Twitter and Instagram. Photos by Joseph Sherman, body photo courtesy of Nike.