Game 1 of the 2017 Finals hadn't even tipped off yet, but the Twitter and Instagram was already buzzing. Images of the super clean, super sleek Under Armour Curry 4 were flooding in from everywhere.
Neither Stephen nor UA had announced that the new sneaker would be unveiled for the Finals. But the surprise worked. People couldn't believe how nice the white and gold 4s were.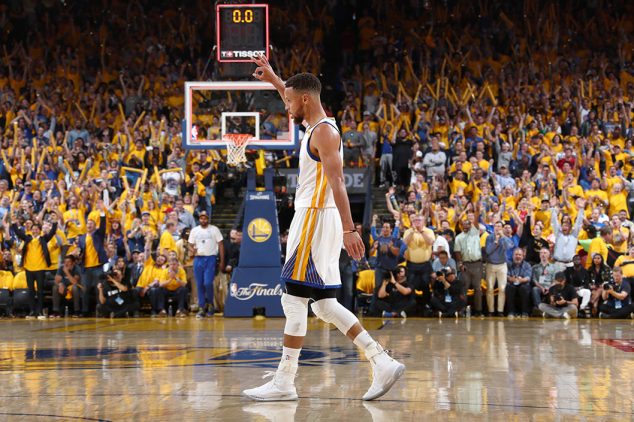 "I was excited and nervous at the same time," Curry 4 designer Kort Neumann remembers. "He was gonna first wear them in the Finals. That's pretty big."
Neumann's sneaker was ready for the moment. The Under Armour Curry 4 marked a turning point for his design team, in both construction and composition.
Everything is brand new for Curry's latest silhouette, starting with the one-piece Speed Plate that addresses mid-foot stiffness and lateral containment by transitioning from the medial arch to the lateral forefoot.
"When you look in the medial arch area, we shaved out a ton of weight there and then exposed that plate," Neumann says. "We're trying to get it to do two things at once in the forefoot. We've gotta still let it flex but still contain your foot when you're cutting. We wanted to expose as much of that as possible."
After figuring out the Speed Plate, they created a new lightweight proprietary foam technology for the midsole, straying away from the UA's tried and true Charged Cushioning system.
It all leads to the 4's knitted upper. That upper, featuring hits of synthetic for reinforcement, is made with a yarn that is stronger and silkier than anything UA's done before. It stretches for comfort and it retains rigidity under stress.
"We worked with our innovation team and what they did is they were able to figure out a mechanical stretch in the knit to get it to expand like crazy," Neumann says. "That's the really cool part, with Steph wearing the braces, you really got to have a high stretch in that area to get your foot into the shoe. That right there is the big deal on the knitted component, the high stretch there."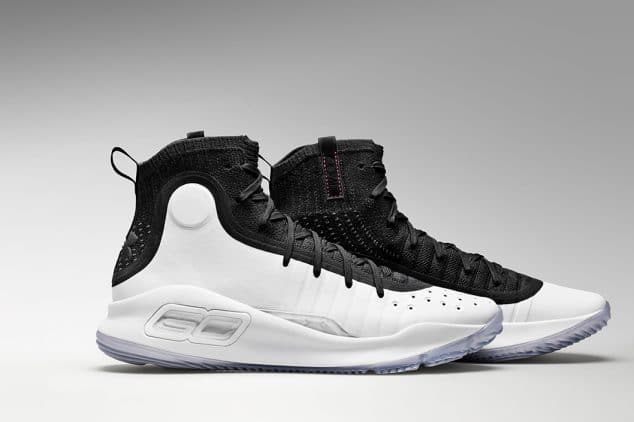 The polished design has shifted the way Neumann thinks about sneakers for Curry. The 3 was given tons of loud colorways and releases. The 4 represents a maturation from Curry and UA.
"Ultimately, [the 4] is an expression of our study in minimalism," Neumann says. "That really came from Stephen. That's where the aesthetic comes from, just him wanting that holistic fit, making the shoe feel like a second foot.
"The team and I went out to Oakland and we asked him, Hey, what was working with the prior models? What were some things we can improve with on the prior models? He came back with, I want a seamless transition from my foot to the shoe. I want to be able to have it hug my foot. I want it to be comfortable.
"The way I took that was, the thing that's gonna fit closest to my foot is gonna be a knit component. We started with the knit component and then just really added whatever we needed and kept it as minimal as possible to keep that aesthetic."
Stephen's been wearing the 4 nonstop since the Finals last June. The silhouette had its first signature moment when he stomped down the floor, high-kicking his legs during Game 1. Then it cemented itself in sneaker history when he wore the white and gold joints to win his second championship.
"The whole shoe game is crazy," Stephen said in June when we asked him about the 4. "It takes a long time, a lot of idea and input and the whole process is kind of fun to go down that road. So, yeah, I feel good playing in it. It's a progression of the Curry line that we're trying to continue to elevate and make that best shoe in the market. So I'm feeling pretty good about it. Obviously, at the end of the day, they helped me play well in Game 1, and I want to keep that going."
—
The Under Armour Curry 4 white/black colorway adult sizes ($130 USD) will be available for pre-order through UA.com and select retailers beginning October 27, with an estimated delivery date beginning November 18. Youth sizes (Grade School $100 USD/Pre-School $70 USD) will be available for purchase at UA.com, Under Armour Brand Houses and select retailers globally beginning October 27.
Photos courtesy Getty Images and UA