There's a group of high school kids running full court at Nike's NYHQ. A few of them are extra bouncy, winding up for one-handed windmill dunks and tomahawks that might dent the rim. Their coaches, who are only a few years older than them, are emphatically screaming over the music that's playing, shouting out defensive instructions and talking a little bit of trash.
Kevin Durant's off to the side of the court shooting the photos that you see below. He's a two-time NBA champion, more than a decade older than these hoopers, with an Olympic Gold Medal and four scoring titles to his name. But he can't stop watching the action. Every single second that he's not posing, his eyes are on the court to his right. He's not being a diva about it, either. He's laughing and fooling around with our photographer, cheesing and mean-mugging. But this dude is legitimately obsessed with the game—that much is clear.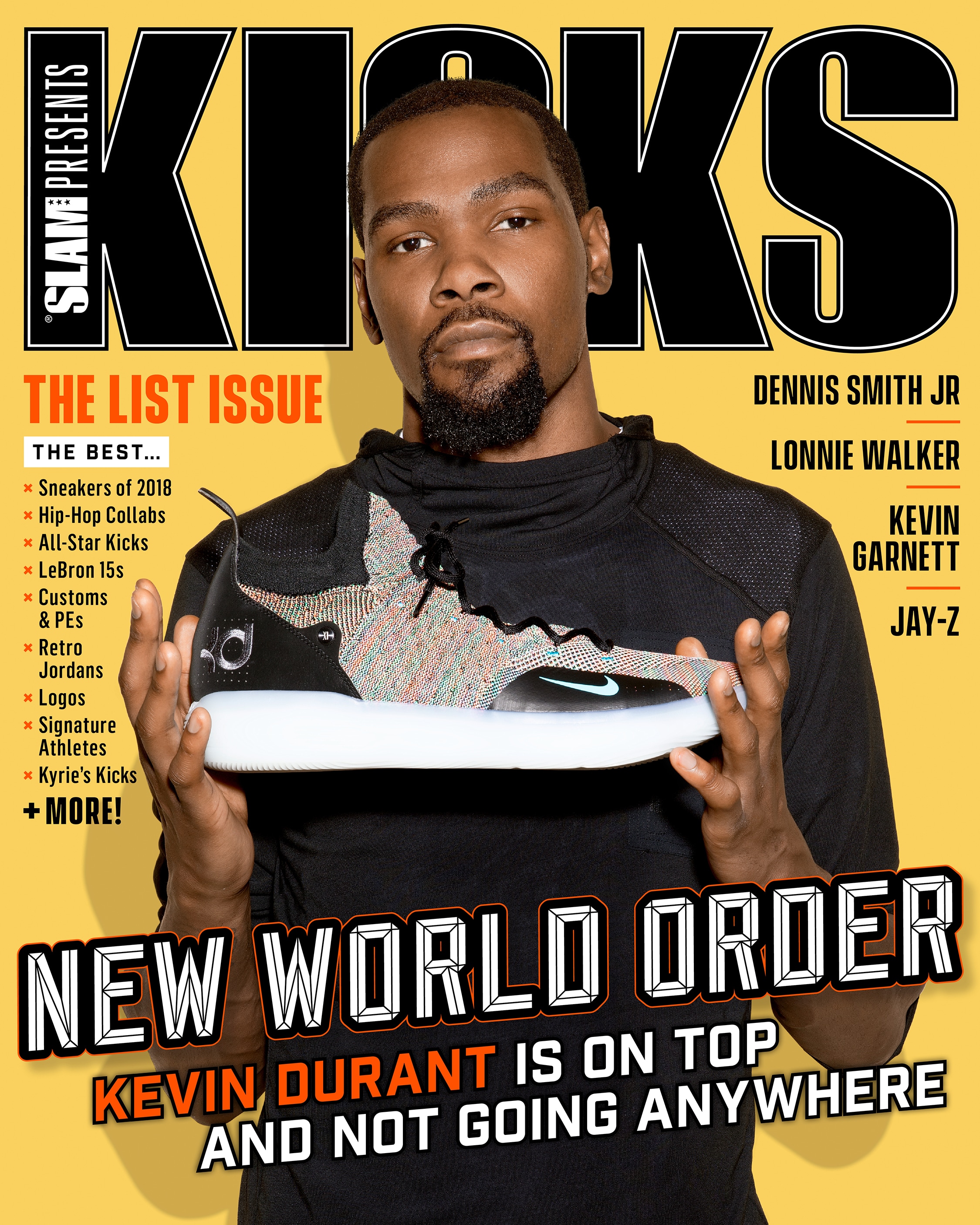 He stops for a moment to speak with the young bulls. "Y'all know me, I just hoop," he says, almost like he expects the same from them. Just go and play.
He gifts the kids with KD11s and daps up a few of them. A little bit later he takes a moment to watch them get after it. He's got this mini-smile curling up the entire time he's peeping game.
On this day, it's a month since Durant tore down the Cavaliers in a monumental Game 3 performance, capped by a clutch three-pointer from the left wing that effectively won the Finals. There he stood, for a beat. No smile. Centerstage with venom radiating off him. Eyes motionless. A cold-blooded killer.
Durant's at the height of his powers and people are mad about it. Real mad. From talk shows to Twitter, there's nobody in the League that receives the amount of hate that comes his way. And he knows it. He's quick to snap on foolish Twitter users or ill-informed journalists, forever trying to guard himself from the hostility.
But there's no denying his greatness anymore. It's time to recognize: he's one of the most gifted scorers the game has ever seen. And when he's not being constantly attacked, he's just tryna chill.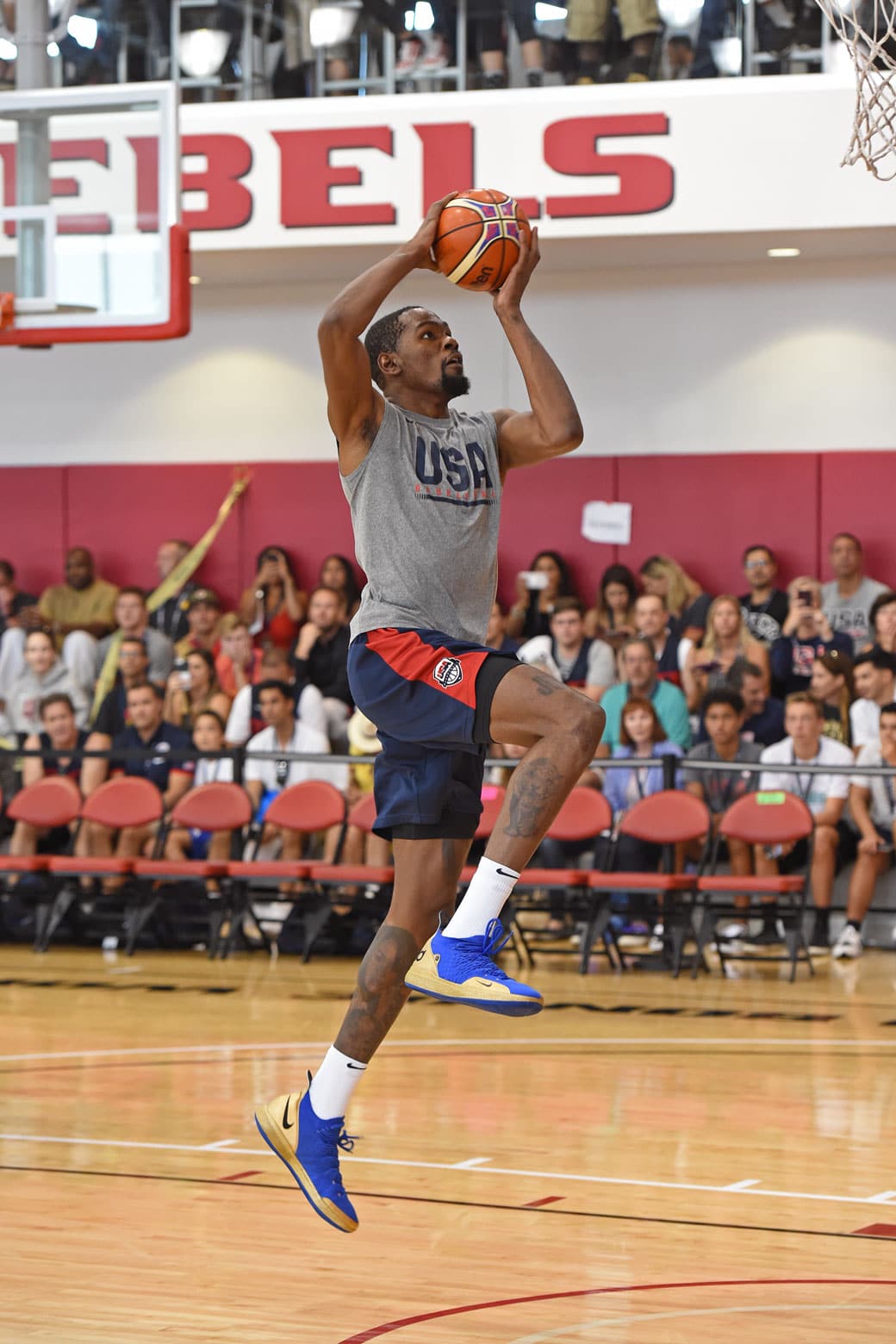 Durant's friendly and a little quiet at our shoot. He's being trailed by a squad of people but he doesn't carry that hectic vibe. His energy is way more Cali than it is New York.
He has the KD11 in-hand and on-foot throughout our time with him. The Swoosh officially linked up with him a few weeks after he was selected with the second pick in the '07 draft. He had been wearing Nike and Jordan Brand for years by that point. A two-high school product, he played in the Air Jordan XIV at Montrose Christian (MD) and then in the Jordan Melo 1.5 at Oak Hill (VA). He then wore the Nike Air Max Enforcer for most of his one season with the Texas Longhorns.
His relationship with Nike dates back to his time in Virginia when he met a Nike rep as a high school sophomore.
"I fell in love with wanting to have my own shoe, wanting to have my own brand and that grew for me as I grew as a player," Durant remembers. "Once I got out of college I had a couple of options on the table and I was like, No way I'm going with anyone but Nike. Then as I got closer to being an NBA player, it became a reality and it's just a dream come true."
He's one million miles away from that rookie who was wearing the Nike Air Flight School silhouette in Seattle. Now he's a certified, first ballot Hall of Famer with two championships and the potential to add more. He's evolved into way more than the bucket-getter he's been since his time in the Lone Star State. His game has become fluid. He swims his way over to block shots from the weak side. He melts defenses, opening up passing lanes, distributing pinpoint passes from within the arc. He glides around the court, using that left to right crossover to sink opponents.
Then when it's time to get points on the board, there's no one better. Two-dribble pull ups in the midrange, extended lay-ups at the front of the rim, fadeaways from the post, dead-eye accuracy on his catch-and-shoot three-pointers.
Durant's got an arsenal that stays reserved for the elite. He's earned his way to the top. One of his favorite quotes is "hard work beats talent when talent fails to work hard." And he's building up his sneaker portfolio to match the success of his on-court résumé.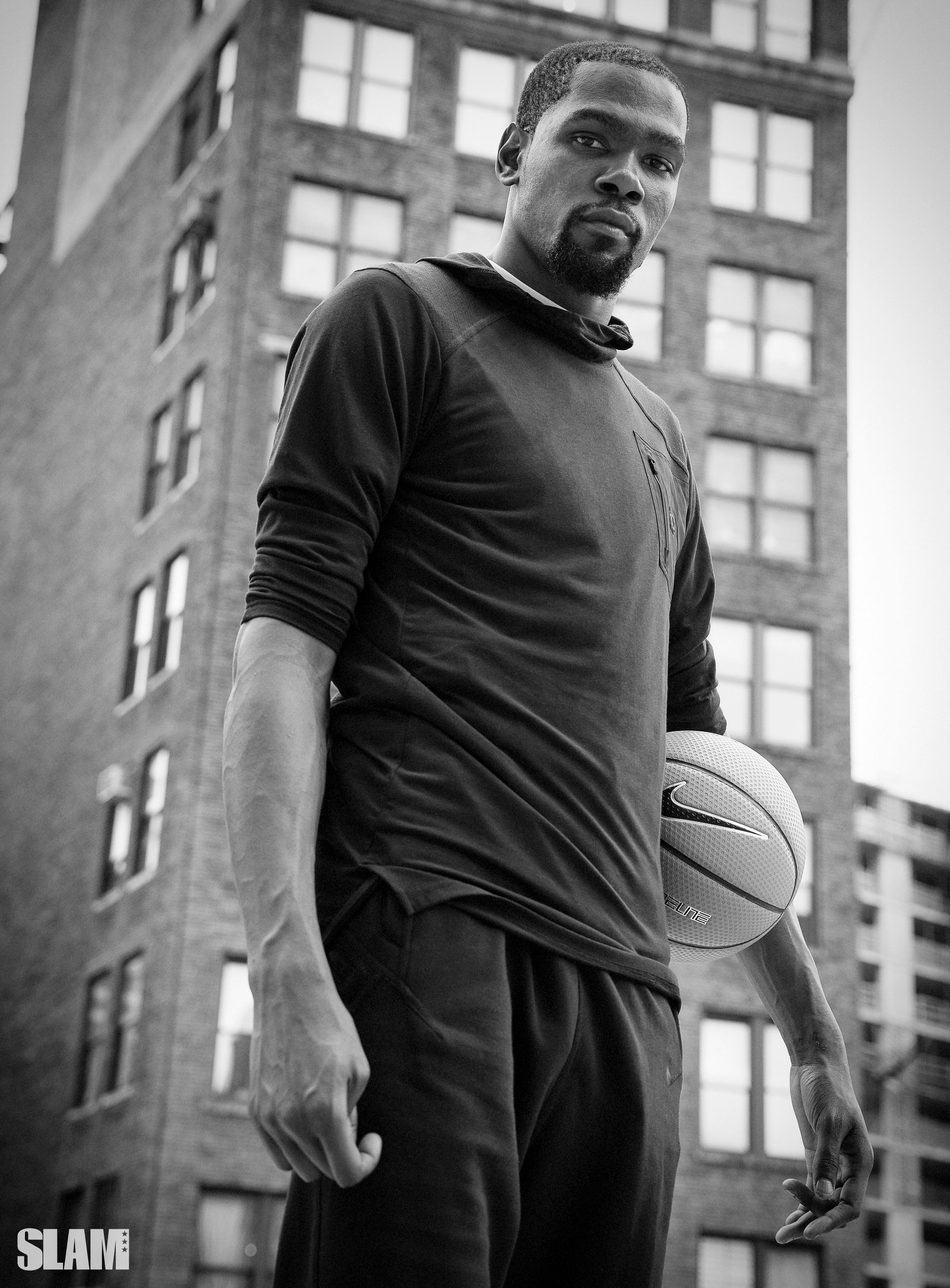 The 11 has a state-of-the-art design and it could become one of the defining silhouettes of the KD line. It features a brand-new cushioning setup that makes use of two different technologies. Leo Chang, Design Director for Nike Basketball, hit the 11 with the Swoosh's React technology, Nike's newest midsole foam, lighter, softer, bouncier and more durable than anything else they've put out. He combined that with a full-length Zoom Air unit, their basketball's cushioning staple. React, shaping up to be a powerhouse, has only made it to the NBA hardwood in the 2017 Hyperdunk and the Jordan Super.Fly 2017, making the KD11 a pioneering sneaker.
It's the type of innovation that takes some getting used to. Durant's previous two sneakers both had similar midsole tooling, operating with Zoom Air units. He's very particular about his footwear, often beating the same pair into the ground. He wore the "What The" KD10 for the last 11 games of the 2018 playoffs. So he was initially skeptical of the React and Zoom.
"I can't lie, it was a little uncomfortable because for the last two seasons I wore the same kind of sole and it felt great," he says. Both of those shoes also featured Flyknit uppers. "I'm comfortable in something I like, to stay candid. So when I first threw the 11s on, it took me a while to feel comfortable in my new ride. But now it feels great. It's real bouncy, real comfortable when I throw them on. The shoes I had in the past, the reason why I stayed in them so long is because it would be uncomfortable when I first unboxed them and tried to play in them. I threw these on for the first time and worked out in them and they just feel amazing."
Chang laughs when asked about KD's first reaction to the 11.
"Definitely, he was a little skeptical at first," he says. "It's a fairly drastic change on the Zoom that we had on 9 and 10. So it just takes some time, but he loves it now."
The rest of the 11 was also majorly switched up. The Flyknit pattern was updated to be more plush than the ones that appeared on the 9 and 10. It's been built specifically for Durant with yarn that makes it feel like a down blanket. The silhouette was heightened, losing that low-cut that had been standard in the KD line since the 6. There's a big heel counter in the back and a pull tab, too.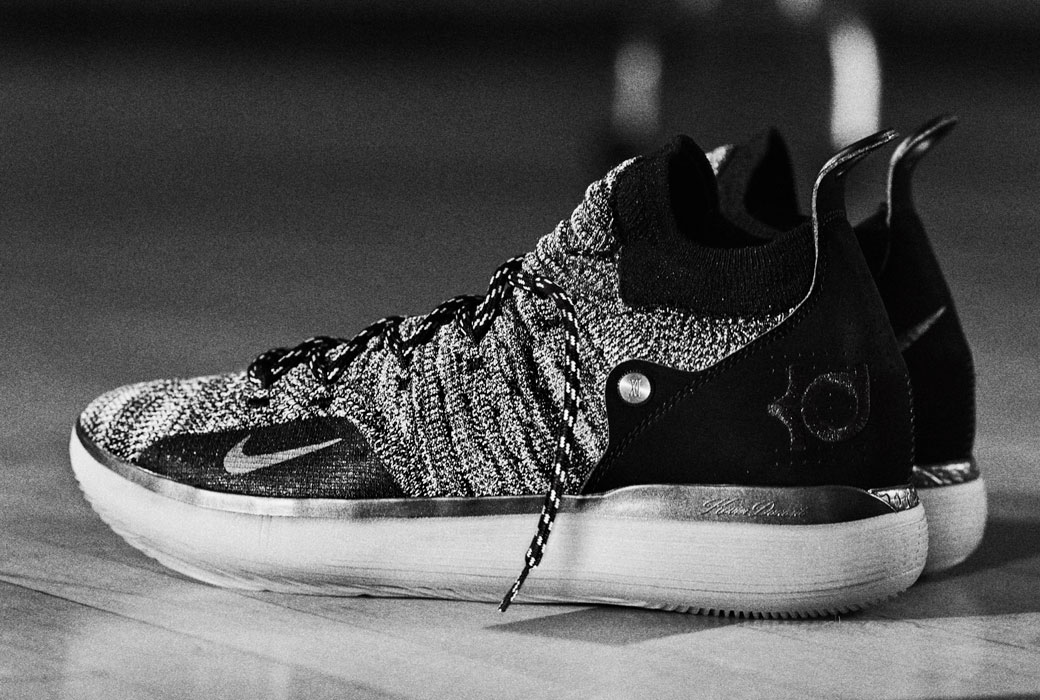 "It's just centered around everything that goes into getting up and perfecting my craft," Durant says of the 11. "I think just the mindset that I have as I look to get better as a player is what I try to tell through my shoes."
Durant, on the low, has been interested in films and storytelling for a minute now. He took an acting class in college, had a digital video series during the lockout called "Kevin Durant's 35th Hour," starred in a feature film, appeared in a Nike Air Mag short video and now has his own YouTube channel. With everything that's going on around him, with all the toxicity that follows him, the 29-year-old is trying to share his story, his way, through sneakers or any other medium he can.
"Different forms of expression has always been my thing and I think I say a lot about myself and who I am when I play, but it's kind of hard for people to translate that into words," he says. "I just try to give back stories and experiences that I've been through and hopefully it relates to someone and it helps. I guess that's just my main goal out of everything, to always put back good energy, inspiring energy. Hopefully it sticks."
We ask him to share the story of when he saw his first signature sneaker.
"Man, Leo brought me a sample during my rookie season, toward the end of my rookie season, and I was pumped to see it, you know? Your first one, it always has to have that original Nike feel, the big Nike check. I feel like everybody's first shoe is that basic and I seen mine's and it was just the next one in line."
There goes that little smile again.
"There's depth there," Chang says about both KD and his sneakers. "There's that purity to his game. That pure form of basketball we wanted to capture. That purity with the simplicity."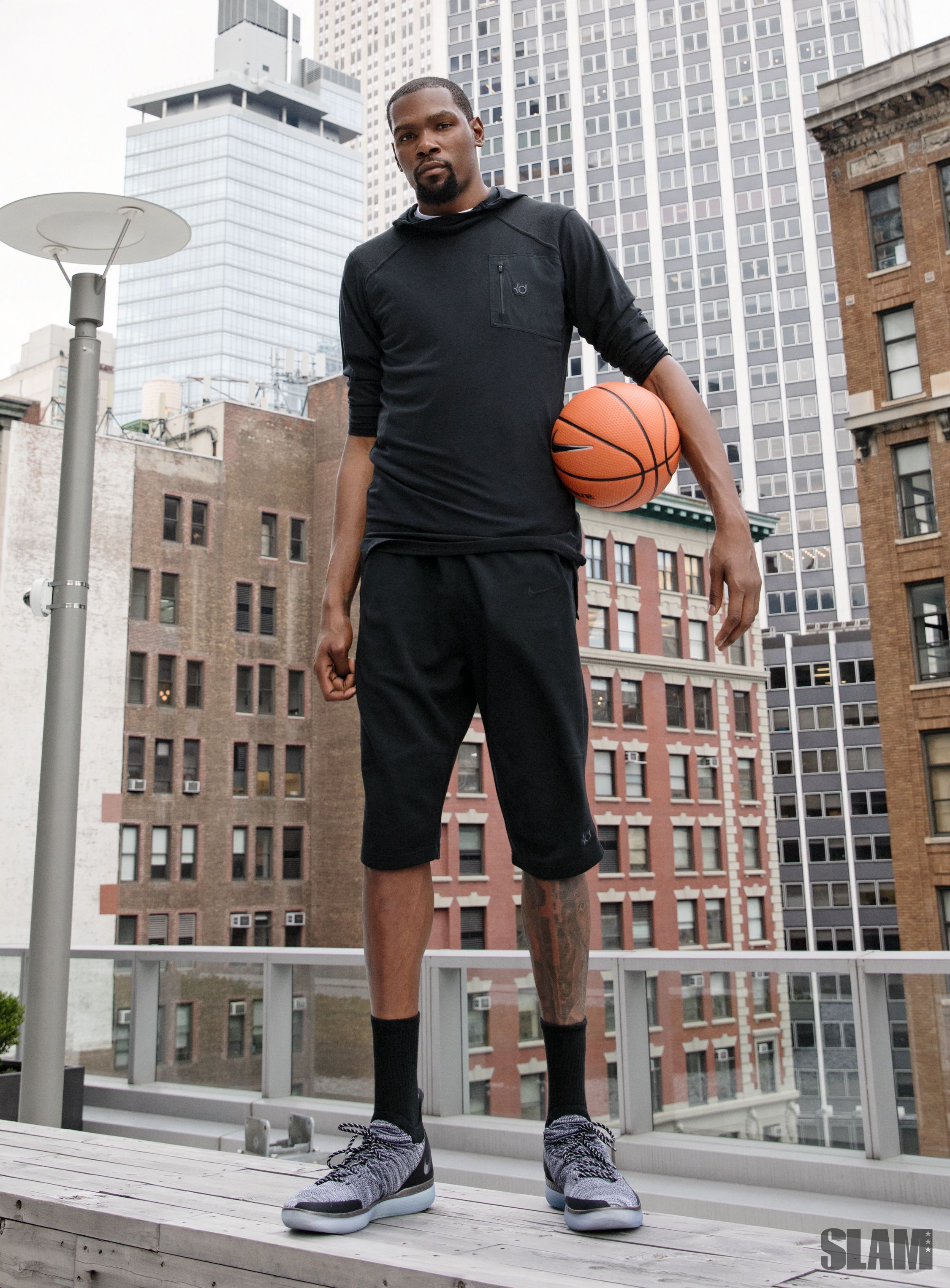 Durant hits up Dyckman Park when he dips from our shoot at Nike NYHQ. Basketball doesn't get much more pure and authentic than the park. He gets a few shots up and poses for an endless stream of selfies when he arrives. Then he sits down at halfcourt next to Quinn Cook, his teammate from the Warriors, to catch the game. He stays seated for most of his time at the park but he pops up when a one-on-one battle gets heated. With each passing bucket, the crowd at Dyckman gets louder, hungry for another. Durant and Cook end up on the asphalt by the time the back-and-forth isolations have stopped. The reigning champs leave a few moments later, when the crowd has calmed down.
Durant hadn't been to Dyckman since he played there in 2011, in the middle of the NBA lockout. He was touring the country that summer, playing in Los Angeles, Baltimore, Oklahoma City, Washington, D.C. and even going international, to China. He was lacing up the KD3 for a while that summer and then he unveiled the KD4, which many consider to be his best sneaker.
The 4 just received a retro release, decked out in a Thunder-blue-and-white colorway, as part of the "Art of a Champion" pack. Chang plays it off when asked about bringing other pairs back.
"Our Nike Sportswear team handles a lot of the retro stuff so there may be some stuff in the future but you never know," he says. "We'll see. Honestly I don't know what their plans are."
"Yeah, yeah," Durant says with more enthusiasm. "I wanna retro the 'Creamsicle' 2s. Those joints was probably my favorite ones to wear and the color was just so dope. I wanted to see if we could throw those back out there. But we'll see what happens."
Durant posts a video to Instagram the very next day. He's back at Nike NYHQ, in the KD11, getting his work in with Cook and Rod Strickland, who played in the League for nearly 20 years. Because through all the hate and the criticism, two things remain true. One, KD's the champ until someone knocks him off the top of the mountain. That's just a fact. And secondly, he's obsessed with the game of basketball.
Hate all you'd like, but you've gotta respect it.
—
Max Resetar is an Associate Editor at SLAM. Follow him on Twitter and Instagram. 
Photos by Atiba Jefferson, Nike and Getty.