You are not Leo Chang, the Nike Basketball designer whose name is most prominently associated with Kevin Durant's widely beloved signature sneaker line. But thanks to NIKEiD, you can pretend to be Leo Chang. And if you were lucky enough to stop by the NIKEiD Loft space in Toronto over All-Star Weekend this year, you might even have gotten the chance to sit down and build your own colorway with Leo Chang.
Such was the setup 548 Richmond Street West, where amidst the craziness of All-Star, Chang and other Nike designers were kicking it at the exclusive NIKEiD space, where customers were invited to customize signature kicks like the KD8, LeBron 13, Kobe XI, Air Force One and more. Not only that, but Nike unlocked new iconic graphics, All-Star color schemes, color-shift material options and more for the occasion.
Most notably, the "Best of" Collection on display at the loft was a creation inspired by legendary colorways of the past—a KD8 with a paint job inspired by 2012's KD 4 "Galaxy," a LeBron 13 reminiscent of the "Area 72" version of the LeBron X, and so on. So while you may have clicked on NIKEiD.com before and messed around, you've probably never experienced anything like this. It was all a celebration of what NIKEiD has meant to basketball sneakers since its inception, and a peek at where it's headed now.
"This iD space helps to tell the story of where we've been and some of the celebrations that we've done in the past, and also it's a nod to the future, bringing as much innovation to the consumer as possible," Devon McKinney, color designer for Nike Basketball, told us at the loft, minutes before we were lucky enough to design our own pair of NIKEiDs.
"It's one thing to pop it up on your phone or your laptop, but once you can get in to this environment, and have a 1-on-1, and really engage, that's what this really represents. You, too can be a creator. You , too can be a designer," added Charles Williams, the Nike OG who is now a senior product director for NSW Basketball. "This is something that we're going to have to take to a lot of different locations."
As in, future All-Star Weekends and probably more? We can only hope. Check out more from our conversation with Williams and McKinney below.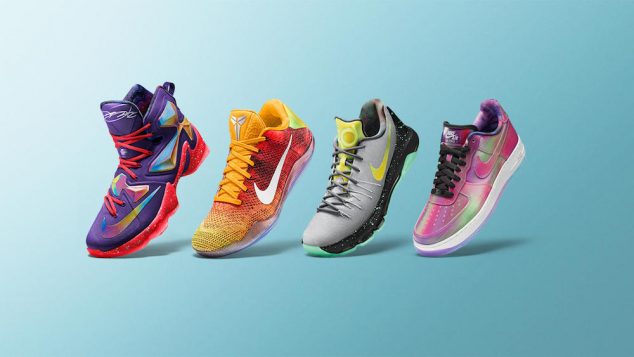 SLAM: In today's world of basketball sneakers, what's the importance of NIKEiD?
Charles Williams: For us overall, it's really about putting it back into the hands of the consumer. I think we spend so much time trying to gather information and make sure we're doing things that are of the consumer. Things that we feel they'll be inspired by and appreciate. I think also, just the fact that they have the opportunity to become a signature athlete in their own right, to take it and flip it in a way that's specific to them and their likings, things that they're inspired by. This is a very DIY society, and we want to make sure that we're offering that opportunity so they can feel as connected as we get to feel when we get to work on some of these sneakers.
Devon McKinney: Nike's not just about making a product, it's about making a meaningful product, and telling stories. We're a storytelling company. I think what iD does is it bridges the gap between what performance is telling on the court, stories that NSW's telling off the court surrounding the game and I think it gives the consumer an opportunity to bring those together.
SLAM: What makes one colorway more memorable than another, from a brand perspective?
CW: It's the culture. It's the consumer and the culture. Because we don't own it, besides providing the opportunity. The consumers own it. They tell us what's right and what's not. And they do it in a lot of different ways. Take a story like Galaxy during the All-Star Game in Orlando. We felt very, very good going into that, but did we know that malls would be shut down and helicopters would be flying over and there would be a mad scramble outside of Orlando to get that product? So it's really about the consumer and how they feel, and they let us know when we're at our best. They also let us know when we're not.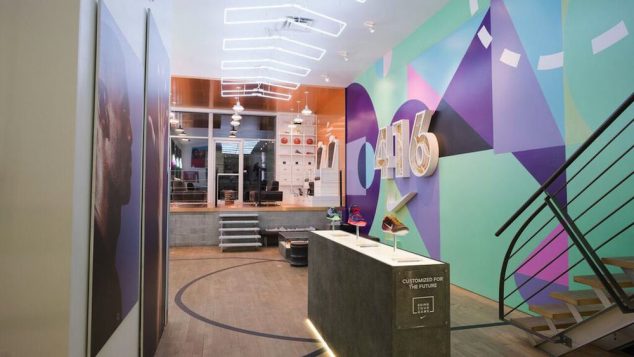 SLAM: More and more sneakers seem to be available on NIKEiD. How do you balance the demand for more versus keeping it limited to key products?
DM: We go back to the storytelling aspect—our job is to curate a story, and then the consumer can make their own. I think at times if you put too much out there, it's going to become overwhelming, for anybody. Our job is to put together at toolbox that can help a consumer tell the most effective story.
CW: And in terms of actual models, we're talking about the stars. I think the vetting process is pretty simple: it has to be something the consumer has said, and voted in many regards, that this is something that we truly respect and appreciate, and that we would like to see. That's how it makes the cut and gets into NIKEiD.
SLAM: It seems like more and more NBA players are using NIKEiD to design their own kicks now.
CW: It happens a heck of a lot more now, only because when you understand that you can take control of this thing and have it become representative of the things that are important to you and the things that you truly like, more and more athletes are really starting to look at the signature athletes and see how they're able to bring something to fruition that's specific to them, that's of them, and they become known for those things—they want a piece of that as well. You look at a guy like DeMar DeRozan who has been at the forefront of doing it, take people like Jarrett Jack, there's a whole host of guys who have created their own NIKEiD signature identity just by going and doing such. I think there are a lot of consumers out there that are starting to do the same thing.
DM: I think a big misconception of our top-tier athletes is that they're different than every day people. They like to stand out just like your average kid in Toronto or LA or wherever they may be. iD allows everybody to be an individual.