Epiphanny Prince has over 500 pairs of sneakers. From Air Maxs, to Kobes, to Brons, to Js and whatever else she can scoop up, Piph has one of the best stashes around. Her Instagram is littered with serious heat. Her PEs could qualify as art.
The Brooklyn native is coming off helping the New York Liberty to the franchise's best season in a minute, but she just tore her ACL in her right knee, last December in Russia.
Prince visited Nike's Air Max Con in New York City yesterday where she rocked a clean pair of all-red Air Max 90s. After giving a quick talk in front of a wall of Air Maxs, Prince toured the whole space, taking time to pick up yet another pair of 90s.
As a New Yorker and Nike athlete, there are few more qualified to chop it up about sneakers. New York is, after all, the mecca for basketball and sneakers.
SLAM: How's your knee?
Epiphanny Prince: It's getting better. Feels stronger. Rehabs going well so far.
SLAM: You think you're gonna be back for the start of the season?
EP: We're just taking it day-by-day. Just wanna come back 100 percent.
SLAM: What does it mean to you to be here at Air Max Con?
EP: It means a lot. It's a pretty dope experience. I'm really happy that I got to be a part of it. Like I said before, it's overwhelming. Shoes everywhere. You're able to buy some shoes. You're able to go back and see shoes from the past. It's crazy that you can vote for a shoe and the shoe that wins, [Nike] will release them again.
SLAM: You were talking about the Air Max 90 "Warhawk" earlier. What is about that shoe that you like?
EP: Oh, it's just a dope shoe. I like the colorway, I like the design of it. And it's something that I don't have. I want people to vote for something I don't have so I can get it [laughs].
SLAM: What does being a Nike athlete mean to you?
EP: It means a lot to me. Nike is my favorite company, my favorite shoes. It's hard to explain, because when you're growing up this is something that you always dream of and I'm just blessed and fortunate. Nike gave me a chance and I'm just very grateful for the opportunity.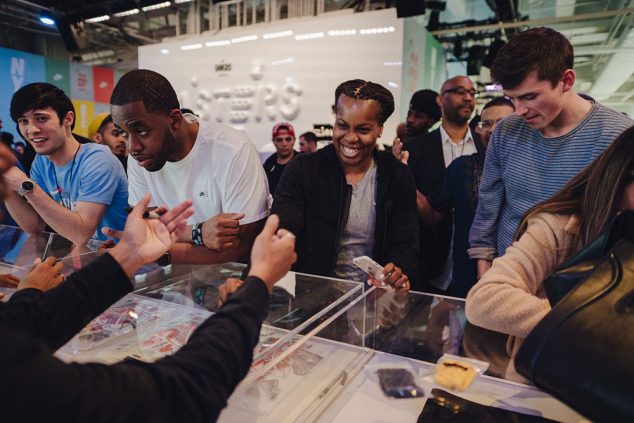 SLAM: When you were growing up in Brooklyn, what was the shoe that everybody had to have?
EP: For me, it was just a Nike basketball shoe. I just wanted to play in Nike basketball. My last two years in high school, I wanted to have a new pair of Nikes on for each game. I was fortunate that we were sponsored and that I was able to look good, play good. I was getting a lot of LeBrons at that time.
SLAM: It's been just over 10 years since you dropped 113 points and burst onto the national scene. What do you remember from that game?
EP: I just remember my teammates were just passing me the ball, telling me, "You have a chance to make history, so do it." At the time, there was so much controversy I didn't really get to enjoy the moment. But now that I look back, I enjoy it because not a lot of people can do that. And the way I did it was efficient and my teammates embraced it, my school embraced it and I'm a part of the history books.
SLAM: What's your favorite sneaker of all time to play in?
EP: Kobes. I'm the biggest Kobe fan. For me, Kobe 7s were great for me. I like the Kobe 6s too, but from a basketball standpoint, I say Kobe 7s.
SLAM: Do you still have pairs of those?
EP: I have some PEs. I always keep a pair of PEs. Whichever I left or didn't use for the season, so I got them. They're just so comfortable to me. I like a light sneaker. I like the low-tops.
SLAM: What iDs did you just design?
EP: I got some Air Max 90s. I got it with the New York type-of-thing on it. I got Statue of Liberty on one, I got Brooklyn on the other side. Put 'Family First' on the gold shoestrings and then it's like a concrete, it's like a laser, but it's like concrete.
SLAM: How does it feel to play for your hometown? Your season didn't exactly end the way you guys wanted it to last year, but you had the city buzzing.
EP: There's no better feeling. Coming back home, playing at the Garden, that's something that you dream of playing in New York City. When you're on the playground, counting down game-winning shots, you're in the park, but you say, I'm at the Garden. There's no place like the Garden. I was able to play there in high school, and now to call that my home, it's really a dream come true.
SLAM: You've played with some incredible WNBA players overseas. What comes to your mind when you think of all those times?
EP: [Laughs] I enjoy playing with them. With Semitone [Augustus], Diana [Taurasi], Tina [Charles], Syl [Fowles], Nneka [Ogwumike] and Ticha Penicheiro, to play with them, that group… They always teach me, help me on and off the court and they all help me in individual ways. Like Diana, on every day off, she'd make sure I was in the gym with her and it translated because that year, before hurting my foot, I was leading the league in scoring. With Seimone, she always was able to get me through things mentally. It's so hard to be so many miles away from you family, in a country that's so different from your culture. Nneka, I love playing with her. Syl took me in as a little sister. My first year playing overseas, I will never forget. We had a tragic event. Our president was killed. I didn't feel comfortable there and she made sure I was able to be comfortable and finish out the year. Ticha Penicheiro started me on my little diet. She was always cooking for me. And Tina, we were friends since we were 10 years old. I love playing with her, love being around her. I was fortunate to be able to play with people I like.
SLAM: When did you play with Ticha? She's a legend.
EP: I played with Ticha overseas in Turkey and also in Chicago in my last year.
SLAM: Who put it in your head that you were a certified bucket-getter? What event or person led to you being unstoppable with the ball?
EP: My uncle. He's my biggest fan. I remember him having arguments with my AAU coach. He's telling my AAU coach, this is a true story… They were arguing and my uncle was like, "You must have fell and bumped your head." He was like, "Game on the line, who you giving the ball to, Jordan or Piph?" And my AAU coach was like, "Jordan, what are you talking about?" He's like, "Yeah, but he don't do it as easy as Piph do." He always just telling me, telling me, telling me, "You're the best, Nobody can stop me." A lot of my confidence comes from him.