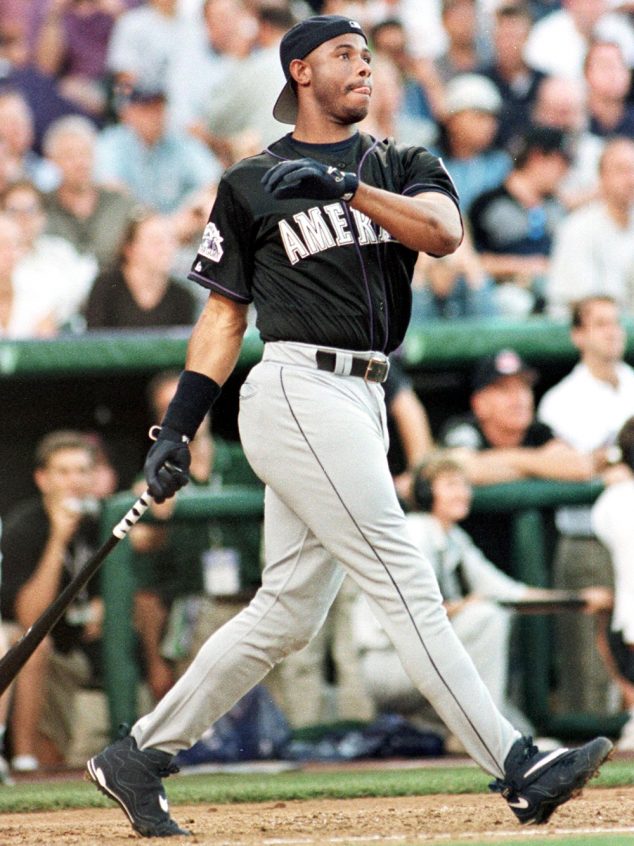 Signature shoes are a sure-fire way for fans to connect with some of the best athletes in the world. But not all sneakers are created equal. A rare few sit a cut above the rest. In hoops, names like Michael Jordan, Penny Hardaway, Allen Iverson and Kobe Bryant have stood the test of time—the impact of their games and their name-brand kicks transcended basketball culture and have since settled into the mainstream. Ken Griffey Jr has that cachet, too. But he's existed in a class of his own as a baseball player with a signature shoe on the level of the aforementioned hoops gods.
"What's really interesting is that my son always got my shoe before me," Griffey says. "His baseball season would start off a month before mine, and I'd look at his shoes and say, 'Man, they look nice, I can't wait to get mine.' And he'd give me a look like, Yeah! He would get the shoes, and even now he gets them before me. [Laughs] He's my son and I can't really argue."
As a nod to his success on and off the diamond, Nike continues to celebrate "The Kid" with new releases. They also made him a dress shoe featuring wood and leather from one of his bats and pairs of gloves. During the summer and fall of '16, Nike will re-release the Griffey Max 1 in three different colorways—Volt, Fresh Water and Emerald—as well as two special colors that celebrate Griffey's July induction into baseball's Hall of Fame. The only change in the new editions is the sock liner, with a 24EVER logo instead of the traditional Nike Air. The official Hall of Fame shoe is an all-white Griffey Max 1 with bronze lace aglets. This rendition has been dubbed the "InductKid," with the actual HOF plaque serving as inspiration for the bronze accents.
Junior reflected on his allegiance to Nike by saying, "It started with my first pair of Air Jordans. I had Nike before then, but I remember getting them. My brother had the red and black and I had the red, black and white Air Jordan. We tried to talk my dad into Nike—he was into Converse, but we finally got him to go with Nike, and we have been a Nike family ever since.
"It's not a company—it's more of a family, and I think they have been through the ups and downs with me as far as my getting hurt, and all that I have been through," Griffey continues. "When I broke my wrist, I had to get a plate and nine screws, and [Nike] had a little wall and everybody wrote get well soon. I detached a hamstring and one of the guys, Lynn Merritt, who I've known since I was 19, came and visited me for a few days. I went to a basketball game and I sat between LeBron [James] and Phil [Knight]. It's really just more of a family than it is a business relationship and I wouldn't have it any other way."
That family atmosphere created a bond along with iconic shoes, equipment and commercials that are rarely enjoyed by a Major League slugger. Junior dominated the diamond and retailers like no other baseball player has, past or present.
Griffey played 22 seasons and hit over 600 home runs. On top of all the accolades and All-Star appearances, the backward-hat swag and his impossibly perfect swing, the crossover appeal of his iconic signature sneaker line remains one of his most important contributions to the culture.
—
Photo by Doug Collier/AFP/Getty Images