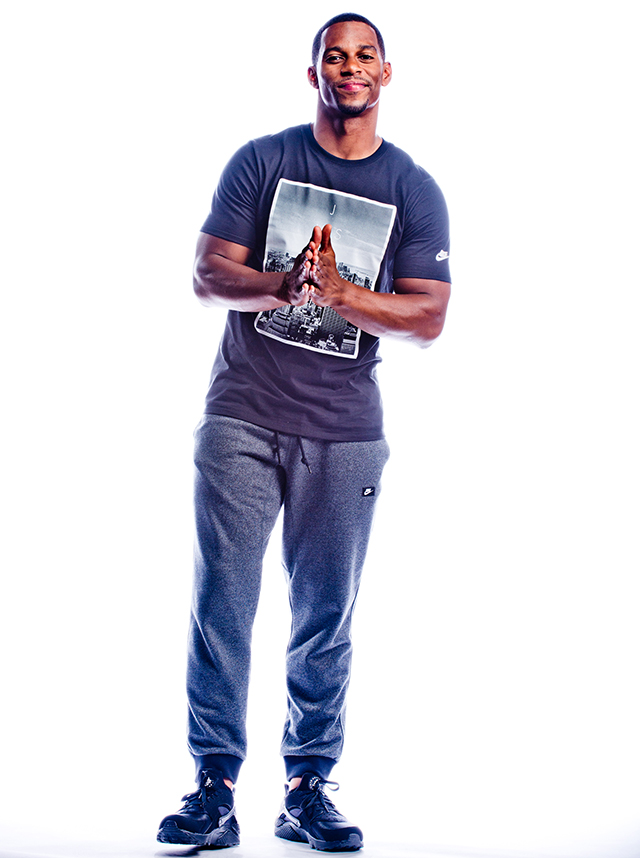 Victor Cruz has something he wants the world to know.
"If you don't like Chris Paul and Monta Ellis," he says, "you're not going to like my hoop game. If you don't like a fusion of those two, you're not going to."
OK, just playing.
"Nah," Cruz says. He cracks a smile wide enough for Eli Manning to throw a spiral through. "I was pretty good. I was a point guard for the majority of my years. I had a good handle and pretty decent jump shot, but I was more of a facilitator."
Facts.
Before he was a star wide receiver for the New York Giants, Cruz was an undrafted free agent fighting to make it to the NFL. Long before that, though, before setting some football records at UMass, a teenage Cruz played hoops for the Playaz Basketball Club. While on the Playaz, New Jersey's crown prince of AAU teams, Cruz honed his game alongside NBA vets like JR Smith and Wayne Ellington. Suffice to say, he held his own.
"Basketball came so easy to [Cruz]," Smith once told ESPN. "He was so nonchalant about it. I mean, he could have definitely played college basketball."
More than a decade after trading roundball for pigskin, Cruz, who stands a sturdy 6-0, still horses around on the hardwood. In fact, the native of Paterson, NJ, regularly invites Giants over to his house for shooting contests.
It's hard to believe the 28-year-old has time to hoop. Just look at the noise he made this past July: On a media tip, Cruz debuted his own podcast and appeared in HBO's Ballers. On the fashion front, he was unveiled as the face of Givenchy's Fall/Winter campaign and appeared at countless shows during Men's New York Fashion Week. And, most importantly, Cruz trained for hours every day to rehab a rough knee injury.
Somehow, though, he finds time for all of it. In fact, when KICKS caught up with Cruz early on a summer morning in Carson, CA, at the beautiful StubHub Center that the L.A. Galaxy call home, the tireless worker was getting his hair and 'fit right for a video shoot with Foot Locker.
"We've built a friendship and a relationship that's great," Cruz says of the retail behemoth. "They love the sneaker culture and sneaker game, obviously, and so do I. So the union makes perfect sense."
https://www.youtube.com/watch?v=USHW14sTae0
The mid-July shoot, a satirical spot that also features Giants receiver Odell Beckham Jr, is just a small piece of what Cruz has popping with Foot Locker. While this is a once-a-year, at most, event, Cruz famously hosts #CruzDayTuesday on his social. The contest, which has gained traction for its simple shoot your kicks, tag and @ nature, garners hundreds of admissions and ends with one winner walking off with an $100 gift certificate to FL.
"#CruzDayTuesday is dear to me," says @TeamVic. He then offers advice on how to catch his eye. "The photo has to be good. You have to pay attention and care about how the photo comes out. I look for OG sneakers, things that were on ice."
Cruz, who sounds like a professor, looks like a model and runs routes with the precision of a python, isn't new to this thing. As a kid, in the shadows of the boutique culture in Manhattan, Vic would study drops from afar. On occasion, Easter or Christmas, his mom would actually cop him a pair. Otherwise, Cruz would just watch.
When Cruz signed his most recent contract with the Giants, a five-year extension in 2013, he finally got to go in. The hometown hero went from gradually growing his collection to blowing it out. Most notably, Cruz went from fiending for Air Jordan "Playoff" XIIs as a kid to buying himself at least eight pairs.
"I'm definitely top in the NFL [when it comes to kicks]," he says. "Me and Joe Haden are neck and neck. I know Colin Kaepernick has a good collection, but me and Joe are right there."
Cruz is most definitely 10 toes deep in the game. When asked what's on his radar, he mentions "something Supreme has cooking up," nods to his good friend Ronnie Fieg, the owner of KITH and alludes to a few Nike releases that aren't even scheduled yet. If Cruz has taken notice of the industry, the industry has reciprocated.
This past June, an image hit the web of an unidentified Nike. Immediately, chatter kicked up that the sneaker was Cruz's upcoming signature sneak. Within hours, the pic had gone viral. While the receiver never commented on the image, he was following the convo.
"I feel like I'm officially a part of sneaker culture now," says Cruz. For what it's worth, he didn't confirm or deny the upcoming signature. He just laughed HARD when asked. "Even if it's just rumors, I feel like I'm official."
Between Givenchy, podcasts, Foot Locker, HBO, Nike and other deals, Cruz's plate is full enough for multiple meals. Still, his No. 1 focus is on getting back on the gridiron. "I've literally had dreams, for the past month or so, about getting in the end zone," says Cruz. "I wake up in cold sweats thinking about it."
Believe that.
Tzvi Twersky is a Contributing Editor at SLAM and the Director of Basketball at Stance Socks. Follow him on Twitter @ttwersky.