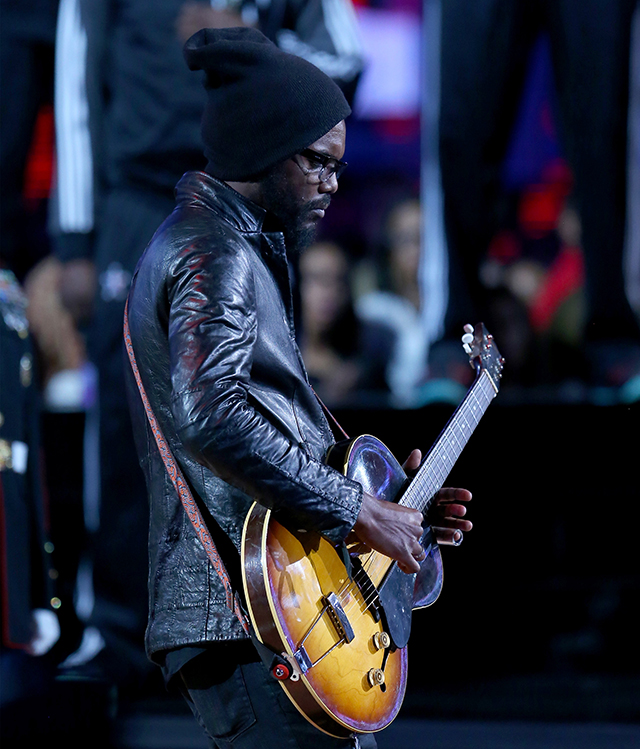 Most sports fans discovered Gary Clark Jr via his collab with Nas for ESPN's 2012 NFL Draft. But when it comes to sports, the 31-year-old vocalist and guitar hero is all hoops at heart. Before he was wowing Obamas and Carters onstage or jamming alongside Gibson gods like Eric Clapton, he was just another lanky Austin, TX, kid trying to keep his high school coach happy. After opening for D'Angelo in New York this past June, Junior took a minute from pushing his next album, The Story of Sonny Boy Slim, to reveal that he's every bit the bball enthusiast he was as a teen who spent his time after school sprinting between away games and gigs.
SLAM: At age 15 you hit a fork in the road where you had to decide between music and hoops. How did music win?
Gary Clark Jr: I loved to play basketball, but I wasn't the best, so I knew that wasn't gonna be my future. Plus, I was making a little bit of money, so music was putting some change in my pockets early. I would gig in Memphis and [have to] miss games. So my [high school] coach finally said, "You gonna play that damn rock & roll or you wanna play basketball?!" [On stage], there was no coach screaming at me, just people showing me love. So that was easy. I handed my jersey in the next day. Plus, I got tired of jamming my fingers. That's not a good look when you're on stage with your fingers bandaged up.
SLAM: I can imagine. But how good were you on court?
GC: I was alright. But I was like 5-11 and maybe 100 pounds.
SLAM: 5-11 at age 15 isn't bad.
GC: Yeah, but they have some big dudes out there in Texas. I don't know what they feed them, but I was tired of getting pushed around in the post [laughs]. You would think I'd be a little more coordinated than I am, being a musician and all, but my dribbling skills were not as on point as they should've been.
SLAM: What exactly was your natural position?
GC: Shooting guard. I definitely got a nice jump shot. I have a nice fade. And I still got it. I hoop in these boots, too!
SLAM: Do you get to play ball often while on the road? You tour a lot!
GC: We're trying to. We're preparing for this tour now so we may put a hoop in the trailer. [My friends] like to ball. We're into it physically, and we got the 2K15 on the bus. So yeah, we're all in.
SLAM: You're a Texas native. So which Lone Star team has your NBA allegiance: Spurs, Mavs or Rockets?
GC: San Antonio. Seeing David Robinson as a kid when my pops took me to the game…I think it was '94. We had the nosebleed seats, but it was cool. [Robinson] even signed my pendant. So I've been loyal since. I can't rock with anything but San An. I got boys, literally grown men, who dress up in full Spurs gear to watch the game. Like, no talking. Shhh [laughs].
SLAM: I don't know why, but I'm a bit surprised you're not on the Harden wagon. Maybe it's the beard.
GC: I'm definitely a Harden fan, but I love my Spurs. Tim Duncan, man. To go out the way he's playing, man?!
SLAM: In 2014 you played the National Anthem for the NBA All-Star Game in New Orleans and performed at halftime. How fun was that?
GC: I was in the middle of a tour so I popped into New Orleans, did it and bounced. It was weird standing on the platform, though, because I'm not used to standing up and having to stretch my neck to look up at anybody.