After the Warriors made quick work of the Cavaliers in the Finals, the narrative surrounding the NBA has progressively shifted to the 2018 Draft.
But for NBA teams, however, tonight is the culmination of years of preparation. Scouts, analytics experts, general managers, owners and other front office personnel have gathered in war rooms as commissioner Adam Silver calls the names of the latest inductees into the NBA family.
Through watching countless hours of game film, conducting extensive interviews, and holding a myriad of individual workouts, teams have assembled detailed profiles on each prospect—hoping to select a franchise-altering talent.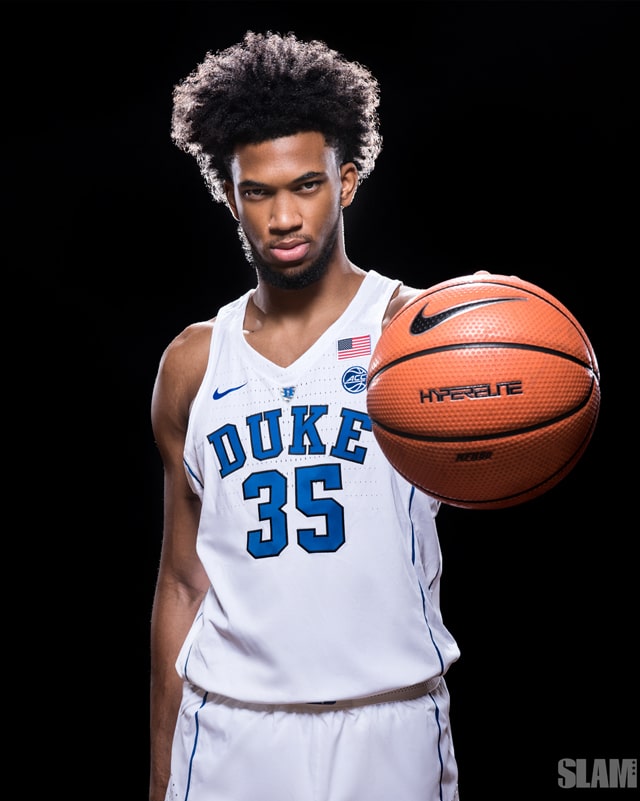 Tonight, future 15-year veterans, NBA All-Stars, and perhaps even a couple Hall of Famers, will cross the stage at Brooklyn's Barclays Center. These players will help shape the NBA landscape for years to come.
Let us know which team had the best draft in the comments!
2018 NBA Draft Full Results
1. Suns: DeAndre Ayton (C) – Arizona
2. Kings: Marvin Bagley (F) – Duke
3. Mavs (from Hawks): Luka Doncic (G) – Real Madrid
4. Grizzlies: Jaren Jackson Jr (F/C) – Michigan State
5. Hawks (from Mavs): Trae Young (G) – Oklahoma State
6. Magic: Mo Bamba (C) – Texas
7. Bulls: Wendell Carter (C) – Duke
8. Cavs (from Nets via Celtics): Collin Sexton (G) – Alabama
9. Knicks: Kevin Knox (F) – Kentucky
10. Suns (from Lakers via Sixers): Mikal Bridges (G/F) – Villanova
11. Clippers (via Hornets): Shai Gilgeous-Alexander (G) – Kentucky
12. Hornets (from Pistons via Clippers): Miles Bridges (F) – Michigan State
13. Clippers: Jerome Robinson (G) – Boston College
14. Nuggets: Michael Porter Jr (F) – Missouri
15. Wizards: Troy Brown (G) – Oregon
16. Sixers (from Heat via Suns): Zhaire Smith (G) – Texas Tech
17. Bucks: Donte DiVincenzo (G) – Villanova
18. Spurs: Lonnie Walker (G) – Miami
19. Hawks (from Wolves): Kevin Huerter (G) – Maryland
20. Wolves (from Thunder via Jazz): Josh Okogie (G/F) – Georgia Tech
21. Jazz: Grayson Allen (G) – Duke
22. Bulls (from Pelicans): Chandler Hutchison (G/F) – Boise State
23. Pacers: Aaron Holiday (G) – UCLA
24. Blazers: Anfernee Simons (G) – IMG Academy
25. Lakers (from Cavs via Blazers, Cavs): Moe Wagner (F/C) – Michigan
26. Sixers: Landry Shamet (G) – Wichita State
27. Celtics: Robert Williams (F/C) – Texas A&M
28. Warriors: Jacob Evans (G/F) – Cincinnati
29. Nets: Dzanan Musa (F) – Bosnia and Herzegovina
30. Hawks (from Rockets via Clippers): Omari Spellman (F/C) – Villanova
Second Round
31. Suns: Elie Okobo (G) – France
32. Grizzlies: Jevon Carter (G) – West Virginia
33. Mavs: Jalen Brunson (G) – Villanova
34. Hornets (from Hawks): Devonte Graham (G) – Kansas
35. Magic: Melvin Frazier (G/F) – Tulane
36. Knicks (from Bulls via Thunder): Mitchell Robinson (C)
37. Blazers (from Kings): Gary Trent Jr (G) – Duke
38. Pistons (from Nets via Sixers): Khyri Thomas (G) – Creighton
39. Lakers (from Knicks via Sixers): Isaac Bonga (F) – Germany
40. Nets (from Lakers via Magic, Raptors): Rodions Kurucs (F) – Latvia
41. Nuggets (from Hornets via Magic, Grizzlies, Suns): Jarred Vanderbilt (F) – Kentucky
42. Pistons: Bruce Brown Jr (G) – Miami
43. Nuggets (from Clippers via Knicks): Justin Jackson (F) – Maryland
44. Wizards: Issuf Sanon (G) – Ukraine
45. Nets (from Bucks): Hamidou Diallo (G) – Kentucky
46. Rockets (from Heat via Grizzlies): De'Anthony Melton (G) – USC
47. Lakers (from Nuggets via Jazz, Bulls): Sviatoslav Mykhailiuk (G) – Kansas
48. Wolves: Keita Bates-Diop (F) – Ohio State
49. Spurs: Chimezie Metu (F/C) – USC
50. Pacers: Alize Johnson (F) – Missouri State
51. Pelicans (from Bulls via Pelicans, Heat): Tony Carr (G) – Penn State
52. Rockets (from Jazz): Vince Edwards (F) – Purdue
53. Thunder: Devon Hall (G) – Virginia
54. Sixers (from Blazers via Mavs, Nuggets): Shake Milton (G) – SMU
55. Hornets (from Cavs via Nets, Sixers): Arnoldas Kulboka (F) – Lithuania
56. Mavs (from Sixers): Ray Spalding (F) – Louisville
57. Thunder (from Celtics): Kevin Hervey (F) – Texas Arlington
58. Nuggets (from Warriors): Thomas Welsh (C) – UCLA
59. Suns (from Raptors): George King (F) – Colorado
60. Mavs (from Rockets via Sixers): Kostas Antetokounmpo (F) – Dayton
RELATED:
Report: Sixers Discussed Markelle Fultz Package for Top-Five Pick