With LeBron James no longer in Cleveland, this season may well be a big opportunity for the Milwaukee Bucks. The Cavs dominated the Central Division during James' second go-round in his home state.
But LeBron has headed West, leaving a gaping hole at the top and Milwaukee may be primed to fill it. The Bucks have a new head coach in Mike Budenholzer, and Giannis Antetokounmpo looks primed to become the division's superstar.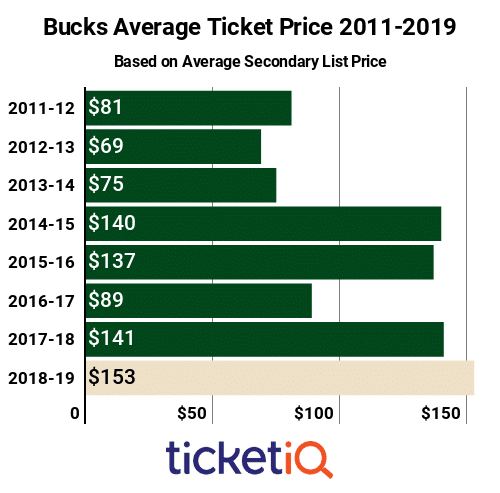 Fans are buying into the opportunity and driving demand for Bucks tickets on the secondary market to new heights. The current $153 average asking price is the highest it's been since TicketIQ.com began tracking data. The nearly 9 percent increase in price has catapulted the Bucks into the top-15 in terms of average ticket price. (The Warriors are ranked No. 1, with an average of $463.)
Secondary market tickets can be purchased through TicketIQ.com, including many with the company's Low Price Guarantee.
The game with the highest average asking price on the Bucks' schedule is $260 for the March 19 Lakers game followed closely by $259 for the December 7 Warriors game. Demand for the Lakers game shows that fans may have had LeBron fatigue when he was in a Cavs uniform, but they can't wait to see their former nemesis in purple and gold.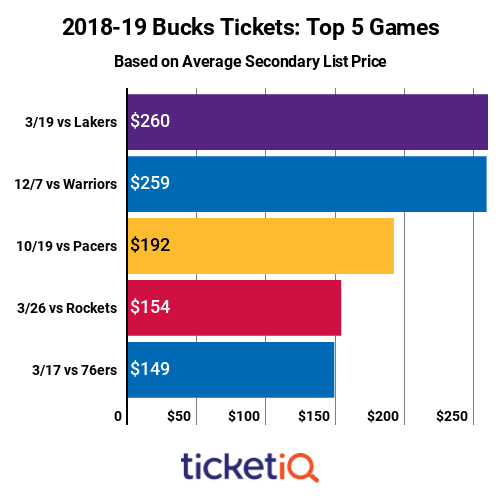 Besides those two games, the next most expensive Bucks games involves a more traditional rival. The home opener against Indiana is ranked No. 3 at $192. The Bucks and Pacers not only have a geographical rivalry, but over the last decade, meetings between the two have also been tinged with bad blood. The fourth and fifth most expensive games are $154 for the March 26 Rockets game and $149 for the March 17 Sixers game.
For fans wanting a seat at Fiserv Forum for any of the Bucks action, TicketIQ.com can help. The company still has floor seats in the fifth row of Section 117 available for $603 for the Warriors game, and can get fans in the door to see LeBron on March 19 for $77 in Section Upper 216 high above the basket.
RELATED:
Warriors, Lakers Are Most Expensive Tickets on Secondary Market 🎟️