No one seems to be happier with the Lakers' recent changes than D'Angelo Russell. After a franchise-worst 17-65 record last season, the Lakers parted ways with Coach Byron Scott, who went 38-126 in his two seasons in L.A. In April, the organization hired Luke Walton, whose demand for a head coaching job was high after leading the Warriors to a 39-4 start as the team's interim coach last season.
The Kobe Bryant era is now in the rearview window, so that leaves Russell, 20, to step in to lead a team that features nine players under the age of 25.
Prior to finishing with season averages of 13.2 points and 3.3 assists per game while shooting 41 percent from the field (35 percent from the 3-point line), Russell's rookie season was a roller-coaster ride. He started the first 20 games before getting pulled from the starting lineup. There was obvious friction between Russell and Scott; the coach's minutes restriction put a cap on D'Angelo's ability to show what the No. 2 pick in the 2015 Draft was really capable of. Some games he scored in double digits and others—29 to be exact—he had less than 10 points. Then there was the incident with teammate Nick Young that added even more negative attention to the team's already disastrous season.
Russell used the adversity of his rookie season as motivation and led the Lakers' summer league team—which featured this year's No. 2 Draft pick, Brandon Ingram, to a 3-0 record. During his summer league stint, Russell had some impressive performances, including a buzzer-beating three against the Sixers and 22 first half points against the Warriors. Those performances have the Lakers' fan base eager to see what this Walton-led regime can do in the regular season.
We caught up with Russell after he played Call of Duty: Infinite Warfare at Call of Duty XP in L.A. to see if he's really as nice in COD as his teammates claim, what his relationship with new Coach Walton is like, passing along advice to Brandon Ingram and much more. Check it:
SLAM: Despite all the ups and downs from last season, what did you learn about yourself?
D'Angelo Russell: I mean, I went through a lot last year, so I would just say I feel mentally strong that whatever happens from this point on can't break me, you know? So it's like whatever God throws my way, it's not going to break me. I'm prepared for it.
SLAM: What's your relationship with Brandon Ingram been like so far?
DR: That's my guy! I think he's going to be successful in this League. He's a funny dude and is real quiet 'til you really get to know him.
SLAM: Any advice you've given him as he prepares for his rookie season?
DR: I told him to embrace the pressure. What he's going through now is what I went through as far as being the No. 2 pick, all the attention is on you and everybody wanting to see what you can do. Now I look back on what I went through last year and I was like, 'That was the pressure I had?' And I kind of didn't embrace it. Embrace it, like, go get it and go attack it. That's what I tell him—to go have way more success in your first year than I had.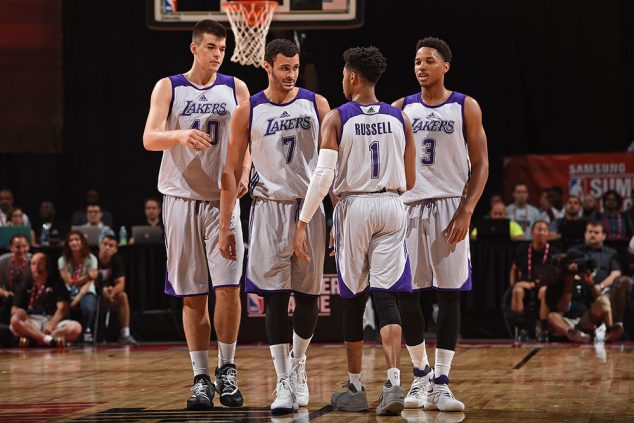 SLAM: As of Luke Walton's hire in late April 'til now, what are some of the things you guys have talked about?
DR: Luke is a great dude on and off the court and we're just excited. Every time I talk to him, it's talking about the next way to be better as a whole, as a group. And he's one of the most positive guys I know, too. My college coach [Ohio State's Thad Matta] was the most positive guy I knew and Luke is right there in competition with him. I'm just blessed to have those guys.
SLAM: Before I even said Luke Walton's name, you gave a "Hell yeah!"-type expression. Was that because you're really looking forward to having him as your coach?
DR: Yeah, I just know how good we're going to be and we're going to be going down the right path as far as being the best we can be. And I feel like everybody is all in and with his demeanor, mentality and the way he carries himself, the way he supports us, the way he is as a coach, I feel like if somebody walked in the gym and didn't know who he was, they wouldn't be able to tell that he was the head coach. He doesn't come off like that. He comes off as a player, honestly, and a vet. I just know that's the successful way to go in this league.
SLAM: Have you spoken to Kobe at all since his retirement?
DR: Actually I haven't, no.
SLAM: The team has been participating in early morning Breakfast Club workouts. How has that helped build more of a camaraderie with the young core?
DR: I would just say the dedication. Every team in the League has those guys that are working and everybody is just working. You got guys on the team that are taking their rest 'cause they've been in the League multiple years. I feel like the more we grow as a team, the success that we had, we don't want to go from that. If that's coming in everyday working out together early—even if we're 10 years in—just stick to that routine.
SLAM: So what's that Breakfast Club playlist looking like?
DR: Man, our trainer [Marco Nunez] kind of leaves it up to us, but he goes by Mexican Mondays, sometimes it's Michael Jackson Tuesdays—you never know because he's there before everybody. We'll walk in and he might be playing old Michael Jackson or he might be playing some new [Lil] Uzi or whatever. It's really up to the day and who's there early that gets to pick to the music.
SLAM: What can we expect to see from you more on the court this upcoming season?
DR: Dominate. Just dominate every chance I get. No taking plays off, taking every possession as if it's the last and just really competing at a high level.
SLAM: Jordan Clarkson recently said that aside from himself, you, Larry Nance Jr, Roy Hibbert and Anthony Brown were the top Call of Duty players on the team last year. Is anyone else nice at COD?
DR: I honestly don't know. We got a lot of vets on our team so I'm not sure if they even know what Call of Duty is, but I would say that's about it. Maybe Julius [Randle]. He's a fan and is good at it.
SLAM: If you could pick one or two other players and form a squad, would you guys come out with the W against one of these top teams participating in the Call of Duty Championships?
DR: Oh yeah, I'd get my boy Devin Booker and Karl-Anthony Towns and we'd be successful.
SLAM: What are some of your favorite new features from Call of Duty: Infinite Warfare?
DR: I would say the characters. In the previous versions of Call of Duty, the characters were limited—maybe four characters and they only had one specialty. Here, there's multiple different specialties and characters that you can choose from and you can keep getting upgrades for those.
—
Related:
D'Angelo Russell: 'Walton Is Not a Head Coach That Will Sit Back And Watch Other Coaches Train Players'
Nick Young on D'Angelo Russell: 'I Can't Be Mad Forever'