He is an investor, an entrepreneur and, in recent years, he's become a fixture at Oracle Arena for Warriors home games. If Golden State is hosting a big game, E-40 is there, courtside, going dumb.
Born Earl James Stevens, E-40 grew up in Vallejo, CA, where baseball was the main sport played around the neighborhood. He was a decent hooper, too, but eventually got cut from the high school basketball team along with childhood friend Tony Longmire, who went on to play outfield for the Philadelphia Phillies. 40, of course, became synonymous with Bay Area rap, with his third solo album In a Major Way putting him on the map and a never-ending list of mainstream hits coming thereafter.
It took years to earn his courtside seat, but once 40 began rubbing shoulders with the Warrior fan elite in recent seasons ("You gotta be around money to get money," he explains), he soon became the face—and the voice—of Golden State's fanbase.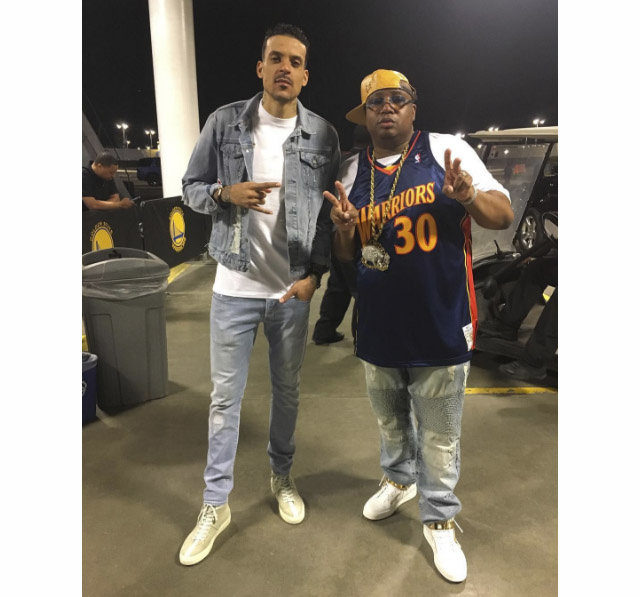 40-Water is a fan of the League at large, too, and his list of favorite NBA players of all time includes Gary Payton, Allen Iverson, Michael Jordan, Shaquille O'Neal and, "don't get it fucked up, I'm not a Laker fan, but I've always liked Kobe.
"One thing about me: I love the Bay Area. I love California. I got love for the Kings, too," he admits. "When Mike Bibby and Peja Stojakovic and all 'em played for the Kings I would go to Kings games, too. I got love for the Kings too, because I'm Northern California, bruh. But I'm a Warrior fan to the heart. I been liking the team since I was a kid, since I was a youngster.
"I go back to Rick Barry and the boy Robert Parish," says 40, harkening back to an era when the Warriors front office had a tendency to squander its homegrown talent. "Robert Parish, when he left the Warriors, he became a motherfuckin' Hall of Famer, dude. They was getting rid of people and it was pissing a lot of people off. But now we have a great organization—the powers that be are doing a great job. I salute them and I take my hat off to them."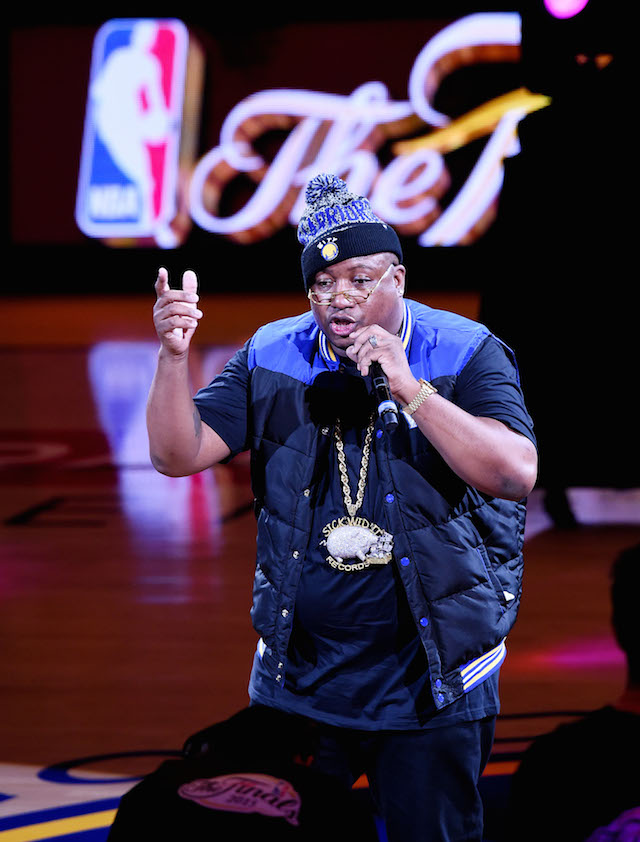 At this point, 40 doesn't have to defend his Golden State fandom. When he built his house 20 years ago, he made the basketball court Warriors-themed. His kids have Warriors posters in their rooms. He even released a Warriors-centric remix to his single "Choices (Yup)" during the Dubs' championship run in 2015. And, as an OG fan of the team and "Ambassador of the Bay," he's willing to welcome the recent bump in bandwagon Warriors fans.
"It is bandwagoners, but so what? That's OK. They turn two-face on rappers. When a rapper's hot, they hot. When they not, they not," 40 explains. "I feel like when the playoffs come, if somebody's team didn't make it, especially on the West Coast, I think in the back of people's head, they're like, I'm going for the Warriors."
Which sounds a lot like 40's explanation for why Kevin Durant signed with the Dubs last summer: "Who wouldn't want to stay in Northern California, the Bay Area? The best place on earth, mayne."
—
Abe Schwadron is a Senior Editor at SLAM. Follow him on Twitter @abe_squad.
Photos via Getty Images