Seventeen, 9 and 5. As far as first impressions go, one couldn't ask for much of a better one. October 28, 2015 saw the newly entrusted Dale Earnhardt Jr of the Denver Nuggets take his first official lap around the NBA lanes to the tune of 17 points, 9 assists and 5 rebounds. Not bad for a rookie's first time behind the wheel of a franchise. As a die-hard New York Knicks fan, I wonder what it would feel like if a starting point guard were able to pull off such a feat draped in blue and orange. The thought of those numbers, those abilities, that skill set—what a dream.
But I digress…instead, I salute what the Denver Nuggets have been able to grab hold of. The diamond they've been able to come across; their own "nugget" in waiting, if you will. Generally speaking, pressure mounting would understandably somewhat cave in on most rookies, and if it did, forgiveness would be sort of easy for fans to dish out, as being a rookie is a heavier load than most would assume. But for Emmanuel Mudiay, pressure is part of who he is. So when faced with such a familiar foe, rising to the occasion is second nature.
"The thing that stands out to me the most is his calm," says Will Barton, Mudiay's teammate on the Nuggets. "For him to only be 19 years old and to be a starting point guard in the NBA, nothing overwhelms him. He has the same facial expressions, the same pace, all game. He has a feel for the game that we haven't seen in a while."
Born to Jean-Paul Mudiay and Therese Kabeya on March 5, 1996, in the Democratic Republic of the Congo, Emmanuel is no stranger to adversity. Before he was old enough to dribble a basketball, his father passed away due to heart complications, leaving single mother Therese to fend for Emmanuel and his two older brothers Stephane and Jean-Micheal. Sadly, tragedy turned to mayhem as the second Congo war began in 1998, when the family would narrowly avoid the violence in their city of Kinshasa on a seemingly daily basis. Older brother Stephane has said the violence forced them to hide under their beds for shelter from gunfire, and the destruction left their living conditions so crippled that neighbors would help them with food and necessities.
Ever strong-willed, Ms. Kabeya fled to the United States and wound up with her sister in Dallas, leaving her sons with her parents in the DRC while she built a life for them in Texas. A year later, she sent for her boys and gave them the stability she hoped for in the Lone Star State. Upon arrival, the three brothers all took to basketball, playing ball and earning degrees all while their mom worked 10 hours a day.
The coming years saw Emmanuel grow up to be called one of Dallas' own and develop into a Voltron-esqe point guard, capable—at 6-5, 200 pounds—of doing anything you could possibly think of a PG doing, including driving and scoring at will. But it was the desire and preference to pass to a teammate that made him different. Soon enough, offers were coming in from DI colleges all over the country, with legendary point guard-molder Larry Brown winning the lotto as SMU became the school of choice. A funny thing happened on the way to the registrar's office, though: Emmanuel remembered those nights in the Congo.
"I was tired of seeing my mom struggle," he says about the decision he had to make: a free ride to SMU or the opportunity to help his family immediately, providing so his mother wouldn't have to work 10-hour days again. The decision was easy, as an 18-year-old Emmanuel signed a $1.2 million deal with the Guangdong Southern Tigers to play professionally in the Chinese Basketball Association. Some frowned at the move, others applauded it, but it's tough to not respect it. The next year would see him compete with and against former NBA PGs such as Stephon Marbury, one of the '90s greatest distributors and the new face of basketball success in China. Mudiay averaged roughly 18 points, 6 boards and 6 assists per game in the CBA.
On June 25 of last year, the night of the NBA Draft, Mudiay awaited his professional destiny. Predicted to land anywhere between 1-4, he heard his name called seventh. Not the 1 through 4 slots he'd heard rumors of, not the fourth spot this Knicks fan hoped would be his—but a top-10 pick nonetheless. With the need for bigs overflowing for the top handful of teams, his all-around point guard skill set was perfect for his new home: the Denver Nuggets. A once-fearsome Western Conference team coming off a down year, Denver was in need of a fresh start and a new driver behind the wheel. In an unusual move for a Lottery team with a hole at the 1 spot, newly appointed coach Mike Malone and General Manager Tim Connelly decided to hand the keys to Emmanuel.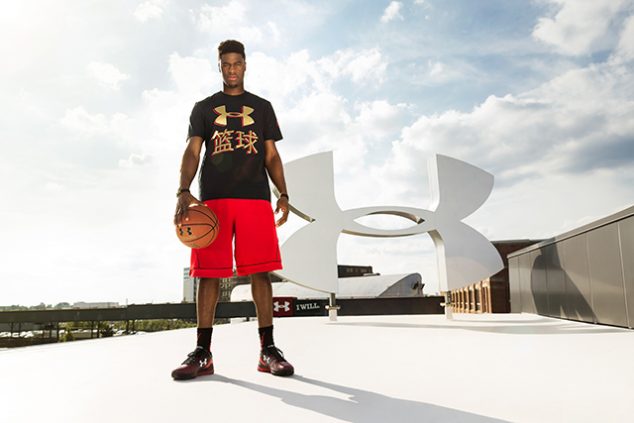 "We put him back in the last six, seven minutes of the game and he scores 9 points and also finishes with 9 assists, no turnovers, on the world's biggest stage at the Garden," Malone said after an early-February Knicks-Nuggets game at MSG (Mudiay finished with 15 points, a tick above his 12.8 ppg average as a rook). "That speaks to his poise and maturity as a 19-year-old."
With the trust of his coach and teammates in tow, Emmanuel has seen his first pro season shape into both familiar territory and new ground. It was an up-and-down season of learning on the fly, flashes of brilliance, quotes from legends whose blueprint he seems to be following ("He'll be better than me. He already is," said Bucks coach and legendary PG Jason Kidd after a Bucks-Nuggets bout), and headlined by taking down the Golden State Warriors for one of GSW's only nine losses on the season. He missed 14 games following an ankle injury suffered on December 11 but came back true to form immediately thereafter.
"To quote AI, 'Play every game like it's my last game. Go out there and play every game as if it was your last,'" Mudiay says. "That's what I want my legacy to be. One of the greatest to ever do it."
Unlike plenty of others, Mudiay is playing not only for a legacy of his own, but also for the name on his back, the pride of a family that escaped immeasurable odds. No pressure, though. Just the norm.
—
Skyzoo is a New York City-based rapper and writer. Follow him on Twitter @Skyzoo and Instagram @skyzoothewriter. Photos courtesy of Getty Images, Under Armour.
104