A lot of the chatter around the 2018 NBA Finals has focused on the lack of novelty surrounding the record-setting fourth consecutive Cavaliers-Warriors matchup. This year, however, brings at least one new and unexpected twist: last-minute buyers can get tickets directly from the team, even after tip-off.
JUST IN: Game 1 of the NBA Finals is NOT a sellout. Warriors still have hundreds of seats left to sell. Almost 300 upper level seats, 100 lower level seats still available on primary market 15 minutes before tip.

— Darren Rovell (@darrenrovell) June 1, 2018
While fans and front office execs alike have been conditioned to label  "not selling out" as a failure, in the new world of ticket buying, it may be the best way for teams to compete against the secondary market.
Over the last 15 years, the Internet-driven secondary market–in addition to creating billion dollar businesses–has trained ticket buyers to wait. On sites like TicketIQ and Stubhub, last-minute shopping now accounts for as much as 50% of sales. When a team or show sells out weeks or months ahead of that last-minute shopping, they're essentially taking themselves out of the game at the very moment when it's being won or lost, economically speaking.
Since the Cavs and Warriors first met in the Finals in 2015, teams have been steadily taking back tickets from the same brokers that they'd been selling to for years. In addition to sports, some of the biggest acts in music have also changed how and when they sell tickets. For her Reputation tour, Taylor Swift sold tickets until the very start of each event.
Like the Warriors in Game One, some of those shows did not sell out, making Swift an easy target for critics. What these critics did not understand is that because of the "slow ticketing" sales model, Taylor Swift made roughly $1 million more per show than she did for her sold out 1989 tour.  With those kind of numbers, not selling out is making more sense to promoters and sports teams than ever before.
It is somewhat refreshing to consider that in this new model, teams are essentially betting on themselves. Forward-looking organizations like the New York Knicks have realized that the biggest risk lies not in failing to sell out, but in giving away their customers and any potential market-based upside to the secondary market.
For lower-demand games like Thursday night, where teams make less money because tickets drop below face prices, fans end up winning.  Patient fans in the Bay area paid as little as $315 on the secondary market for Game One, which was $100 below the face price tickets available directly from the Warriors at 9:01 pm.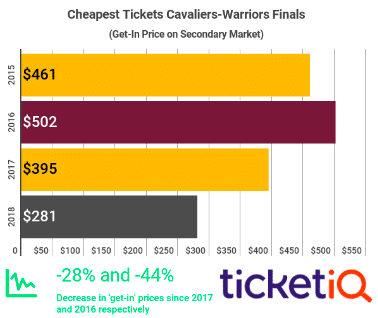 If LeBron and the Cavs can't rebound from their tough OT loss, prices for Game Four in Cleveland might drop below $200, which would be the first time this decade that's happened for an NBA Finals Game. It would also mean a rare NBA Finals loss for brokers in Cleveland.
If LeBron can avoid a sweep, prices for a clinching Game 5 or 7 at Oracle Arena would skyrocket and equate to big profits for the Warriors. It would also call to mind one of the oldest adages in sports, and business, and one that no athlete appreciates more than LeBron James: you've got to be in it to win it.