Jahmi'us Ramsey remembers the moment he found out his freshman season at Texas Tech was over.
It was March 12, and the Raiders had just taken the court to warm up for a game against Texas in the Big 12 tourney when Ramsey and his teammates were called back into the locker room. Their coaches began explaining that the game was cancelled due to COVID-19, and that they would be heading back to the team bus, to catch a flight back to Tech.
Ramsey was shook. The team had just gotten warmed up during the shootaround, were minutes away from taking the court and were moments away from competing for a spot in the tournament. Ramsey had goals for his team: to win, of course. As for himself, he wanted to win Big 12 Freshman of the Year.
"Everybody was just shocked," Ramsey says in a video call. "We were pumped ready to play that game to try to get on the winning streak [and] to get back on the winning bus. But, it was really just a shock to all of us, like, Wow, we just got warm and now there's no game. At all. It's not going to happen at all, which [was] crazy.
"I felt like we were going to turn a corner in the Big 12 tournament leading into March Madness but we didn't get the opportunity."
It's late October. Ramsey is calling from his home in Texas, just twenty minutes outside of Dallas, where he's been preparing for the NBA draft. During what's arguably been one of the most unconventional sports seasons ever, Ramsey hasn't had the typical pre-draft experience. He hasn't played competitively in months after Texas Tech's season ended so abruptly in March.
To get even weirder, he'll have one month to prepare for the 2020-21 NBA season.
"This is the longest time, ever, for me without competing. But, it is what it is," he says.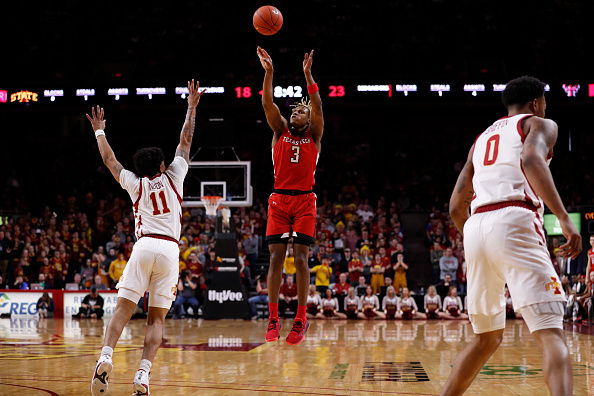 After Ramsey and his teammates found out their season was over, they flew back down South to Texas Tech, where the coaching staff began meeting with each player individually to talk about what would be their next steps. For Ramsey, who was averaging 15 points and 1.3 steals during the season, that conversation looked a little bit different. He had sights set on the NBA.
"For me growing up, I always wanted to go to the NBA," Ramsey says. "I didn't know it would be a real opportunity until around my junior year at IMG. I felt, like, 'Okay, I could probably have a shot at the NBA.'" Playing at IMG, playing against higher competition, being able to hold my own out there gave me the confidence. And, being around other [future] NBA players like Josh Green."
Back in high school, Ramsey picked up a thing or two at IMG in Florida before transferring to Duncanville for his senior season. Ramsey, who calls himself a "stats guy", balled out against top talent back home, too. In a win against the No.1 ranked team in the state, Denton Guyer, which featured Oklahoma-commit De'Vion Harmon and Michigan-signee Jalen Wilson, Ramsey dropped 34 points.
He showed up against South Garland, led by Kentucky–bound Tyrese Maxey, who at the time was the No. 13 ranked recruit in the Class of 2019 and has also declared for this year's draft. Ramsey delivered a monster dunk, and scored 33-points on 13-22 shooting with nine rebounds and two steals.
It didn't matter who he was playing against — Ramsey said he learned to have a dog mentality growing up in Texas.
"Being brought up in the Dallas area, just playing at Metroplex helps with basically having a dog mentality," he says. "If you're around here, you're definitely gonna have some type of dog in you."
Ramsey let the dawg out that season, averaging 21 points, six rebounds and leading his team to a Class 6A State Championship— where he finished with 19 points, nine rebounds and four assists to win the chip. He earned Allen Iverson Classic and Jordan Brand All American status, and became the first ever five-star recruit at Texas Tech.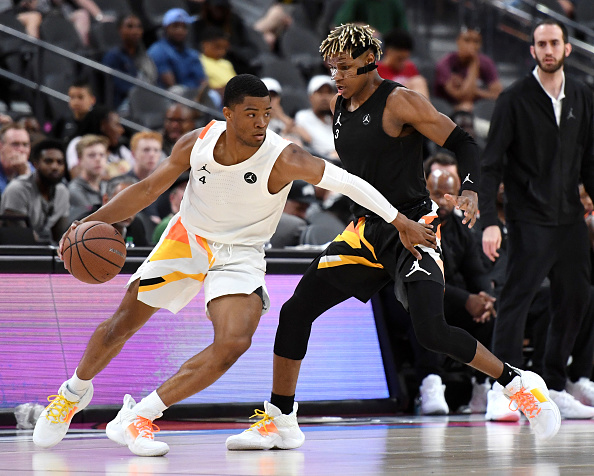 What stood out most to Ramsey about Texas Tech was head coach Beard, whom he felt like always kept it real with him.
"Coach Beard came down a lot and visited me at Duncanville High school. And when I went on the visit I saw that he wasn't just talking but it was real. Not just his staff but his players off the court, I would just ask them questions," he says. "I actually asked players, How is he? I asked players that didn't play was there a pain about him, but there wasn't no fluff in there at all."
As a freshman at Tech, Ramsey made his mark early in the season during an exhibition game against Mega Bemax, a pro team from Serbia, where he scored 44 points. He'd soon develop into a key offensive weapon that could deliver on all ends of the floor, earning comparisons to Russell Westbrook: explosiveness matched with a smooth hesitation step-back that he calls his "go-to move." He finished the regular season shooting 42.6 percent from the field, leading the Raiders in scoring. Oh, and he earned that Big 12 player of the year award.
However, the numbers don't lie and if we're talkin' stats, Ramsey is the first to point out what he could have improved upon.
"I felt I could've been a little bit more consistent with scoring, my average a little bit," he says. "I felt like I didn't turn the ball over a lot, but I didn't get enough assists — it kind of looks a little different if you look at assist to turnovers. I felt like I didn't turn it over a lot, but I just didn't get enough assists."
As of late, Ramsey has been in the gym preparing for the draft and working on his shot selection. Some days include waking up at 6 a.m., lifting with his trainer, Sanders, getting some conditioning in and then heading to the gym. From there, he works on shooting, pick and rolls, and other moves with trainer Tim Martin. He ends the day with treatment.
"That's a pretty normal day for me, then eat, sleep, repeat."
During quarantine, Ramsey had to get creative with his training while stuck inside with his family in Texas. At first, he (like the rest of us) didn't think quarantine would last that long. He filled his time playing video games with his older brother, Corinthian, like NBA 2K, Madden and Call of Duty. He skateboards, too, and spent time just cruising around.
However, once days turned to weeks—he knew he had to do something.
Ramsey says he didn't have access to a hoop during quarantine in the beginning, and all of the parks, gyms and his own high school were closed. So, he used the two hills near his home for sprinting, agility and explosiveness, and the longer one for conditioning.
Now that things are more accessible, he's been getting into it on the court, playing one-on-one with Corinthian, who balled at Tarelton State.
"I dominate, of course. He's too little," Ramsey says with a smirk, before giving props to how much big bro has influenced him:
"I wanted to be better than him, but I wanted to shoot like him," he admits. "I shoot better than him now, of course, but all day I always wanted to shoot like him. I'd watch him in high school, give people 30-4 at 5-foot-9. He's little – but he had the jump shot, so that was helping him to get by. I knew I wanted to be able to shoot as good as him, but better."
Ramsey also credits his dad, Avery, as the one who put the rock in his hands. Avery's brand, ProTag, also reminds him to be the best at whatever he does, and to stand out.
"It basically [means] you're the best at what you do, doesn't matter if it's basketball, cooking, or whatever the case may be — you may feel like you're the best promoter at talking, you're the best at what you do."
In fact, it was Ramsey's dad who helped him find his own unique look. Ramsey had started dying his hair, then a mohawk, blonde his freshman year, and one day asked his dad to help him dye it again after getting a haircut. His dad started bleaching most of the locks blonde, leaving the rest dark brown, and Ramsey stopped him. He liked the look.
"I was like, You can leave it right there." I just left a little piece and it was my own look."
With the NBA draft quickly approaching, Ramsey knows that it's time to turn up at the next level and establish himself as a draft prospect. Every time he hits the court, he says he's determined to remind whoever he's playing against that he's going to go at you.
"My competitive nature, I feel like it's second to none. I love to compete, I feel like if you're on the other side of the basketball, you're going at me – which means I have to go at you and dominate you. That's how I was brought up, to be honest. Just playing, period, anybody who was in front of me — I want to go at them because I don't want to miss out on that opportunity.
"I want to leave no doubt in whoever's decision it is, that I should be the one you select."
Photos courtesy of Getty Images