Jared Jeffries had found himself in some outlandish situations before. Once, while fishing off the coast of Panama, he got caught in a torrential rainstorm and witnessed a boat floating just a few feet away from his get struck by lightning. There have also been week-long fishing excursions to remote South Pacific islands, and of course, let's not forget the bison hunting trips on the Lower Brule Sioux Reservation in South Dakota.
Never, though, had Jeffries felt quite as muddled as he did that September day four years ago when he agreed to go alligator hunting with Brad Miller.
"It was a disaster," Jeffries says between laughs. "I still can't believe I let that idiot talk me into doing it."
Since retiring in 2012, Miller, the former NBA center best known for his time with the Kings, has hosted a hunting TV show on Sportsman Channel. Like Jeffries, Miller grew up in Indiana. He and Jeffries both shared an affinity for outdoor sports and Miller thought it'd be fun to invite his buddy onto his show.
We'll let Jeffries take it from here:
"First I told him I had never gone before, so I asked him what do I wear. This idiot talked me into coming in basketball shorts and a T-shirt—to go gator hunting in the middle of a Florida swamp with spiders and mosquitos everywhere. You don't understand how bitten I got. So we go out and we see the gator. They pass me this bow-and-arrow thing with, like, a grappling hook attached. I shoot the gator—turns out it's like 12 feet. Then they tell me we have to hand-line it in. That takes about two hours and we had each had about 12 Budweisers by then.
"We eventually get the gator to the boat, then you stun in it. Then you have to drag it into the boat and cut its spine. And of course the knife they gave me to do that was this tiny thing the size of a pocketknife. Needless to say, the whole thing was a disaster."
Me taking jerrod out for his first gator ever pic.twitter.com/MAXZnjG6

— CountryBoysOutdoors (@CBOTV) September 3, 2012
Well, that part's not entirely true. Jeffries did get to meet the crew that now produces his fishing show, Modern Fishing with Jared Jeffries, which airs on the Outdoor Channel. And, yes, you read that last sentence correctly. Former NBA journeyman Jared Jeffries does, indeed, host a reality fishing show. But what's most surprising is just how unsurprising this is. Jared Jeffries may not quite be the NBA's Dos Equis Man. But he's certainly close.
"If I just played basketball, worked in the NBA, retired and did nothing else, that would be a boring way to live," Jeffries says. "I've been blessed and it would be a disservice to myself and that blessing if I wasn't always trying new things, the kind of stuff that I can tell my kids and my grandkids about."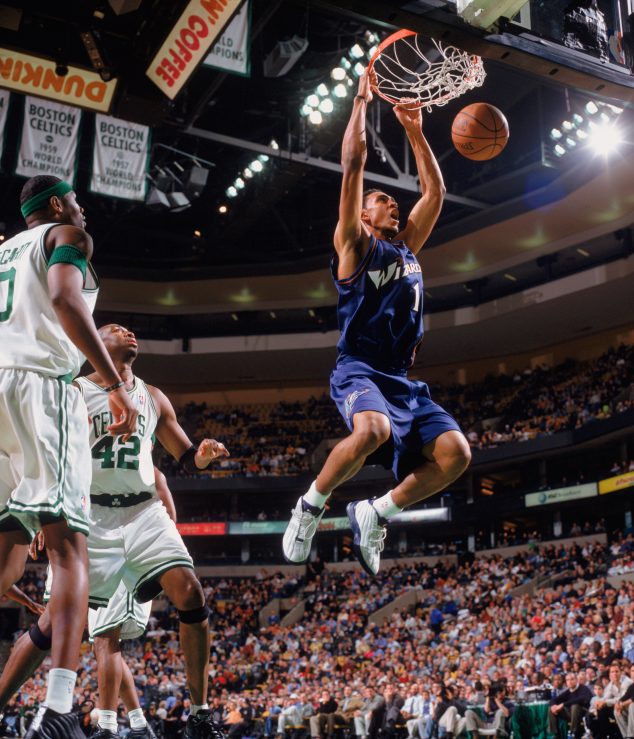 It's lunchtime on a relatively quiet spring day in the office when Jeffries picks up the phone. Three years ago the former Indiana Hoosiers star and 11th overall pick of the 2002 Draft (a Draft we were excited enough to build a cover off of, giving Jared his brief moment in SLAM history), moved into a loft in downtown Denver after the Nuggets hired him as a scout. He was just 31 years old at the time, coming off a down season with the Blazers, the fifth team of his career. Doctors told him that if he planned on returning to the court he'd need to undergo yet another surgical procedure on his right knee, which had already been operated on four times.
"I figured that meant it was time to transition to the next phase of my career," says Jeffries, who earned north of $40 million over an 11-year career. "So I started looking for something stable that I could grow into."
He decided a front office role would be the best path. Tim Connelly, who had just been named Nuggets GM and knew Jeffries from the time they spent together with the Wizards, offered him a job. Today Jeffries is the Nuggets' Director of Pro Personnel. He's involved in all key organizational decisions. Also, he gets to spend the majority his time with his two young daughters at home. He loves his job and his life and feels blessed and grateful to still be able to work in the NBA. He'd like to be a general manager one day and appears to be on the right track.
But what truly separates Jeffries from the hundreds of other successful but undistinguished players to step foot on an NBA court is the mentality he carries off of it.
"It's rare to see a seven-foot guy be an extrovert, but that's who Jared is," says former NBA player Sean May, who played high school ball with Jeffries. "He's always been the life of the party."
Jeffries was raised on a piece of farmland in Bloomington, IN near several creaks, ponds and rivers. He and his father, Tom, often stayed up past midnight fishing along the banks. Sometimes they'd bring along marshmallows to roast. When Jared was about 13, Tom decided to splurge on a bass boat. He and his wife Celia would take Jared and his younger brother, Justin, on weeklong fishing vacations up north toward Minnesota and Canada. Other times they'd go hunting in the woods. Tom felt it was important to pass along the lessons his father had passed on him—only he added his own little twist.
"I grew up in the Mississippi Delta where things were rough," Tom says. "My father was a no-nonsense guy because he had to be. He taught us how to fish as a means for survival. I was expected to account for every bullet I took out with me. I wanted to instill some of that, but also, because things had gotten a little better, I wanted to introduce my kids to as many things as possible and to have them enjoy them."
Jared latched onto it all. "He probably talked about fishing more than basketball," says Texas Southern University's Mike Davis, who coached Jeffries at Indiana. "He got that from his dad."
During his playing days he'd try to squeeze in as many fishing trips as possible. In Miami he'd often walk straight from AmericanAirlines Arena across the street to a boat waiting for him on Biscayne Bay. He was especially drawn to the competitive aspect of the sport. He also liked the catch and release part. "I could be outdoors without killing," he says. "I don't like cleaning the big animals. And I feel bad for them." Unless it was a fish he spent hours wrestling. "That means I won," he adds. "I eat him."
One time he spent 150 minutes trying to reel in a 275-pound yellowfin tuna while sailing off the coast of a small Mexican fishing village named Punta Mila. He remembers the moment well. His forearms were burning and hands were begging for a break. Sweat dripped down his forehead as he stood on the edge of the outboard-powered fishing boat known as a Panga. No fish had ever fought him for that long. Jeffries looked toward his friends for help. There's a group he hangs out with when staying in Punta Mila. They make sure to feed him plenty of tequila and beer and to turn the music—preferably Backstreet Boys or NSYNC—all the way up.
These days Jeffries doesn't have as much time to chase adventures as he used to. But that doesn't mean he's left his passions behind. His TV show—which airs on a TV station owned by Kroenke Sports Enterprises, the same group that owns the Nuggets—will begin filming its fourth season this summer in South Florida. And anyway, there are plenty of other adventures that Jeffries can chase, plenty of other ways for him to explore himself and the world.
This, after all, is a man who, while living in Portland, performed stand-up routines during open-mic nights at local comedy clubs. And who, while playing for the Knicks, would skip out on visits to clubs like 1 OAK and instead spend nights belting songs like Oasis' "Wonderwall" and Journey's "Don't Stop Believing" in Koreatown karaoke bars.
Now Jeffries says he'd like to eventually run an NBA team. Also, he wants to climb Mount Everest by the time he's 45. "I watched these documentaries about it and it made me want to try it," he says. "I heard it's one of the hardest things a person can do."
Sure, that sounds a bit crazy. But that's never stopped Jeffries before.
Correction: The print version of this article misstated Jeffries' possession of a teddy bear named Mr. Biggles. Jeffries does not own a teddy bear.
—
Yaron Wetizman is an Editorial Assistant for SLAM Magazine. Follow him @YaronWeitzman.
Photos via Getty Images.