When Detroit Pistons forward Stanley Johnson walked into an open run last summer at his alma mater, the University of Arizona, he noticed a teenager with a smooth jumper who could run the floor and finish at the rim if he caught a defender sleeping.
It didn't take long for Johnson to realize that the lanky teen was incoming freshman Lauri Markkanen, a 7-footer from Finland who was getting his first taste of American ball—or rather, American ball was getting familiar with Markkanen before he was drafted seventh overall by the Chicago Bulls.
"That open run showed me something—he played well," Johnson says. "You can't fall back because he shoots too well. He's pretty athletic at the rim. It'll be tougher [in the League] because guys are more athletic and strong. I'm not sure how strong he is, how physical he is."
Of course the physicality will come along, presumably as the weight comes for Markkanen, who is listed at 225 pounds and will be subjected to the bumping and grinding of NBA basketball. But with the game trending toward the way Markkanen likes to play, and the Bulls ditching their usual style of rough and tumble ball, it's the bruisers who may have their issues coming out to defend the rookie, who's likely to play power forward and center for the young Bulls.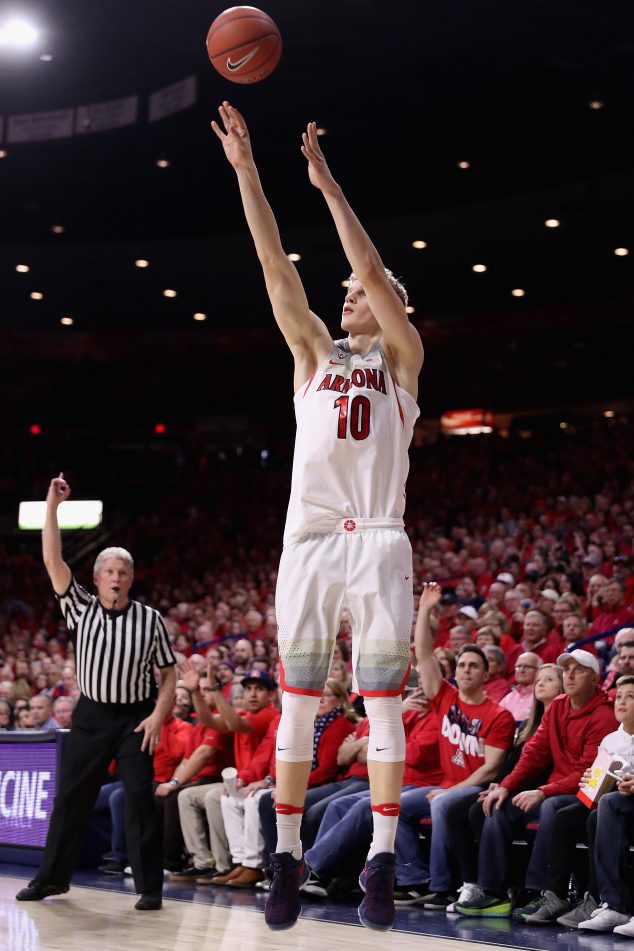 "He won't do shit that he can't do," Johnson says. "But he does one thing really well: He's gonna make you play him honest. He's gonna get to the rim eventually and everything will be set up with the shot."
Although Lauri's father Pekka played at Kansas and then for the Finland National Team, Lauri says he gets his sweet shooting genes from his mother, Riikka, who also played professionally in Finland. In his lone season at 'Zona, Lauri shot 42 percent from three and 84 percent from the line and helped lead the Wildcats to a Sweet 16 berth and 32-5 record.
Markkanen will now have to grasp the pro game as quickly as he grasped the English language as a child in elementary school. But those strong genes will make him a matchup problem, as he'll likely get plenty of time for a Bulls team that wants him to develop immediately. Last year was the first time he watched NBA games consistently in his life, given the seven-hour time difference from Finland to Chicago.
"Before I watched games, but it was a couple games a week," Markkanen says. "Having to wake up at 3 a.m., it's hard for you. I was watching college games but I knew I had to watch NBA games, too."
Why? Because he knew he wasn't staying in Tucson long. Solid confidence from a kid groomed to play a style of game he didn't get to watch but so much. "I was ready," he says. "Of course it's tough when you love your teammates and coach but at the same time I was ready to go. I didn't have any regrets. I knew with the workouts I was ready to go."
He's heard the comparisons to Dirk Nowitzki ("I've been hearing that a lot. It's an honor being compared to a Hall of Famer. We have similarities.") and Bulls coach Fred Hoiberg dropped the dreaded "sneaky athlete" term, leaving Lauri one phrase away from stereotype theatre. But that aside, the big man admits to playing point guard as a kid before smartly evolving into a skill player.
"I used to [play PG] at home," Markkanen says. "Most of the time I played on the perimeter. I know the game is changing that way. I'm glad the game is going that way because that's how I play."
When Johnson heard the Bulls were taking Markkanen after swapping picks with the Timberwolves due to the Jimmy Butler trade, he immediately nodded, knowing the youngster would be on the floor with Nikola Mirotic and Bobby Portis. Johnson says Portis will probably toughen him up a bit in the battle for minutes.
"He'll have some rough spots," Johnson says. "He's not [Kristaps] Porzingis, because he's not as tall. You can't bother Porzingis' shot. You can bother [Lauri's] shot. [But] in two or three years he's gonna be really good. It's about how long it takes him to grasp what he can do, and that's shoot the basketball. When your man helps, shoot it every time. That makes a difference."
For the sake of Bulls fans, they hope they're as shocked as Johnson was when he walked into that Tucson gym and saw the 7-foot blonde teen stroking jumpers all day.
—
Photos via Getty Images