In 20 years as a Senior Writer for SLAM—specializing in Old School stories—and Guitar World, with an emphasis on the Allman Brothers and Grateful Dead, only one person really crossed over and made sense in both of my worlds: Bill Walton.
It was a pleasure to speak to him on the phone from his home in San Diego about his new memoir, Back from the Dead, in which he chronicles his injury-stunted career, his lifelong love for the Grateful Dead and his struggles with physical maladies so severe that he thought he might never walk again.
It's a fascinating, entertaining read suffused with Walton's love of hoops, life and the Dead.
The interview was conducted before his son Luke was named coach of the Lakers.
SLAM: Congratulations on the success of the book.
Bill Walton: Thank you. The response has been overwhelming. People keep asking if I'm tired of doing interviews. How can you ever be tired of people being nice to you? The best things of all are the moments of reflection when you're asked questions about who you are, what you stand for, where are you going and most importantly: What are you going to do with it? The challenges that you face are real and so is the sense of despair that defined so much of my life. Not that long ago I was on the floor asking myself, Will I ever get up again? And I asked, If I have one more chance, what will I do? So here I am. I wrote the book. Who would have ever thought it would be so well received? It's an honor.
SLAM: There's a habit in both sports and music to want to quantify everything rather than just appreciating it. This is especially prevalent in Deadheads—someone hears "China Cat Sunflower" and immediately thinks, "That's the best I've heard since 9-12-77." And the same instinct leads sports fans to compare everyone to someone past…
BW: Yes, but that's not my world! I learn from the past, I live in the moment and I dream about the future and I don't rate, rank or compare. I live that reality of what you speak not only in the world of the Grateful Dead but also in the world of ESPN. Everything has to be compared, ranked and rated and that's just not me. I just try to enjoy what is happening.
SLAM: Many elite athletes have trouble shaking off a subpar game. Were you haunted any time you walked off the court disappointed?
BW: Absolutely. I'm a much better person now that I'm not playing basketball. I had to win. That's one reason why I chose not to go into coaching. One, I wanted to be a dad not a coach. Two, I wanted to live in my hometown of San Diego. And three, I didn't want to care who won the game. Although I care right now about what's happening for Golden State—and I do care that they win.
SLAM: Of course. Congratulations on the success your son Luke has had there.
BW: I want what's best for Luke Walton, but I also love the way the Warriors play. I love their style, their culture, their identity. I love their teamwork, their fastbreak. I love the skill and the physical fitness. I was part of teams like that before, and I know how special it is. I also know fragile and tenuous it is. I'm just really hoping the Warriors win all their games, set all the records and win the Championship.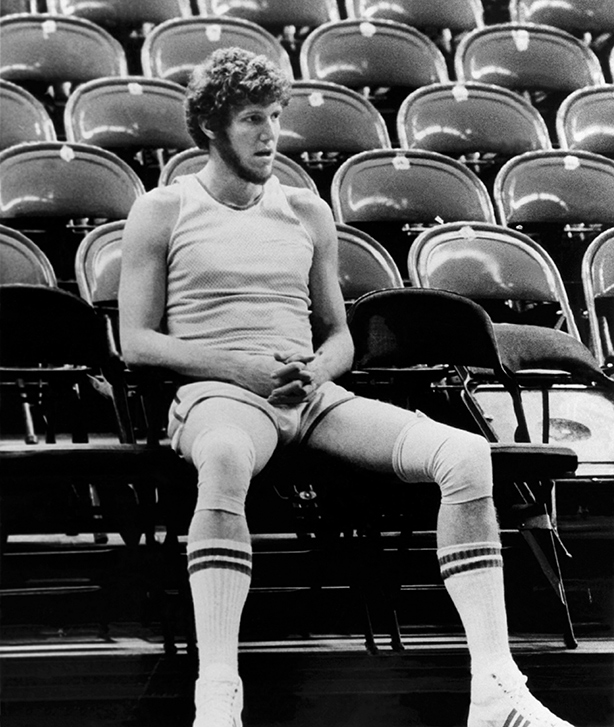 SLAM: It's a golden era for hoops. The ball that the Spurs played in the Finals two years ago was gorgeous and the Warriors last year and this year…
BW: I love everything about the Spurs, too. It's fantastic. I love all those guys: Pop, Timmy, Kahwi, Tony, Manu. And I really love Boris Diaw. He's a beautiful basketball player.
SLAM: When I first started interviewing old-school NBA greats for SLAM, I was struck by the drive and how many players like Jerry West considered their careers to be failures. But is that drive part of what makes them great?
BW: Yes. It's what makes you great. You cannot lose! A lot of us, we figured that we never did really lose: The referee just stopped the game too early.
SLAM: And Jerry Garcia brought so much happiness to so many but his own life was really tinged with a dark sadness, which feels parallel.
BW: Yes. That's the beauty of the Grateful Dead: every emotion, every scenario, every possibility in life is captured in song. Music is the window of your soul, the inspiration that moves us brightly to better tomorrow's. The Grateful Dead's ability to take a world that is sad, hard and cruel and make it beautiful in so many different ways, with the colors, the images, with the artwork, with fans, with the guitars, the drums, pianos, the electronics—absolute full spectrum of emotions and experiences. And I lived that, I witnessed that at the very first show I ever went to, and every time I go I get more and it's different, and that's why I keep going. Every time they announce new tour dates, I am on the phone to the guys in the band saying, "Thank you. Please don't ever let the music stop."
SLAM: I interviewed Trey Anastasio recently and he told me about your conversations in Chicago Fare Thee Well shows, and he said they really helped him step forward and not be afraid to take charge. He told me that you said, "You're on a team, and on a team, not everyone is equally important." And it struck me—this is John Wooden coaching the Dead. You brought the two worlds together!
BW: Oh yeah. I learned all that stuff from John Wooden, and I've been a Deadhead since 1967 when I was 15. It's an incredible world, but it's also overwhelming in terms of pressure, especially for the position Trey stepped into, having to deliver peak performance on command. Unless you've lived there and worked there it's hard to understand, and I was just trying to help share what I knew with him. He's so graceful, professional, entertaining and so creative. A great performer a great leader and a great human, and he was able to carry that over and bring it to the world of the Grateful Dead.
Trey gave up his life to make this work and it did work. He had to learn a whole new culture, a whole new world. I just wanted to be encouraging to him. The Grateful Dead are about curiosity and risk taking, going for it all when it's right there. All those fans right there saying, "Let's go, take us home one more time." And he did it. I couldn't be happier or more proud of the guy. And I'll be able to say forever more that I was there. I was in the pit and I never thought I'd be back in the pit! I'd always thought I'd be in the back in a chair. I spent a lot of time there but now a new spine, a new me, my ankles are stabilized and I'm back in the pit, and I will be out there this summer: in Boulder, Alpine Valley, the Gorge, San Diego, Irvine, Sacramento, San Francisco shoreline. Let's go! Put some more dates on the calendar. Thank you Grateful Dead.
SLAM: You mentioned being part of elite teams and you won 88 straight games at UCLA. When you're in the middle of that, what does it feel like? Were you able to keep focused on each game individually?
BW: Oh yeah. Wooden was the master of the moment. He was one of those foundational coaches and teachers and leaders who set the stage for everything in life. We were so young we had no idea what we were doing. He created an environment and atmosphere and culture where it was about getting the job done every single day. Remember—we never played anyone who was better than we were. It's not like we were upsetting teams. We were the favorite in every game, and we were expected to win every night and we did. Then, as Chapter 9 of Back from the Dead will point out, injuries and team chemistry caught up with us. We could not overcome those things.
SLAM: When you were playing, did you have the Dead running through your head during games?
BW: Absolutely. I always had a boombox or a stereo right next to my bed. I would go to bed listening and have it cued up so my first waking thought was to reach over and hit play and then something inspirational, thought-provoking and challenging would come into my life as I started my day and stay there all the way up to game time. I listened to so much that it's just part of me. It's my life. It's who I am. I was the basketball player I was because of the Grateful Dead. I am the human being I am because of the Grateful Dead. I never get tired of it. All I want in life is more.
When I was really sick with my spine I lost everything, including the knowledge and awareness that I've got to run the music. So now at my desk—I have a handwritten piece of paper that says "TURN THE MUSIC ON!" I have a remote control and I just hit that, and it hits Sirius Channel 23 Grateful Dead and I'm ready to go.
SLAM: Who is the unlikeliest teammate you ever turned onto the Grateful Dead?
BW: The one I wanted to turn on the most was John Wooden but he wouldn't go. He kept trying to turn me onto Lawrence Welk, and that didn't work either. We both lost out terribly. Invariably, my teammates would ask me if they could go. I like to go to the shows with my wife Lori and that's it. We know everyone there, but these are very personal moments in my life. I go for a lot of different reasons: to gather strength, to learn, and to heal—and those are very personal moments. If one of my friends asks me if they can go, I'll do everything possible to make it happen, but when I go I want to spend time alone, laughing, breathing, thinking, hoping. If I have to take care of someone else, that's not going to happen.
Alan Paul is a Senior Writer for SLAM and the author of Reckoning: Conversations With the Grateful Dead and One Way Out: The Inside History of the Allman Brothers Band.