When it comes to All-Star Weekend, and the Dunk Contest, Dominique Wilkins needs no introduction. Truly.
SLAM: How many hours of tape have you watched on these dunkers?
Dominique Wilkins: None at all. [laughs] None at all. But I'm looking forward to it. The Verizon Slam Dunk Contest this year will be a little different than you've seen in the past. It's got different types of players. DeAndre is the first big man since Dwight Howard. We'll see a different type of creativity.
SLAM: Do you judge a big guy like DeAndre differently?
DW: I look at DeAndre and I think it's very gutsy to get in a contest like this, which usually has smaller guys. Big men usually don't fare well, but he can get off the floor and do just fine.
SLAM: What do you think of Derrick Jones and Glenn Robinson out here trying to make a name for themselves this weekend?
DW: I don't really know the guys, but somebody thinks highly of them, so they must have a lot of creativity. I think the most important thing is the fans enjoy themselves, that players put on a show. And, by the way, fans who have Verizon can stream in HD, so they can tune in.
SLAM: What are the weeks leading up to the Contest like? How much prep work goes in?
DW: When I did the contest, it was about spontaneous creativity. I never worked on a single dunk before a contest, never, not one. I can't tell you how guys prepare. I promise you that Michael Jordan and those guys never worked on it either—it was just things we did in games.
SLAM: Really?
DW: We just showed up and said, Hey ok what am I gonna do? Let's do something I did in a game, maybe throw it off the glass. We were very spontaneous.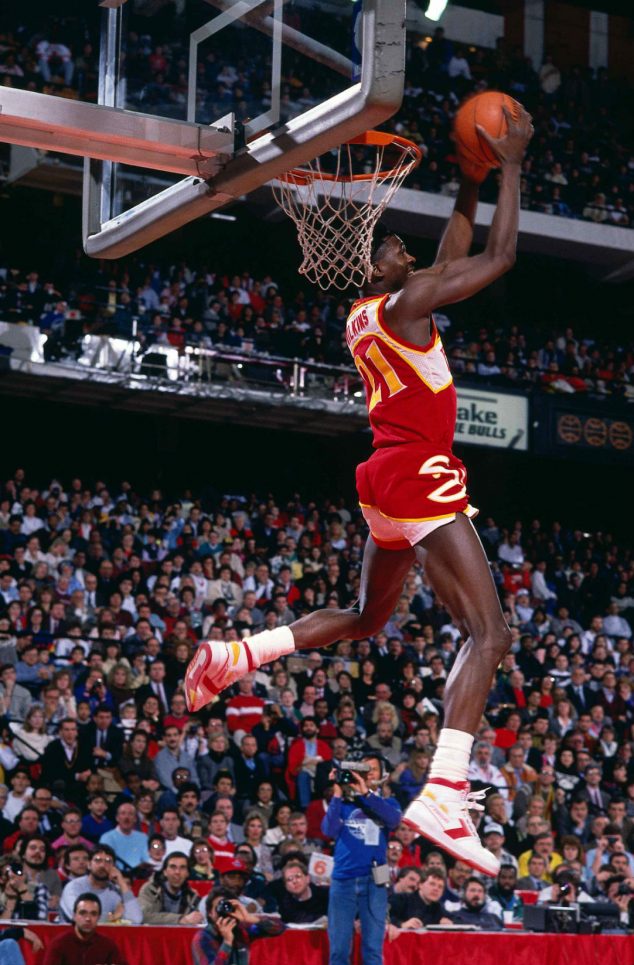 SLAM: Do you ever work with players before the Contest now?
DW: Years ago I had Josh Smith when he won—we talked about it, but not in detail. When he brought out my jersey I had no idea. The dunk he did in my jersey—and I'm not saying this because he wore my jersey—but the dunk he did was pretty amazing. That jersey was just the icing on the cake.
SLAM: I like that DeAndre is in this year even though he's a proven star. Some fans want to see guys like LeBron and Westbrook step up and compete, too. Do you?
DW: I do think more stars should be in, particularly this year when you have the runner up from last year that's still in, willing to come back and participate. A lot of stars should take the same approach. It's not about us as individuals—it's about the fans.
SLAM: All-Star Weekend is back in New Orleans this year. You hosted in 2008, when it was also in New Orleans. That was the Hornets first year back after Katrina. Does that weekend stand out to you? Was there something special about being back there?
DW: I do remember that. That was a fun year, I had a great time. I always love New Orleans. I think it was great timing because of what the city had been through. To have the All-Star Weekend at that time kinda brought back some life into the city.
SLAM: Prediction for this year's winner?
DW: I gotta hold that secret. I can't give you that much. But Gordon's the guy to beat.